"Maria served as a Eucharistic minister at her first Rhythms of Grace, Craig helped design the service, David is our enthusiastic song leader, and Jeremy and Elise cry if they miss a service!"
When Church is Just "Too Much"
6 year old David* is on the Autism spectrum. His family tried coming to church when David was small, but found the noise and crowds to be unbearable for him. Craig has a diagnosis of Asperger's. Once he was old enough to make his feelings emphatically clear, he refused to attend church at all. It was too loud, too long, too crowded, and the snacks were "lame."
Maria, who lives with Fetal Alcohol Syndrome, was asked to leave another church because of her outbursts and unpredictable behavior. Jeremy, his sister Elise, and their father all have ADHD. The need to be able to move around was important for them, and for Mack, who has Alzheimer's. All these stories remind us that for some people "regular" church is physically uncomfortable.
Rhythms of Grace: A Worship Program for Special Needs
We believe worship should be available and welcoming to all people. While we don't want to segregate exceptional people, being fully inclusive means making space for all. Rhythms of Grace is known as an "adaptive" service, and is especially designed for those on the Autism spectrum. Ample time is given to settle in, and to transition between sections of the service. Visual, auditory, and verbal cues are given. Activity is intentionally included.
It turns out that Rhythms of Grace is also very welcoming to individuals with other diagnoses like Fetal Alcohol Syndrome, ADHD, Down Syndrome, and neuro-typical children with ordinary wiggly squigglies, as well as youth and adults. The service, developed by the Rev. Audrey Scanlan and Linda Snyder in Connecticut, is relatively simple, affordable, and adaptive, and can be effectively used to bring the Gospel to people not currently being served.
Rhythms of Grace is doing just that at St. Gregory's. I'm happy to tell you that Maria served as a Eucharistic minister during her very first Rhythms of Grace, Craig brags that he helped design the service, David is now our enthusiastic song leader, and Jeremy and Elise cry if they find they missed a service!
Getting Started
We began by gathering a group of interested parishioners, shared with our rector about why this was a good idea, and how we thought we could accomplish it. A main hurdle was providing clergy for an extra service. Our parish only employs one priest, so we were fortunate that David's grandfather, a retired clergy person whom he trusted, was willing and able to volunteer.
We bought the Rhythms of Grace book (written by Audrey Scanlan & Linda Snyder) and made copies for all committee members. (I checked first with the authors, who assured me that they intentionally made the book with tear-out pages for this very reason.) The book has plans for 18 services – one for each month, and six special feast days. Each service includes Bible stories, songs, prayers, and suggested therapeutic play.
While Rhythms of Grace is written by Episcopalians, the book is intended to be wholly ecumenical in its approach. Many visual aids like the templates for our order for worship, story cards, and how to use sign language are included. One section has a list of suggestions for how to engage with a child with Autism. There is also a great section on how to get started in the back. A second year of lessons can be purchased on a reproducible DVD.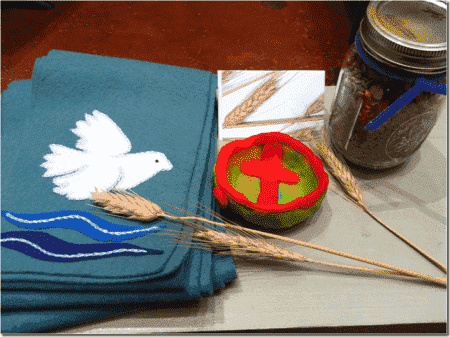 Setting and Time
Space and time have meaning. Thoughtful preparation demonstrate welcome as well as listening. As we thought about where to have the services, we first considered using our Children's Chapel, which is in a repurposed classroom. But, it has old-style fluorescent lights that buzz and flicker, which can be unbearably uncomfortable for some. Instead, we chose to use our large nave. Rather than having our Eucharist at a very low altar on the floor as suggested by the book, we chose to use our regular altar. Besides having better lighting and plenty of space, being in the nave sends the message to all that this is indeed "real" church. And, by worshiping in this space regularly, some of the children are now comfortable enough in the space to come to "regular" church for the big feast days of Easter and Christmas!
We chose to have the services at 3 pm, a time that has proven to be do-able for most. We decided the 2nd Sunday of each month was a time we could commit to regularly. Find a time, and stick with it consistently. Be sure that others in your parish realize this is often the only time these families can come to worship, and to set aside that time as Holy. At St. Gregory's, we drew up a covenant so that all who use the space know that the 2nd Sunday of the month, at 3 pm is sacred time.
Rhythm of the Service
As parishioners arrive, they are invited to write their names on cards shaped like something from the scripture of the day (a pearl, boat, star, etc.) and tape it to special felted frontals we drape on the altar. The order for worship consists of cards with silhouettes depicting each portion of the service arranged linearly on an upright pole (see photo above.) The Jesus doll is placed at the altar.
Our musician calls us to begin worship by singing "He's Got the Whole World in his Hands" accompanied by guitar. This song and it's big hand motions help us to prepare for the time to listen. The celebrant asks someone to hold the Jesus doll, and introduces the story by showing where it's found in the Bible, our book that tells the stories of God and God's people, of Jesus, God's son, and of how much God loves us. He tells the story and encourages interaction.
Next, we sing a simple song appropriate for the scripture of the day. Then we transition to therapeutic play. Two to four stations with different choices are spread around the room to allow space. Some will want to do them all, some will only choose one. These are generally tactile exercises – working with Play-Doh, finding objects hidden in dry rice, sand, shavings, etc., stringing pony beads on chenille stems. We allow about 20 minutes and mark transition time by announcing that we'll be re-gathering in 5 minutes, 2 minutes, 1 minute….
Then, we begin singing "He's Got the Whole World in his Hands" again, as the last parishioners return to their seats. Or don't. We gather around the altar for communion. We say the Lord's Prayer, return to our seats to finish with a rousing rendition of "This Little Light of Mine." Then we are dismissed to go and serve the Lord! Just like any other service at St Gregory's, we invite everyone to fellowship after; our coffee hour includes healthy snacks like fruit and string cheese.
Moving Forward with Flexibility
We continue to learn from our families. We adapt by asking questions like, "What is David particularly interested in doing?" "Legos!" We learn by listening to our participants and how they express their needs. When Maria saw a table full of Valentine making supplies, she immediately announced that she "needed to take a walk!" While on our walk around the perimeter of the church, she spotted a large push broom peeking out of a closet. She asked permission to use it, and calmed instantly. Her mother later told me that "heavy work" like this is very helpful for her.
We continue to offer space for spiritual expression for those for whom conventional worship may be difficult. Our congregation size has ranged from 12 to 36 in the two and a half years we've been having it, with usually about 20 in attendance. The Rhythms of Grace website lists 16 congregations around the country that offer similar services. We are proud to be numbered among them!
For more information about the Rhythms of Grace curriculum, please visit their website. Or purchase the book from Church Publishing.
*Names have been changed to respect privacy.
---
Catherine Bowen Drewry worships, studies, and plays with the parish of St. Gregory the Great in Athens, GA, the Diocese of Atlanta, Kanuga's Christian Formation Conference planners and participants, and the farming community of Oglethorpe County where she's lived all her life!