"Advent in a Box was designed to provide faith at home resources to support, love, and connect families where and when they need it most."
Why Advent in a Box?
In the weeks leading up to Christmas, families are spread thin. At Saint Michael's and All Angels in Dallas Texas, we try to support and bolster households, without adding to the burden families feel. While time spent at church is precious, it is never enough to convey the wonder, mystery, and importance of the Christmas story. That's where the home comes in.
Advent in a Box was designed to provide faith at home resources to support, love, and connect families where and when they need it most. That means: at home, on the go – wherever!  We hope that families will open the box with delight and think, "We can do this. We can hold back some of the Christmas crazy, and spend a few special moments together on the real purpose of the season."
What's in the Box?
This is the second year we have offered this resource to the parish.  The first year, families selected items "salad bar" style during the annual Advent Family Fair.  This year, we have put together boxes that will be distributed on Sunday mornings throughout the church building.
This box of treats and treasures includes a variety of Advent activities. We aim for variety, with items that are reflective and active, silent and silly, individual and group-oriented. In general, the boxes are geared for families with elementary-aged children. Each item has an explanatory sticker, and the box itself is labeled with a description of Advent. (See the picture at the end of this post)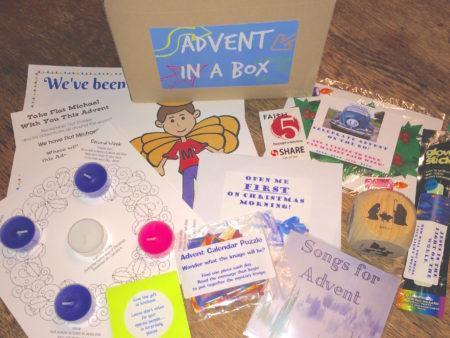 Items in our Advent Box
Paper Advent calendar (click here to view/download)
Paper Advent wreath – can be colored in (click here to view/download)
Tea light candles (click here for suggested purchase site)
Magnetic Advent wreath with magnetic candles – perfect for the car! (click here to purchase)
Christmas story cubes to help children tell the nativity (click here to purchase)
"Flat Michael" page for folks to bring with them out and about and (click here to download)
Prayer bookmarks for households (click here to purchase from Faith Inkubators)
Advent puzzle
Glow stick (reminder to let your light shine!)
Sticky notes to share "God loves you" messages with family and friends
Christmas tree ornament of Jesus in manger (click here to purchase)
Advent Music Suggestions for households to download/purchase and enjoy – some old, some new
Music suggestions playlist
Blessed – Brett Dennen
Life in Letters – Lucy Schwartz
We Will Be Changed – Seryn
More Love – Dixie Chicks
Go Tell it On The Mountain – The Branches
Lanterns – Birds of Tokyo
The Outsiders – Needtobreathe
Nothing More – Alternate Routes
Wherever Is Your Heart – Brandi Carlile
Brother – The Brilliance
Silent Night
Take Up Your Spade – Sara Watkins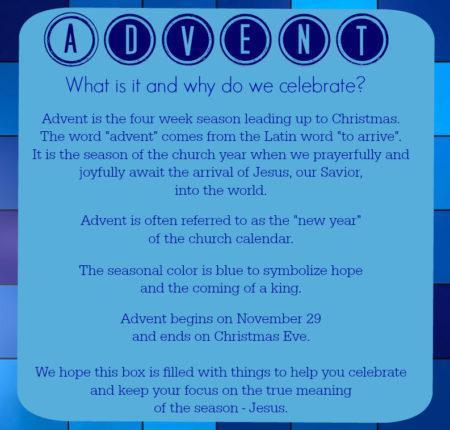 ---
Emily Given is the Director of Children and Family Ministry at Saint Michael and All Angels Episcopal Church in Dallas, Texas. Emily has worked on both the congregational and diocesan level for over 15 years. She is a mixed media artist and the author of Building Faith Brick by Brick: An Imaginative Way to Explore the Bible With Children.