During Advent 2020, we invited folks to send us photos and descriptions of their Advent at Home bags, boxes, & kits. Check out these creative and thoughtful ideas!
Resurrection Lutheran Church, Indianapolis, IN
Advent wreath supplies, one set per household (floral ring, candle holders, candles, floral pins)
Illustrated Advent Devotional & Illustrated Nativity activity from Illustrated Ministry
Supplies to make luminaries (brown paper bags, battery operated tea light candles, stones for the bottom of the bags)
"Advent Bingo" game from Youth Sparkhouse Digital curriculum subscription
A set of prayer cards using selected Advent and Christmas prayers from Traci Smith's book Faithful Families for Advent and Christmas
Hot cocoa packets and candy canes to enjoy on Christmas Eve
Church of the Holy Family, Chapel Hill, NC
This year has been so hard for everyone. I really wanted to do something special and different and related to our most beloved traditions. Working with a parishioner on such a labor-intensive and beautiful project was fun and in the end it was good to hear about his sense that he was engaging in meaningful and prayerful work. I had a similar experience while folding the more than 400 pieces of kite paper for the window stars. It was slow work but it felt like one small piece of love to offer in a year where people have to work so hard to be connected. This year, the needs feel so great that the opportunity to show love was really meaningful. Folks seemed to enjoy receiving something beautiful that they will have for many years.

Angela Compton Nelson
Advent wreath supplies (wooden advent wreath, Beeswax candles, decorating wax in purple and rose – cut into stars)

Electric wood brand and customizable plate – A parishioner called me mid-summer with news of felled willow oak and pine trees from their yard, wondering if I could think of a project for them. Advent wreaths were the clear winner! We kept the willow oak and pine natural, finishing them with tung oil and branding our church logo onto the bottom of the wreaths.

Candle lighting card
Waldorf window star (kite paper, tutorial for window stars – I used a glue stick instead of tape)
Advent devotional & nativity stickers from Illustrated Ministry
For households without children, stickers were replaced with Waiting and Watching devotional book.
Materials for Saint Nicholas day (Coloring sheet, gold chocolate coins, prayer cards printed with the Prayer for Children, wooden gold coins with the names of each of our parish's young people -members were asked to pray for a young person in the parish, by name, from Saint Nicholas Day through Christmas).
Chapel of the Cross, Chapel Hill, NC
At the Chapel of the Cross we "built the crèche" at home each Sunday. Supply bags were distributed and we add new figures each week (shepherds & sheep one Sunday, Mary another …). We incorporate the nativity scene into our prerecorded children's chapel service. I hope in few decades, kids can pass on their crèches to the next generation and say, "I made this in the 2020 pandemic."

Boykin Dunlap Bell
Wooden peg people of different sizes and shapes (younger children received bigger figures)
Small wooden crate to make a stable
Pieces of felt
Wood markers
An Advent calendar
Children were encouraged to use additional materials from home: sticks to make a stable roof, a matchbox or egg carton cup for a manger, pipe cleaners or sequins, cotton balls, etc.
Grace Episcopal Church, Anniston, AL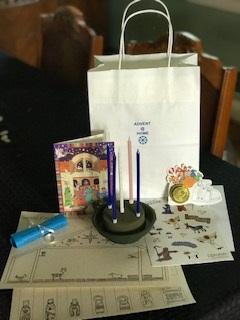 St. Paul's Episcopal Church, Richmond, VA
We wanted to offer a wide variety of resources that people could use or share with others… There was a google form for people to request their bags and indicate their preference of candles (electric vs. traditional) and preference of pickup vs. delivery. We created 125 bags. 70 of these were delivered by a group of parishioners to others who are on the pastoral care list or are unable to (or would prefer not to) leave their home at this time. For the others, we had two times for contactless pickup at the church (Sundays, November 22nd and 29th). Some people wanted to contribute to the Advent Bags and we encouraged them to purchase gift cards for the local elementary school that we partner with. We had a number of newcomers request bags, which was fantastic! We followed up with people to provide ways to decorate their Advent candles with things around their home and/or greenery.

Keli Shipley Cooper
Glass votives with Advent candles (option for electric candles)
Advent Daily Devotional from A Sanctified Art LLC
Advent Weekly Devotional from SALT Project
Coloring Pages from Illustrated Ministry
Electric Candle for (online) Christmas Eve Service
Ornament to decorate
Hot Chocolate packet advertising coffee hour
Popcorn advertising our Christmas Eve services (watch parties)
Peppermint Tea
Advent Calendar (with events specific to our parish)
Information about how to give to one of our partner organizations (a local elementary school asking for gift cards)
Formation packet that included information about the contents of the bag, lighting the Advent candles, and other resources during Advent (click here for document you can edit)
All Saints' Episcopal Church, Richland, WA
[Our Advent bags] were very well received. The wreaths with LED candles were great for elderly in group homes as well as young children, and were even taken while traveling, as they were easy to pack! I heard lots of good comments, from all ages, about the Way to the Manger devotional as well. We made 72 bags and ran out—could have easily given out another 24.

Theresa Grate
An Advent calendar with windows to open from Creative Communications for the Parish
Another calendar downloaded from FORMA
Do Not Be Afraid devotional from Illustrated Ministry
A Way to the Manger devotional from Forward Movement
A page of prayers for the Advent wreath from Building Faith (used for many years)
A circle of green felt and 4 LED candles (3 blue, 1 pink)
For families with children/teens we also included:

A variety of coloring and activity pages for the weeks of Advent
A Holy Family craft kit, with wooden peg people, cut fabric and ribbon, pom poms for animals, and wood "hay" (We have been doing Godly Play by Zoom, with an at-home response box, and this was to give them a Holy Family to have at home)
The letter on the bag also shares our Zoom link for Godly Play at home, and some other Advent activities they might want to try, including AdventWord and some Advent playlists on Spotify
Trinity English Lutheran Church, Fort Wayne, IN
Lord God, you have called your servants to ventures of which we cannot see the ending, by paths as yet untrodden, through perils unknown. Give us faith to go out with good courage, not knowing where we go, but only that your hand is leading us and your love supporting us; through Jesus Christ our Lord. Amen.

LBW Evening Prayer
"This prayer is at the end of the rite of Evening Prayer, making it one of the church's last prayers for the day. It acknowledges a very simple fact; we don't always know where we're going. But we do know that wherever we go, God goes with us with love, giving us courage for whatever is ahead. We've all spent a lot of time this past year not knowing where we're going or exactly what tomorrow might look like. This Christmas will be different from anything that's come before. This journey to Christmas will be something new. But God goes with us and, if we ask, just may give us eyes to see new, unexpected things.
The staff at Trinity has designed this little box of Advent treasures to help us navi­gate this very special Advent season. Its purpose is to help us think about where we have been over the past year and what may be waiting for us in the new year to come. There are boxes labeled to be opened each Sunday in Advent (November 29, December 6, 13, 20). We will open each of these during that Sunday's livestream.
Don't peek early! There is also a kit to make a tiny Advent wreath, a candle to light on Christmas Eve evening and something to remind us on the Epiphany (January 6) that Jesus will be with us wherever we are in the new year.
We wish you God's peace as we travel through this holy season. And may this Christmas season lead you to some unexpected joy."
Special thanks to Erin Kircher who mail this Advent Box to the Building Faith team!