Religious publishing companies offer new Advent resources each year. We asked four publishers for just two "top picks" for the season. For more great resources, check out each publisher's website.
Resources from Forward Movement
Promise & Praise: Advent Word Reflections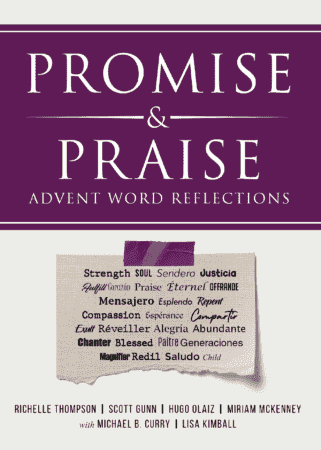 One word, each day. In a world that likes to rush, Promise & Praise calls us to slow down, to reflect on one word each day of the season of Advent. This process offers a special intentionality, a spiritual twist to the common Advent calendar, and a way to countdown to Christmas with a focus on God's promise in a posture of praise. These daily reflections are part of a larger initiative called AdventWord, a global community praying and walking together during this holy season. AdventWord invites people to read and respond to a single word each day. These words are drawn from the weekly scripture readings and prayerfully selected as a way to help us ready our hearts and our lives for the coming of the Christ child.
Slow Down. Quiet. It's Advent. 2021 Advent Calendar
This 2021 calendar poster, with Illustrations by Jay Sidebotham, suggests ways to mark the days through the Advent season. The calendar offers ideas for prayer, helping others, and being thoughtful about the true meaning of Christmas. Take our advice to your hearts and to your walls: Slow down. Quiet. It's Advent! Perfect for the whole congregation!
Sold in shrink wrapped packs of 25, posters are 17" x 22", folded to 8.5" x 11." Price is only $12 for each pack of 25
Resources from Church Publishing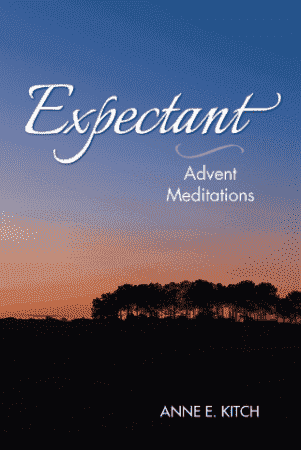 Expectant: Advent Meditations
Expectant: Advent Meditations by Anne Kitch offers 30 short reflections for each day of Advent. Each meditation focuses on seeking and seeing God in the everyday of our ordinary lives, based on a psalm that corresponds to the daily office for the season of Advent.
Preparing Room: An Advent Companion
In Preparing Room: An Advent Companion, Russell J. Levenson, Jr turns to the beginning of the Christian story as it centers on the coming of God in Jesus through scripture, meditations, reflections or suggestions, and prayers.
Resources from Chalice Press
Faithful Families for Advent and Christmas: 100 Ways to Make the Season Sacred
Faithful Families for Advent and Christmas by Traci Smith is the holiday companion to the bestselling Faithful Families: Creating Sacred Moments at Home. In it you'll discover a treasure trove of inspiring Advent and Christmas practices, prayers, and stories to share with your family, or families in your church.
Imagining a New World: An Advent Devotional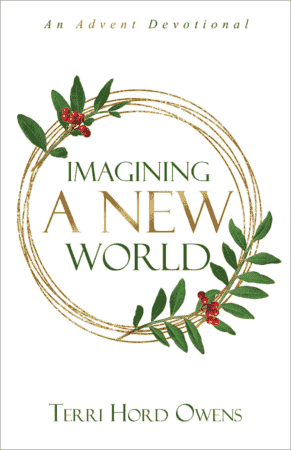 In this new daily devotional for Advent, Imagining a New World: An Advent Devotional, author Terri Hord Owens delves into the Advent lectionary texts to reflect on God's vision for the world and how we might find the courage to imagine, the permission to change, and the freedom to fear no more.
Resources from Cokesbury & Abingdon Press
On the Way to Bethlehem: A Child's Activity Book for Christmas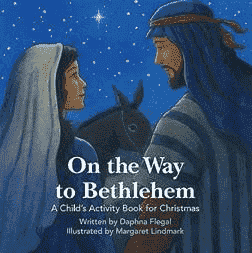 In On the Way to Bethlehem, children learn the amazing story of Jesus' birth based on the Gospels of Luke and Matthew. As you travel the road to Bethlehem, these delightful illustrations and descriptive story introduce children to Mary and Joseph as real people who were living ordinary lives when God called them to be part of an extraordinary event—the birth of God's Son. The book includes a maze and an Advent calendar with stickers. The perfect Christmas gift for all the children in your church!
Advent A to Z: Prayerful and Playful Preparations for Families
Each day of Advent A to Z (December 1 -26), explores an Advent-related word that begins with a successive letter in the alphabet. This is followed by suggestions for simple, easy-to-prepare, and complete activities (discussion starters, games, crafts, meditations, journaling, outreach project, devotions). The activities are based on that day's word and are ideal for parents teaching their children about Advent.
---
Editor's Note: As always, when choosing a curriculum for your setting, take into account the theology, Biblical interpretation, context, materials, and representation. Read more about choosing a curriculum at Choosing a New Curriculum: Read this First.