"Not every gift comes wrapped in ribbons… You may have to go searching for your gift, or it may come and find you…"
Teaching about the Saints
How do we teach children, both in Sunday School and at home, about angels and the communion of saints? This is an obvious question as we approach All Saints' Day on November 1st. Unlike many adults who may be closed off to the transcendent and miraculous, children share Jesus's love for experiencing the unknowable and the awesomeness of God [and God's creation through stories]. This sense of the awesome is shared in stories about angels and saints.
Unfortunately, most children's books about angels and saints are as dry as encyclopedia entries.  Other saints books tend to simply emphasize children's obedience. The three books described below tell rich and imaginative stories that take children's faith questions seriously. Each story encourages children to grow, learn, and share their God-given gifts with others. These books all portray angels and saints as protectors and models who are part of a cohesive universe created by a God of love. A God who cares for all people, but especially the little children.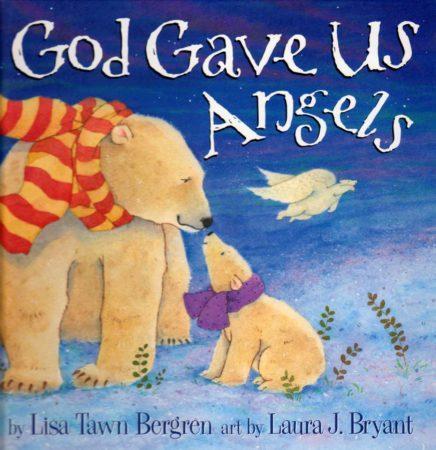 God Gave Us Angels
By Lisa Tawn Bergen
Art by Laura J. Bryant
Waterbrook Press, 2014
"What do angels do all day, Papa?"
"Angels live to serve God. Whatever he wants them to do, they do. And he loves us. So sometimes they bring messages from him to us. Other times they guard us or even fight for us. And they're always worshipping God."
God Gave Us Angels is part of a larger series of children's picture books about a polar bear cub who has a lot of questions about God. This beautifully illustrated story continues to follows Little Cub and Papa Bear as they talk about angels.
While many children's book with a theological bent trend towards trying to provide the younger members of our church with answers, this book is especially notable for taking Little Bear's questions seriously. As they explore their arctic home, the bears also search for the nature of angelic beings, covering everything from why angels are often depicted with halos (because they glow with the light of God) to whether we will be angels when we die (no, but we will see them in heaven).
The angels of the story mirror the biblical accounts of the angelic host as divine messengers and protectors who are perpetually praising God. The story does not shy away from children's questions about good and evil: at one point Little Bear asks why God allows us to get hurt and does not always send angels to help.
In one of the most tender moments of the book, Papa Bear admits that, as a grown up, he doesn't have all the answers: "I'm not sure Little Cub. But no matter what happens, we can trust that he is near and watching. He loves us, even more than the angels do."
The story depicts angels as one more element of a universe in which children are loved by God and by their parents, creating an environment of support in which children can ask questions while growing in faith.
Hildegard's Gift
By Megan Hoyt
Illustrated by David Hill
Paraclete Press, 2014
Hildegard's gift did not come on her birthday or under the tree on Christmas morning, but "it arrived when no one was looking, not even Hildegard." Hildegard's Gift is an expressive and imaginative telling of the life of St. Hildegard of Bingen as she discovers her own beautiful God-given voice and shares it with the world through art, music, service, and writing.
The story's illustrations capture the vibrancy of Hildegard's visions, while quotes from her writings inspire the imaginations of children. The story also accompanies young readers on both the ups and the downs of a journey in faith. The book describes Hildegard challenging the gender-roles of her time, and struggling when God felt very far away.
A particular strength of the story is its encouragement to readers to follow the examples of the saints to discover and share their own gifts:
"As Hildegard grew older, she learned that every child has a gift. Some are athletes and acrobats. Others are singers and dancer. One might be an artist, while another paints pictures with words. One explores the universe with a telescope, while another flies to the moon. Not every gift comes wrapped in ribbons, but sometimes gifts do come wrapped. You may have to go searching for your gift, or it may come and find you, just like Hildegard's did."
The Holy Twins: Benedict and Scholastica
By Kathleen Norris
Illustrated by Tomie dePaola
G.P. Putnam's Sons, 2001
The Holy Twins draws on Kathleen Norris' rich experience with Benedictine spirituality and Tomie dePaola's incredible visual storytelling to explore the holy and wholly human lives of Benedict and Scholastica. This telling captures the love and competition between the twins in a beautiful and moving way that may speak to a reader's own experiences with siblings.
Beginning with their close relationship in childhood, the book chronicles their separate paths as Benedict founded monastic communities and Scholastica lived a life of service and prayer with a community of nuns. The Holy Twins does an excellent job of fully embracing both the miraculous as well as the vulnerable humanness of Benedict and Scholastica, striking an excellent via media between seeing saints as other-worldly, or entirely reduced to analysis.
While the book may be text heavy for the youngest readers, it provides and excellent introduction to monastic spirituality, the Rule of St. Benedict, and the lives of the two incredible saints.
---
Kate Siberine, a VTS student from the Diocese of Chicago, prepared these reviews as a class assignment. She also is the graphic designer for the magazine Episcopal Teacher.
This article was first published in the summer 2015 issue of Episcopal Teacher.
Did you enjoy this article? Consider subscribing to Building Faith and get every new post by email. It's free and always will be. Subscribe to Building Faith.