At Home in This Life
In the midst of beauty and mess, chaos and monotony, celebrations and mourning, Jerusalem Greer tells her story of finding redemption in what is, rather than what could be, by practicing the presence of God through rediscovering ancient contemplative teachings and practices (solitude, study, work, prayer, and service) and pairing them with domestic arts (baking, gardening, sewing).
Jerusalem writes with a raw honesty that reassures readers they are not alone in feeling not good enough, not wise enough, not Christian enough to figure out God's plans. As the author says, "At Home in this Life is the story of how everything I thought would make me happy came undone, and then how I found a way to make myself at home in this beautiful, messy, amazingly tender, completely unbalanced life, by imperfectly practicing one spiritual discipline at a time — smack in the middle of raising kids, mending the sweaters and burning the bread."
Building Faith's Take
This was surprisingly hard to put down! Jerusalem has written a story of her 'come to Jesus' years that invites the reader in and begs them to stay with her awhile as she figures out how to authentically live the life her Instagram shows.
Two quotes stick out to us:
"Running away to a farm may have brought external quiet into my life, but the loud shouting to Be More, Do More, Go Faster would have remained deep within me. The truth is, had we moved, I likely would have polluted the new space with my frenetic pace, with my desire to turn our move into great blog fodder in an attempt to win the online attention contest. I would have missed out on the great gift of learning how to move and breathe and have my being in Christ, quietly, slowly, one stitch at a time." (page 94)
"We wanted the perfect Instagram life—the one where all the mess is cropped out and a filter makes everything look charming. But no life is that curated, not if it is alive and flourishing. Real life—the good life, a whole life, the kind of life we were so desperate for—is messy, and long, filled with hard work and sacrifice. And, most importantly, this kind of real life can only be lived out in community and mutual support." (page 114)
This book is about coming home to what really matters, and more importantly, relying on God every step of the way. Through Jerusalem's words, we can all experience how to live a life richly grounded.
Book and Free Discussion Guide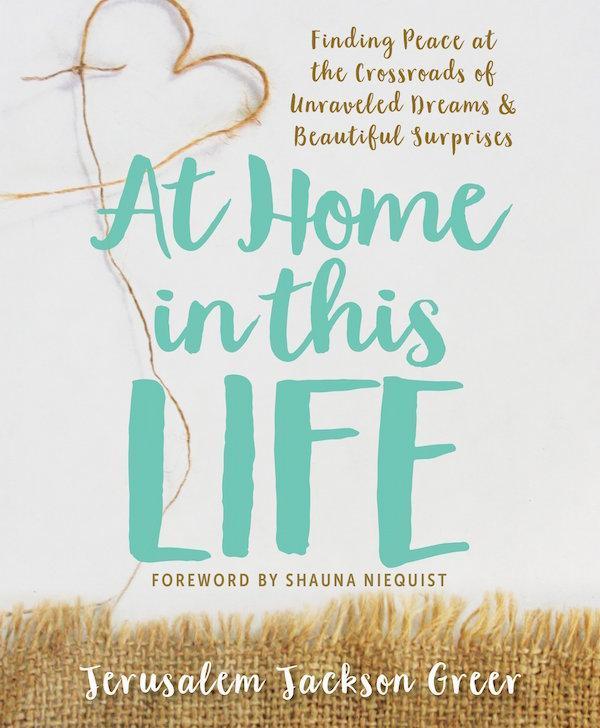 Free Discussion Guide: At Home in this Life Discussion Guide
---
In addition to being a writer, Jerusalem Jackson Greer is also a crafter, former pastor and blogger. She lives with her husband and two sons in Greenbrier Arkansas. As a family they are attempting to lives a slower version of the modern life. Sometimes it works, sometimes it doesn't.