Christ Church in Alexandria Virginia has far more worshippers on Christmas Eve than we could ever reasonably accommodate in our historic 18th-century space. Was putting the 50-150 extra worshippers into an overflow service (affectionately styled the "inn" service) in our parish hall the best way to celebrate the birth of our Savior? Perhaps. It was certainly an opportunity to do something different, to engage with our community in a new way!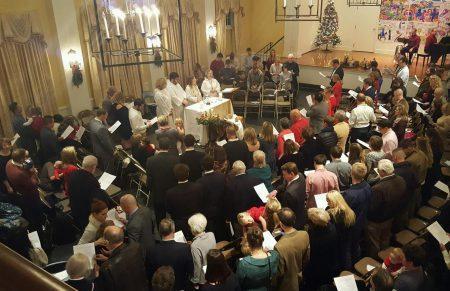 Space That Reflects Theology
Unlike the historic church, which features box pews and a small chancel dominated by a wine glass pulpit, our auditorium is an entirely open, flexible space. For our Christmas Eve family service, we placed the altar in the middle of the room, emphasizing God's dwelling-with-us. Chairs were arranged in a semi-circle around a raised platform. On the platform was the altar, a small table with our Children's Chapel Advent-now-Christmas wreath, and the manger from our annual Christmas pageant (held the previous Sunday). We wanted to remind our families that we are not here by happy accident—we have been preparing for Jesus' arrival.
Christmas Eve is Different
For the Ministry of the Word, we adopted Lessons and Carols-style readings. We split the Isaiah reading appointed for Christmas Eve and the birth narrative in Luke's Gospel into four parts, using the child-friendly God's Word, My Voice by the Rev. Lynn Zill Briggs. After each reading, we lit another candle in our Advent-now-Christmas wreath, using the same prayers we'd used in Children's Chapel through the season of Advent. Following the first and third readings, worshippers were invited to draw or write prayers for themselves, their families, or the world on 5×7 index cards. Following the fourth reading, as we sang O Come, All Ye Faithful, everyone was invited to come forward and place their prayer cards in the manger, offering prayers to the Christ Child.
After a brief homily, we moved into the Ministry of the Table. We intentionally chose Eucharistic Prayer B. Prayer B has rich incarnational language. Equally important, we knew it was what visitors would experience if they came back for a regular Sunday in January (as we earnestly invited them to do). Our "overflow" crowd was welcomed into a unique service, and sent out to celebrate the birth of our Savior in word and deed. 
Ask – and Listen to – Feedback
As will always happen when you depart from The Way We've Always Done It™ we heard many positive responses, with a few less enthusiastic voices mixed in. We asked for feedback after our first service in 2016, asking in person and in writing both that evening and in the weeks that followed. We did make a few adjustments before we led the service in 2017. As Christmas Eve 2017 approached, we heard from families (with and without children) that they were looking forward to the service. That's the kind of feedback ministers want to hear!
All in all, we achieved our goal of engaging our visitors with a new kind of worship experience on Christmas Eve, one we felt was geared toward families with children, while still holding true to our Episcopal identity. We hope our story will help spark your own sense of liturgical creativity as you begin or continue thinking about family-friendly worship in your own context.
---
The Rev. Matt Welsch is now associate rector and youth minister at Church of the Good Shepherd, Baltimore, Maryland and was Director of Children's Ministries at Christ Church from 2015-2018.
The Very Rev. Heather VanDeventer is now dean of St. John's Cathedral, Spokane, Washington, and was associate rector at Christ Church 2011-2018.
Each looks forward to discovering how their current congregations celebrate Advent and Christmas, pageants and all!