This activity was easy to prepare and accessible to folks of all ages and skill levels. It provided a wonderful opportunity for members of our community who worship and share a meal on a weekly basis to work prayerfully side-by-side.
An Intergenerational Activity for Mid-Week Service
One of the goals of our congregation's children's formation is to create more opportunities for children and adults to be formed together through intergenerational engagement. Each week, we offer a lovely Wednesday-night service of dinner followed by a highly interactive Eucharist. After worship, youth group meets as well as several groups for adults. We've been wondering how we might offer formation outside of worship for children without interrupting bed-time on a weeknight. This Lenten activity was an experiment with opt-in activities for all ages alongside dinner.
Each week's activity is tied to the stories we will hear in church. The first week in Lent we were with Jesus in the wilderness–nothing says wilderness like sand and quiet meditation. Often times people go out into the wilderness for time to think, to reflect on their life. Entering into the wilderness of our mind is possible through prayer and meditation, too. Our activity was co-creating a sand mandala. Mandalas are beautiful and intricate patterns that help us to enter into a meditative space. Creating sand mandalas is a tradition of Tibetan Buddhist monks. It is a highly ceremonial act, the mandala is created and dismantled with great care.
Making A Sand Mandala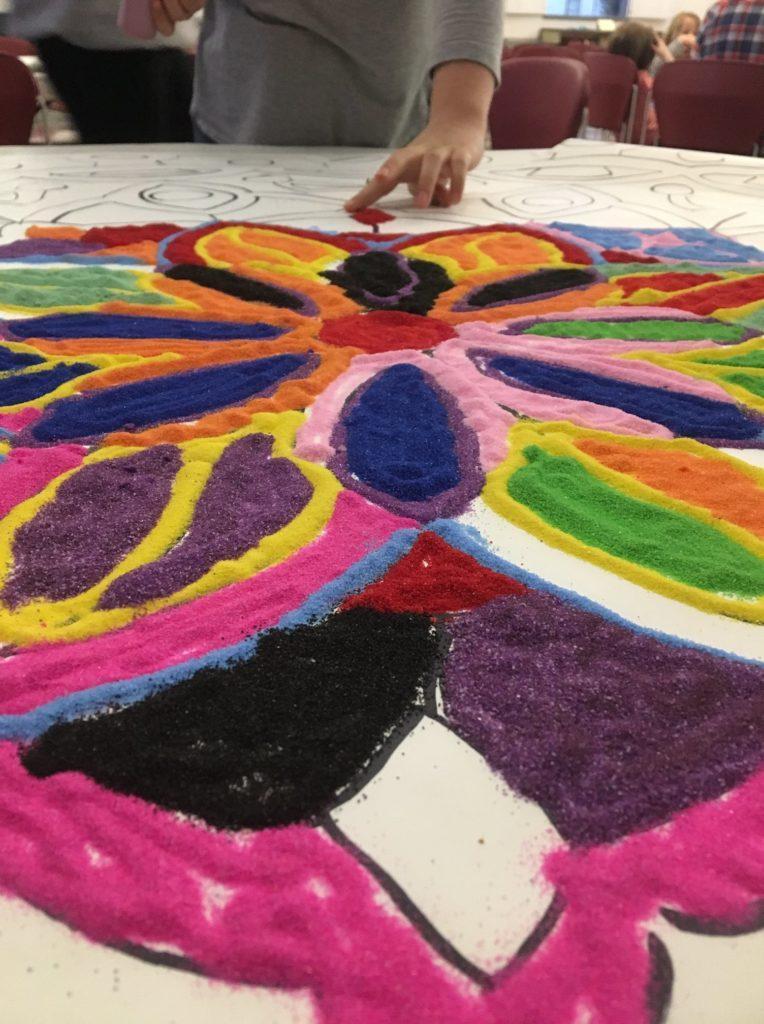 To prepare, I hung a large piece of butcher paper on the wall and used a projector to display a mandala coloring page that I found online. Then, I traced the coloring sheet onto the butcher paper to create an oversized outline (approximately 6 feet in diameter as that is the size of our parish hall tables). I took it off the wall and trimmed around the circle so that it would lay on the table without any excess edges to get in the way.
We used a variety of colors of craft sand which you can find in most art stores or online. I filled about twenty 4 oz. squirt bottles (typically used for condiments) each with a single color of sand. It was necessary to cut about a quarter inch of the tip of the bottle off in order to make the hole large enough for the sand to flow smoothly.
And that's it. The only direction we gave, aside from introducing the activity with prayer, scripture, and discussion was to work slowly from the center of the mandala so that elbows didn't reach across and mess up work done on the edge and to keep colors inside the lines as much as possible. The work drew participants from age 3 to older adults with great enthusiasm and focus. In less than thirty minutes we had a bright and beautiful display. Afterwards, when everyone had had a chance to appreciate the mandala we cleared it up and swept away all the sand.
Materials
printed coloring page of mandala
projector
butcher paper or other large paper or cardboard
marker with which to outline mandala
colored craft sand in many colors
"condiment" squeeze bottles, 1 for each color of sand
If you would like to know how we used this activity in the context of worship, you can see the outline here!
---
Samantha Clare serves as the Director of Christian Formation at St. Paul's Episcopal Church in Fayetteville, AR. She has a passion for spreading Jesus' call for social justice and she helps people to make connections between their daily and spiritual lives so that they can bring their whole and authentic selves to the world. You can find more of her writing at samanthaclare.me.