"But remember, curriculum (Latin currere = a course to be run) is a tool to help you and your student get 'from one place to another.'"
Churches and Curriculum
It is that time of year. Curriculum catalogs and samples are beginning to arrive. E-mail announcements of the latest and greatest curriculum to ever be created appear. It's time to start thinking about what new possibilities may exist.
For some churches, staying with the tried and true curriculum (for your children, youth or adult ministries) is a given. The old adage, "If it ain't broken, don't fix it." For some, a new year means a new curriculum, no matter what. For most, it is always a time to evaluate where you are in reaching what you hope to accomplish while seeing if there are other options for achieving your goals.
There are lots of curricula choices for all ages available. And what works well in one congregation is not necessarily the best choice for another. Choosing curriculum takes planning and the input of many individuals in your congregation. It is not a decision to be made lightly or by one person. The more individuals who are involved in evaluating your current programs and resources used as well as investigating new possible curricula, the better equipped (and successful) you will be in choosing the right materials to fit the needs of your faith community.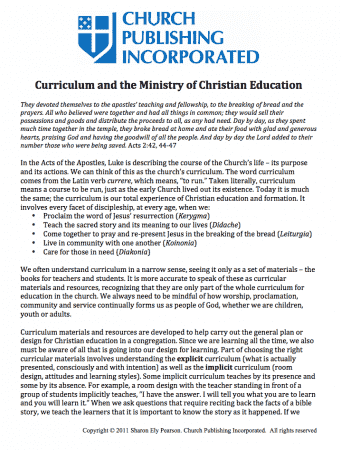 Evaluating Curriculum Worksheet for Churches
Questions About Your Current Program
In addition to the process described in the document above, here are some general questions to ask as you go.
What has been well received? Note that numbers of participants should not be the only measure of success. Sometimes the most learning and engagement happens in a small group.
Where has spiritual growth been seen?
What events or programs need tweaking for improvement?
What events or programs have not been consistent with the mission and vision of your congregation?
Are there any areas of your education program that need to be fallow for awhile?
What do you hope to build upon for the future?
Whom does your ministry serve? Whom are you not serving?
When Looking at a Specific Curriculum
Weeding your ways through the variety of materials can be a challenge. Smartly packaged products are often visually appealing, but may be theologically shallow. Some are very easy to use, but have little substance. Some can be very in-depth and comprehensive, but volunteers may have difficulty figuring out how to teach with it or understand its multiple components.
Know that most publishers offer sample lessons for downloading. This is the time of year to "try out" these resources with your children, youth and adults. Do the teachers enjoy using them? How do the students react?
Matching Your Context to a Curriculum
As you narrow down the field, continue to think about your church and context. The 'best' curriculum may be the one that matches well with your church's identity, needs, and hopes.
What is your church mission statement? Can you find a curricular resource that offers a theological statement as to the goal and purpose of the material that is similar?
Publisher and denominational perspective: While most mainline denominations have an affiliated publisher who offers curricula that is suitable to most denominations, there are often nuances that are particularly suited to their own faith tradition. For example, Lutherans celebrate Reformation Sunday, while Episcopalians do not. Baptists practice believer's baptism by immersion, other traditions baptize infants.
Do you wish to have a curriculum that is lectionary-based, Bible story-based that is sequential , a Montessori-approach, a Rotation-model,  or a theme based program?
What type of teacher training will be needed to use the materials?
How are the materials presented? Leader's Guides in print or online and downloadable? How many 'pieces' of the curriculum are needed in order to accomplish a written lesson plan? Are other materials and supplies needed? If so, are they easily obtained?
How much will it cost? Will it fit within our budget? Is it reusable, or dated so that we can only use it once?
Final Encouragement
Choosing a curricular resource is an important decision. It is one that you can hopefully live with for at least two or three years. But remember, curriculum (Latin currere = a course to be run) is a tool to help you and your student get 'from one place to another.' A curriculum is hopefully just one of a variety of resources you will use to help others along their spiritual journey and faith development.
---
Sharon Ely Pearson is a 30+ year Christian formation veteran, currently serving as an editor and the Christian Formation Specialist for Church Publishing Incorporated. Wife, mother, grandmother, and author, she enjoys connecting people with each other and the resources they need for growing in the knowledge and love of Jesus.