Our worship plan has been approved by a health professional. Please follow the gathering guidelines set out by your church and local government authorities!

We have updated this order of worship to include a recent pivot to outdoor worship during Illinois' gathering phase during the corona virus pandemic.

Recognizing that families are burned out from all things on screens, and in accordance with our local political and church governance regarding Covid-19, we experimented with holding the service on the church lawn. Based on our experience, we will continue to do so as long as weather permits.
Wiggle Worship
Wiggle Worship offers a space where families with young kids can worship together without struggling to fit the norm of children being seen but not heard. Worship is based loosely on the Rite III model (BCP p400) and similar to the service described in the Rite Place (Schreiner & Northway, 2014).
It's hard to imagine until you witness it. 3-, 4- and 5-year olds serving. New walkers trying out their running skills in the aisle. An undercurrent of toddler babbling. Some days there is as much holy chaos as there is Holy Spirit, but it's wonderful.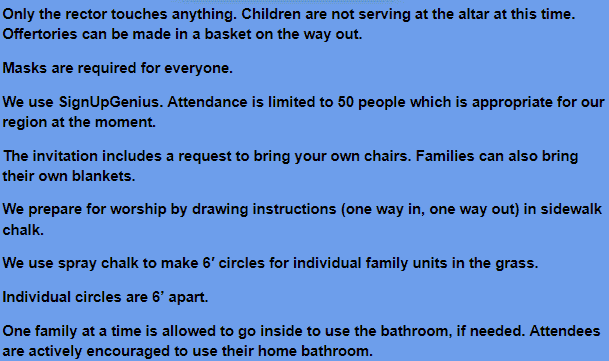 An Order of Worship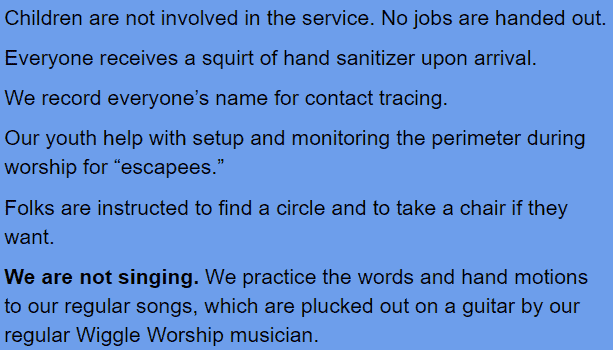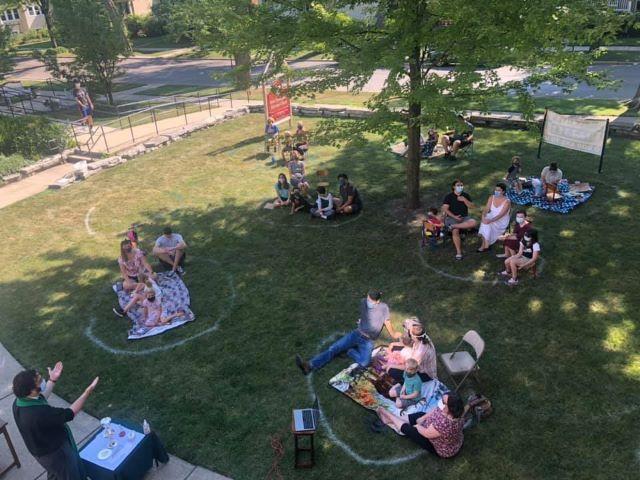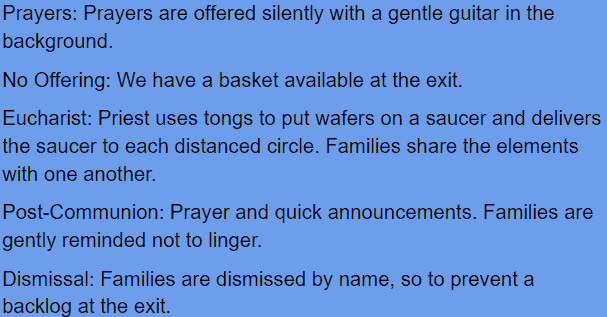 Service begins at 9:30 Families gather at the back of the church while our priest welcomes families outside. During this time we sing and learn a couple of simple songs, led by acoustic guitar.
9:40 The priest brings out the shofar and offers everyone the chance to blow a call to worship. Older kids (5- and 6-year olds) are getting pretty good!
Jobs are handed out: bringing forward the elements, holding banners and reciting the opening prayer and gospel lesson.
Everyone marches to the front of the church and finds a comfy seat around a kid-sized card table turned altar. People sit on the floor, in kid chairs or the pews.
The priest calls us to worship, and the opening prayer and the gospel story (we only have one lesson) are read by children.
The priest offers a short, simple sermon directed at young children. Sometimes these stories are affirmed by the children's stories of what's happening in their world. Sometimes they are interrupted when a toddler face-plants in the midst of a sprint down the center aisle. No. One. Cares. The regulars are used to it and newcomers are relieved.
Offering and then prayer. First everyone invited to say what they're sorry for (my kids never say the things I think they should be sorry for!); then the things they're worried about – tests, recitals, sick pets; and finally the stuff we're excited about: playdates, family trips, a sibling potty training, you name it. Adults usually chime in for all of the above. It 's all so …. Real. A language and events that every kid understands and relates to.
Now Eucharist. Blessing of the bread and wine, with the kid volunteers holding high the elements and culminating with everyone beseeching that God would "pour out your Holy Spirit…". And then we pray as our friend Jesus taught us and recite the Lord's Prayer.
Bread and wine is communicated with the words "Bread of Life" and "Cup of Love." Receiving from a 4 year old is most Holy and most reverent.
Everyone is invited to reverently consume leftovers.
No later than 10:00 We offer a quick post-communion prayer and announcements (Seriously, make it quick. This is not the time to go into detail about volunteering for upcoming events. Goldfish await!)
Coffee hour is simple: Goldfish, animal crackers and juice, served on a kid-size table in the social hall.

This service is also offered via Zoom. We connect a laptop via cable out one of the church windows, so that those at home can participate in worship. Rector tells the Gospel story and sermon as usual.
Why Does it Work?
It's simple
It's short
Kids can be kids
Parents don't have to fit kids into an adult box
It's Real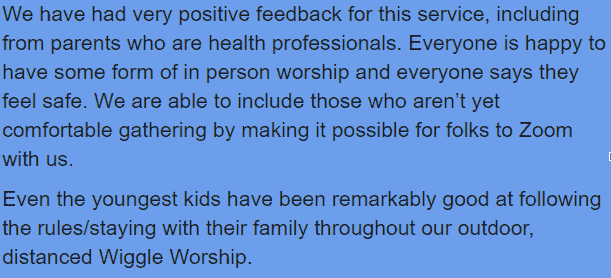 ---
Jennifer Holt Enriquez is the director of children/family and youth formation at St. Christopher's Episcopal Church in Oak Park, Illinois.