"We Gather at This Table" was written to provide a tool for families and faith communities to explore what sharing the bread and wine means for them and how it inspires their lives.
Last summer, I brought my five-year-old niece, Navy, to work with me at St. Mark's Episcopal Cathedral, Minneapolis. I was leading Wednesday Eucharist. I found the smallest acolyte robe we own to give some officialness to her role as my shadow. As soon as I finished the opening prayer, she excitedly asked, "When do we get to the bread?" I let her know we had a few more things to do first.
As the reader shared the day's Epistle, Navy turned to me, "When do we get to the bread?" "A few more minutes." Noonday Eucharist is in a small chapel, where her questions were gifts for everyone.
After the prayers, "Is it time for the bread yet?" "Not yet." Then we shared the peace. I let her know it was finally time for the bread.
Navy stood by me at the altar while I told our sacred stories as followers of Jesus. She wiggled with excitement to finally see the bread. She asked questions about what I was doing. Together we distributed and ate the bread. Her joy was infectious.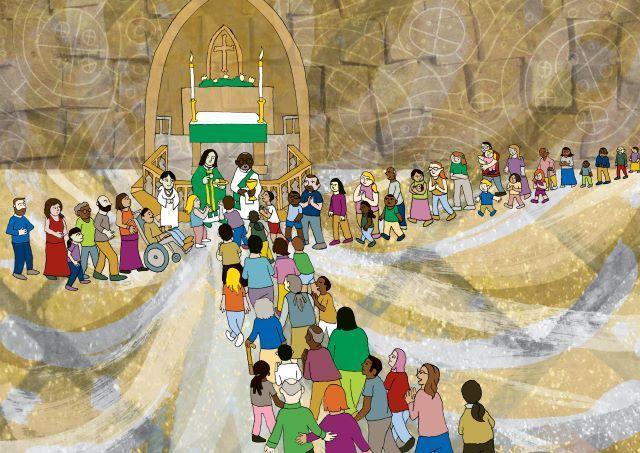 As I wrote the picture book "We Gather at This Table," I thought of the children like Navy that I love: my nieces, nephews, godchildren, and the children who run through my faith community. I deeply desire to share with our youngest generation (and with all generations) the excitement and transformative power of the bread and wine. I suspect that you do too.
"We Gather at This Table" was written to provide a tool for families and faith communities to explore what sharing the bread and wine means for them and how it inspires their lives. The following practices are excerpts from its family pages. Adapt these suggestions to best fit your family and faith community.
Remember that you are enough.
As caregivers, we want to share our faith with children. Yet finding the words sometimes seems so hard. We can be shut down by voices of doubt saying things like, "Don't mess this up!"
You, like them, are beloved children of God. You are enough. Your children do not need an expert. They need someone who loves them and who is willing to share their faith with them, engage their questions, and encourage them.
Have age-appropriate expectations.
We arrive at worship in a variety of moods week to week; so do children. Likewise, some parts of worship will speak to us more than others, as they will to children.
Each developmental stage of children brings joys and challenges. There will be moments when your child is fully engaged in a part of the worship, like the passing of the peace. Encourage and rejoice in these moments. There will be times when your child only seems to want to scream (and you may too). Take a break for a few minutes from worship and remember that this stage is not forever. This too will pass.
When they are young, bring soft toys or other items to help them be present. As they age, experiment with other tools of engagement, like colored pencils for the bulletin.
Show how you worship.
Children learn from what they experience and observe. They recognize your reverence from your body language and they will naturally begin to imitate you. Encourage this. Hold hands during parts of the service like the Lord's Prayer to reinforce the connection of that moment. From the actions of the whole community, children see that Holy Eucharist is something special. Even without knowing the "why," your child will feel welcomed, accepted, and beloved in their community and in the eyes of God.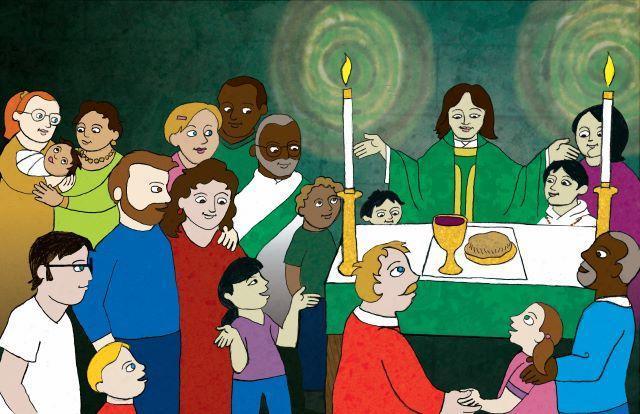 Encourage wonder and curiosity.
Let your child choose where to sit. Sometimes this may mean a couple of different spots during worship. Or, if it is a special occasion like baptism, encourage your child to find spaces where they can engage to the best of their ability, especially considering sight lines. Follow their eyes, notice what catches their attention, and wonder with them.
Our spaces and what worship leaders wear tell our sacred stories. At appropriate times, wonder with your child about what they notice. Allow your child to step into the pulpit, touch the water in the font, or sit near the organist during the postlude.
Expand your community.
Worship includes proclaiming your beliefs with others. Offer a friendly smile to others sitting with children. Introduce yourself and your child to those who sit by them and those who they see leading worship. Remind them that their godparents and/or other important adults are people who have committed to supporting their faith life.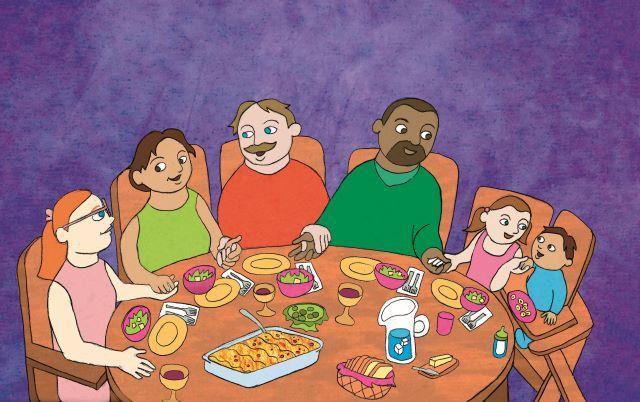 When you have questions, ask your own spiritual leaders. Not only will you learn, you will model for your children that it is okay to say, "I don't know. Let's find out."
---
Illustrations copyrighted by Peter Krueger.