"Flat Ann helped overcome the sense of lost community that can occur over the summer… Our Facebook activity increased during the project as people tagged the church, other members, and commented on one another's photos."
The Challenge of Church Summers
Summer is a beautiful and exciting season, as we all enjoy a more relaxed schedule and many leave on vacation. Those same relaxed schedules present a challenge for those in ministry. How do we minister to those who are traveling, taking advantage of warm weather outside of church, or who are generally not present at Sunday worship services during the summer months? What can we do to keep the feeling of church community strong, even in the face of smaller numbers and conspicuously absent "regulars?"
Flat St. Ann
At St. Ann's in Windham, Maine, we use a simple and engaging project to help parishioners stay connected with one another even though we may not be physically present during the summer months. We call the project "Flat St. Ann." Click the link to see my church blog post describing the project.
It's cheap, easy and effective. Toward the end of the Sunday school year, we offer a cartoon printout of St. Ann, our church's patron saint, for kids to color in and cut out. Then we encourage individuals and families in the church to bring their "Flat St. Ann" with them as they experience their summer fun, and to video or take pictures of Flat St. Ann enjoying the fun with them. Parishioners are then encouraged to bring pictures to church to post on our Flat St. Ann bulletin board, or to share the photos on our church Facebook page. Simple!
The project is based on the popular book Flat Stanley by Jeff Brown. After being flattened by a bulletin board, Stanley makes the most of his situation by mailing himself to visit friends. Jeff Brook's stories have been used for years to encourage literacy and world-wide connections by mailing a Flat Stanley to visit with family members and far away friends.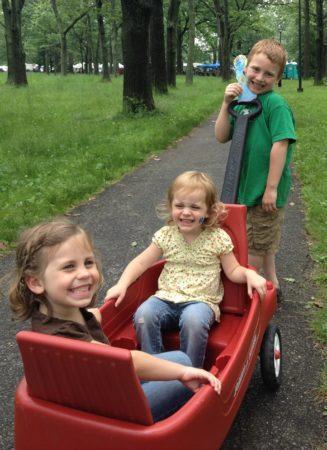 A Way to Build Community
At St. Ann's, we see this as a way to keep our congregation connected during the summer months of travel and vacation. We asked individuals and families to share pictures with their Flat St. Ann taken anywhere and everywhere they went, from the local farmer's market, to Niagara Falls. It started slowly, but gained momentum after a few families posted their pictures on our church bulletin board and Facebook page.
We found that when families returned to church after their adventures, conversations began easily about what their Flat St. Ann had "experienced." We heard phrases such as, "we saw your Flat St. Ann at the playground this week – do you go there often?" and "We saw your Flat St. Ann at Niagara Falls – we went there last year and had such fun!"
The project became more than just a conversation starter for people to share stories. Flat Ann helped overcome the sense of "lost community" that can occur over the summer when parishioners don't see each other as frequently as they do in winter months. In church, people lingered at the bulletin board and expressed joy at knowing what fellow parishioners had been up to during the summer. Our Facebook activity increased during the project as people tagged the church, other members, and commented on one another's photos.
Looking Ahead
St. Ann's is currently gearing up to launch the Flat St. Ann project again for the third summer in a row, and we are looking forward to seeing where St. Ann goes on her "travels" this summer!
---
Emily Keniston is the Faith Formation Director at St. Ann's Episcopal Church in Windham, Maine. She volunteers as the chair of the Christian Education Collaboration in the Diocese of Maine, and provides private formation counseling for churches. She lives with her husband, four children, and numerous farm animals.
Did you enjoy this article? Consider subscribing to Building Faith and get every new post by email. It's free and always will be. Subscribe to Building Faith.