"For grace and love and are to our souls, what water and sunlight are to the tiniest seeds in the earth: vital for growing healthy, ripe, delicious fruit."
Summer is a Growing Time
Two years ago we bought a small eight acre hobby farm with a mid-century fixer-up farmhouse. The first year was all about working on the house; and this second year has been all about working on the land and our garden. In July we are just beginning to reap the harvest of all our labors – tilling and planting in late winter and early spring.
I have been surprised to discover that that even in the midst of harvest time, there is still plenty of hard work to be done. There is watering, weeding, tilling up old plants, and prepping the soil for the next season. Not to mention the ongoing conversations about what we will do differently next year: what we have learned, what practices we need to refine. For instance, pumpkins have no respect for their neighbors – they need their own separate patch. We are learning first hand that when it comes to a garden, the growing never really ends.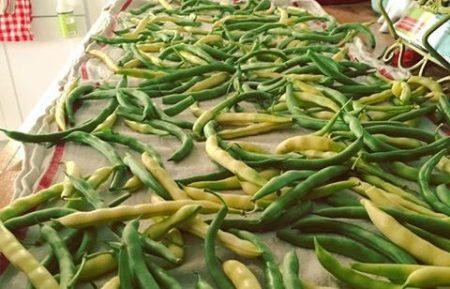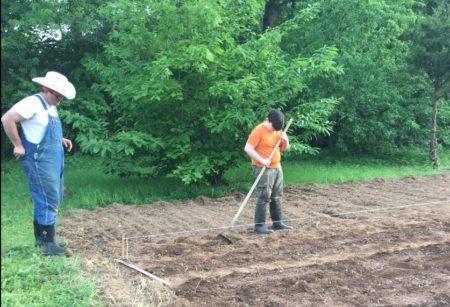 The Church's Green Growing Time
At our church we sing the "color song," which is a little jingle to teach our kids (and even the grown-ups) the colors and the themes of the church year.
Purple and Blue for Preparation,
Gold is for a Celebration,
Green is for the Growing Time,
Red is for PENTECOST (we say this bit in a big deep voice.)
In these summer months after Pentecost, green is the dominant color (altar, vestments, etc), and green will remain for the majority of the Fall as well.
Growing in Faith
The green season is a "growing time," because this is the portion of our faith year when we focus – through Bible readings and prayers – on how we can grow as Christians to be more like Jesus. Furthermore, we consider the fruits of the spirit: love, joy, peace, patience, kindness, generosity, faithfulness, gentleness, and self-control (Galatians 5:22-23).
This is when we think (both personally and communally) about what it means to "be Christ in the world". What it means to share kindness, generosity, faithfulness, gentleness, peace, joy, love and self-control with the world around us. This is also a time to evaluate how growing these fruits changes our daily lives; our everyday choices.
A Challenge to Grow this Summer
I have a challenge for your household, and for mine. For the remainder of the summer, can we choose to work on one of the Fruits of the Spirits? How would it change our family life, our community life, and our personal life, if as a team we worked together, intentionally and mindfully growing in one of these areas?
• What fruit of the spirit would you pick: Would it be joy? Love? Peace?
• What about practicing gentleness with each other, especially in your speech?
• Maybe you want to find a way to generously serve a forgotten community, such as the seniors in your neighborhood, or foster kids who have aged out of the system.
• Perhaps you need to all practice patience together on a long road trip.
• Or faithfulness in seeing a DIY project through to the end together.
• Maybe you can all practice self-control in your media consumption.
As you go along in your practice, try to notice and discuss what is working and what might need tweaking. Maybe you made mistakes (like I did planting my pumpkins next to my tomatoes), or maybe you discovered something life changing (like how much better the tomatoes do when weeded and stripped at the bottom!)
Whatever it is you do, remember that growth is often slow going and occasionally uncomfortable, and never really ending. But don't give up! Keep heaping mounds of Christ love and grace on each other! For grace and love and are to our souls, what water and sunlight are to the tiniest seeds in the earth: vital for growing healthy, ripe, delicious fruit.
---
Jerusalem Jackson Greer is a writer, speaker, nest-fluffer, novice farm-gal, and author of A Homemade Year: The Blessings of Cooking, Crafting and Coming Together. She is also the Minister to Children, Youth, and Families at St. Peter's Episcopal Church in Conway, Arkansas. Jerusalem lives with her husband and two sons on a little farm in Shady Grove, Arkansas. As a family, they are attempting to live a slower version of modern life. She blogs about all of this and more at http://jerusalemgreer.com