"We hoped that a prayer station, in some small way, might be a positive and supportive presence for the community."
Praying for Students and Teachers
A Back to School Prayer Station is a visible and public reminder that your church prays for students, parents and teachers. The idea is simple: create a chalkboard display in front of your church, with an invitation for anyone to write their prayers on the chalkboard.
The first year we used this prayer station, our local school district was in the midst of heated teacher contract negotiations. We hoped that a prayer station, in some small way, might be a positive and supportive presence for the community. In addition, students can see that their community is praying for them.
Since that first year, we have placed the prayer station near the sidewalk the week before school starts.Through the words left on the chalkboard, we learned the concerns of the community, and we were able to shape our own prayers to reflect those concerns. Examples of prayer that have been shared:
"For the best school year ever."
"For older students not to drink."
"For teachers who believe in students."
"For safety, learning and fun."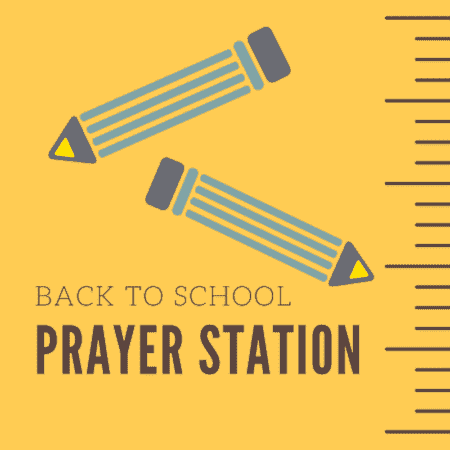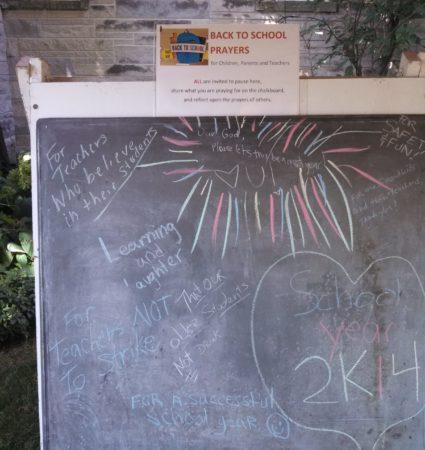 How to Create a Back to School Prayer Station
All that is needed for this prayer station is a place to write prayers and something to write them with. We used a slate chalkboard leftover from a Sunday school classroom and colorful chalk. The chalkboard was placed under a canopy near a well trafficked sidewalk. While we used a chalkboard, many other materials (white boards, slips of paper, fabric, or other writing surfaces) could work, too.
Of course, another benefit of a prayer station is reminding the community that your church is an active faith community. To that end, we also put out postcards with prayers written on them, along with an invitation to our Back to School Blessing.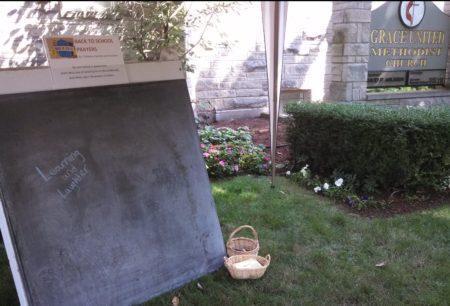 A Note on Monitoring Your Prayer Station
We were sure to check the prayer station at regular times to be sure nothing inappropriate was written. Depending on your location you may want to create a station that can be moved indoors when the church is closed. Fortunately, in our three years, we have never had a problem, and only positive things have been shared.
This outdoor prayer station idea invites the community to pray with the church and provides a visible reminder that children are loved and cared for. Consider this idea for your church, and share your results!