Este artículo fue publicado originalmente en inglés por Elizabeth Rees en marzo del 2017. Se reproduce ahora traducido al español.
"Hablamos sobre el arresto, la crucifixión y la muerte de Jesús y cómo el cielo se oscureció y la tierra dejó de respirar. Pero los niños están seguros de que ese no es el final de la historia".
Celebración de Semana Santa con niños
En St. Aidan's en Alexandria, Virginia, más de la mitad de la congregación son familias con niños. Sin embargo, hace varios años nos dimos cuenta de que pocos de nuestros niños- y pocos de sus padres- asistían a nuestros tradicionales servicios nocturnos de Semana Santa. Recientemente una celebración familiar el Miércoles de Ceniza que generó gran entusiasmo, por lo que decidimos ofrecer también una celebración familiar de Semana Santa.
__________________________________
Nuestra celebración familiar nos permite experimentar los últimos días de Jesús, desde el Domingo de Ramos hasta el Domingo de Pascua. Logramos esto a través de historias, canciones y mucho movimiento. Los niños mayores asumen roles que nos ayudan a imaginar mejor la escena y vernos como participantes en ella.
El día de la celebración es un poco complicado, ya que nuestras escuelas locales están cerradas durante la Semana Santa por las vacaciones de primavera. Pero hemos descubierto que lo que funciona mejor es programar el servicio en la noche de un día laborable antes de la Semana Santa. ¡Desde que empezamos a tener esta celebración, no podemos imaginarnos terminar la Cuaresma sin él!
Entrando en Semana Santa
Comenzamos nuestra celebración fuera del edificio, donde escuchamos la historia de Jesús llegando triunfante a Jerusalén. Un niño encuentra un "burrito" que todos seguimos hasta la iglesia mientras agitamos las palmas de las manos (que se han ordenado con tiempo para el Domingo de Ramos). Una vez reunidos adentro, escuchamos cómo Jesús y sus amigos viajaron a Jerusalén para celebrar la Pascua. Hablamos brevemente sobre la Pascua, el festival de 8 días que celebra la redención de Dios de los israelitas de la esclavitud a la libertad.
A continuación, otro niño mayor trae un cántaro con agua y nos conduce a la habitación donde tendremos nuestra Última Cena. Escuchamos la historia de Jesús compartiendo el pan y el vino con sus amigos, y luego compartimos el pan y el vino. En los primeros años de esta celebración, solíamos poner mesas bien bonitas y compartir una comida para niños (zanahorias, uvas y, a veces, macarrones con queso). Ahora que la celebración ha crecido, sólo tenemos trozos grandes de pan, con la oportunidad de mojar el pan en el vino.
Lavatorio de pies, la pasión y el sepulcro
Después de comer, contamos la historia de Jesús lavando los pies a sus discípulos, y nos lavamos los pies unos a otros. Por lo general, los niños de los pies se lavan primero y luego estos les lavan los pies a sus padres. Curiosamente, a muchos más adultos les lavan los pies en esta celebración que en nuestro servicio tradicional. Es hermoso ver a los niños sirviendo a sus padres de esta manera.
Finalmente, caminamos hacia el altar. Nos ponemos bajo la cruz mientras escuchamos la historia de Jesús subiendo a la montaña con sus amigos para orar. Hablamos sobre el arresto, la crucifixión y la muerte de Jesús y cómo el cielo se oscureció y la tierra dejó de respirar. Pero los niños están seguros de que ese no es el final de la historia.
Si hace buen tiempo, salimos nuevamente fuera del edificio, donde hay una tumba improvisada con la entrada sellada. Hablamos de cómo colocaron el cuerpo de Jesús en una tumba y la cerraron con una roca gigante. Explicamos cómo el domingo por la mañana, el día más triste se convirtió en el más feliz cuando María, la madre de Jesús, y las otras mujeres descubrieron que la piedra había sido removida. Mientras escuchamos esta parte de la historia, un niño vestido como un ángel empuja la piedra frente a nuestra tumba. Una niña vestida como María Magdalena mira dentro de la tumba vacía mientras el ángel anuncia: "¡Él no está aquí! ¡Él ha resucitado!"
Finalmente, escuchamos cómo las mujeres se apresuraron a contarles la noticia a los otros amigos de Jesús, y cómo Jesús resucitado comenzó a encontrarse con ellas en lugares divertidos: como playas, a lo largo del camino y en habitaciones cerradas. Jesús está presente y vivo con ellos de una manera nueva. ¡Y en la Pascua celebramos cómo él está presente y vivo con nosotros de la misma manera!
Consejos para un una Celebración Infantil de Semana Santa
Pida los ramos con tiempo para que lleguen temprano.
Organice a sus niños mayores como "actores".
Busque recursos para los personajes y artículos para hacer una "tumba". (Usamos disfraces de otras obras y para la tumba usamos sillas con cortes de tela marrón/gris)
Apréndase las historias de memoria y cuéntelas dramáticamente.
Como siempre con los niños, ¡no se preocupe si las cosas no salen como esperaba!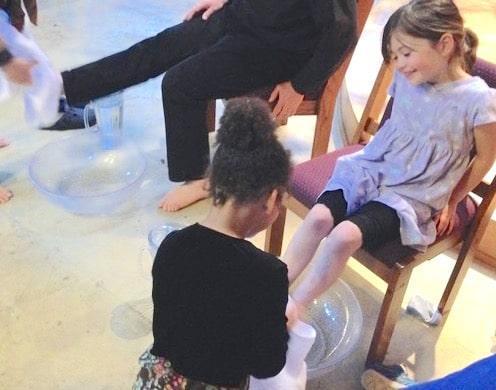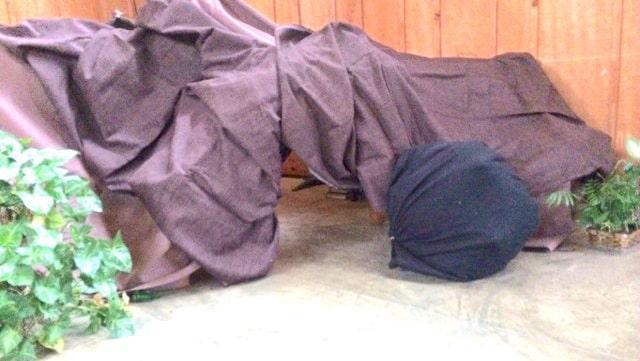 ---
Traducido por Luis Hernandez Rivas.
Luis is a seminarian studying at Virginia Theological Seminary and a Postulant for Holy Orders from the Diocese of New York. A member of the Franciscan Solidarity Table, Br. Luis is also part of the team of facilitators of Academia Ecuménica de Liderazgo, the Council of Advice of Latino Ministries, and other church wide initiatives. He is an aviation aficionado and loves local restaurants and long walks with his spouse Ken and their dog Jon.