As a former children's book buyer for a large independent bookstore, children's books are among my favorite to sell. Now, as the director of a cathedral bookstore, one of my greatest joys has been to introduce Christian educators, parents and grandparents to a plethora of brilliant and beautifully illustrated picture books.
While there are many Christian books that I recommend, I also keep a collection of "secular" books which have strong life-giving themes. In many ways, these books not only demonstrate the Christian message indirectly, but help us share it with others.
At a diocesan convention a few years ago, I was asked to bring these types of books to sell in the bookstore booth. They were a huge hit! Whether you are considering gifts for non-Christian friends and relatives, or adding to your own shelves, I'd like to share some of my favorites with you here. 
---
1. Because of You
Written by B. G. Hennessy, illustrated by Hiroe Nakata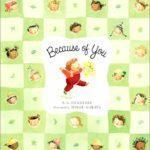 This peacefully illustrated story is a brief and beautiful tribute to each and every person born on earth. The story begins simply: "Each time a child is born, the world changes." Continuing on with statements such as, "Because of you there is one more person who will grow and learn and one more person who can teach others." Each time as child is born, we have another opportunity and another pair of helping hands to gain peace on Earth.
2. Is There Really a Human Race? 
Written by Jamie Lee Curtis, illustrated by Laura Cornell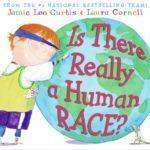 In the past decade, Jamie Lee Curtis has a made a splash with her collection of inspiring storybooks. Is There Really a Human Race? uses the metaphor of a road race to describe the scramble of earthly life. "Is there really a human race?…Who said, 'Ready, Set, Go'?…If I get off track when I take the wrong turn, do I make my way back from mistakes? Do I learn?…[So] make friends and love well, bring art to this place. And make the world better for the whole human race." The rhyming text and cleverly executed symbolism are something children can relate to. The presentation invites children's wondering in a fun and exciting way.
3. We All Sing with the Same Voice
Written by J. Philip Miller and Sheppard M. Greene, illustrated by Paul Meisel.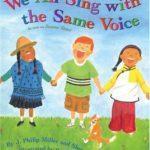 This picture book is based on a song often featured on Sesame Street. Its core message is unity. Undertones of Pentecost float through this book, demonstrating that we are all one. The message of Ubuntu – I in you and you in me (chosen as the theme for the 76th General Convention of the Episcopal Church) is subtly but powerfully conveyed and repeated throughout. "My eyes are brown and green and blue…I come from Mecca and Peru. My name is you."
4. One,  Zero,  and Two (three separate books)
Written and illustrated by Kathryn Otoshi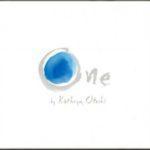 This incredibly clever set of books is a must-have. The newest in the collection, Two, is set to be released September 23. Otoshi uses exquisite metaphors of numbers and colors (the stuff the universe is made of) to show how we are all in relationship with each other.
In One, Blue is a quiet color. Red's a hothead who picks on Blue. The other colors don't like it, but don't know what to do. It is not until One comes along and shows all the colors how to stand up, stand together, and count, that things change. One person can make a huge difference.
In Zero, Zero feels worthless. The other numbers all count, but she doesn't. After struggling to change her round, seemingly empty shape to be like them, she learns her own value, as well as to accept that we all have different gifts and talents.
In Two, One and Two are as close as two peas in a pod until Three jumps between them. Two feels pushed aside and her feelings are hurt. As the numbers struggle through working out their relationship, they learn important lessons about friendship, letting go, and valuing the self and others.
---
All of these storybooks provide opportunities to talk about connecting with others and a chance for children to reflect theologically. You might ask children where in Scripture have they seen the same thoughts and feelings occurring in these stories. Can you show them some?
Carrie Graves is the director of Trinity Cathedral Bookstore in Columbia, SC, and President of theEpiscopal Booksellers Association. She has served as an EfM mentor and Confirmation teacher at St. Martin's-In-The-Fields, Columbia, SC, and currently serves there as a lector and Eucharist minister.