"I think when people lead by passion, something true to who they are, that's so exciting. You see God's Spirit and love through that person."
Talking Rotation
We recently sat down with a Christian formation director who is currently using the Rotation model in a program-size church. Mandy Hodges offers her inside scoop on Rotation – what works, what doesn't, and what to consider if you are thinking about Rotation for your church.
How would you describe Rotation to someone who is not familiar with it?
A lot of people say Rotation is like Vacation Bible School, and I agree with that description. You have various groups of children moving through several workshops or stations. Instead of moving through them over the course of a day (as in VBS), the kids have one station for each Sunday, and they rotate each week.
We use Spark as our curriculum, and they offer resources for as many as eight workshops. Most churches wouldn't do all those stations, and at St. Paul's we have five: Art, Cooking and Science, Music, Liturgics, and Ministry. Liturgics is a name that works for us, but it's also where we play the Bible games. Ministry is a workshop that we created, and it's where kids have an opportunity to give back. For example, the kids made special blankets for the mens shelter in DC, and also activity bags for our Lazarus assistance ministry.
On any given Sunday, we have four workshops going on. Because we have five total, that means that one set of teachers gets a Sunday off every fifth week. This helps avoid teacher burnout. We also occasionally have a Sunday fun-day where we take a break from Rotation and have all ages together. This might be between units, for example.
How long have you been doing Rotation at St. Paul's?
When I came to St. Paul's about a year and a half ago, Rotation was in place and had been running for five years or more. So you could say I inherited the program. At this point I have taken it through a full school year. I'm definitely not an expert, and don't have all the answers, but I have learned a lot as I have gone along.
What are the age groups?
We have four, and this was intentional based on the size of our program. Some churches might have more or less. Ours are Kindergarten, 1st grade, 2-3rd grade, and 4-5th grade.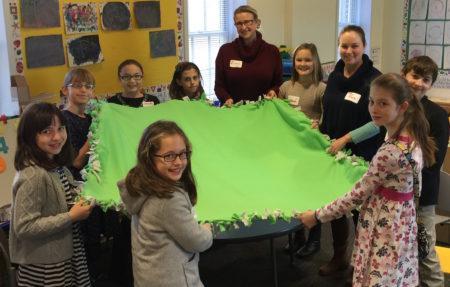 Benefits and Challenges
What is the positive feedback you hear from students and teachers?
Well, with the students I tend to hear about the specific workshop areas that they like, and which ones they don't! This can be a blessing, but also sometimes hard to hear a child say, "Awh, I don't want to go to ______ today…" That's when it's my job to be very positive and encouraging, asking the kids to focus on the learning and the togetherness, rather than the particular activity.
From the teachers, we are really blessed to have teachers that are passionate and excited about the area that they are in. So they will tell me how much they enjoy it. Our music teacher, for example, has really found this as a special personal ministry. Music, and working with children, that's her gift – she loves it. And I can just see the light of God shining through her as she uses her gift to connect with the kids.
How have you seen God's grace and love work through Rotation?
I think when people lead by passion, something true to who they are, that's so exciting. You see God's Spirit and love through that person. I really feel that this is the strongest "pro" for the Rotation model. The teachers are committed because they are doing what they love.
As for building the relationships with the kids, I will say that this is a little bit more difficult in the Rotation model, because the kids are not with that same teacher every week. But over the year, you do see the relationships grow, you really do. Perhaps at a different pace than if a teacher had the same kids every week, but it's comes – over time, the connection comes.
What are the challenges, from your point of view?
Developing a strong shepherds component. (Shepherds greet the kids each week, take them to the workshop, and stay with them the whole time.) The shepherd component is perhaps the most important piece of the entire model. But it's also the hardest piece to juggle. For the most part, at St. Paul's, we rely on parents to serve as shepherds. This actually becomes a nice area of parent interaction.
On the other hand, our 4-5th grade shepherds were so great. They are not parents; they are a young couple, and they did the shepherding together. They were so committed, and were there week after week, throughout the year. The kids developed a relationship with them that was almost like a youth leader relationship. And the consistency is what allowed this to happen. Ideally, a shepherd consistent situation like this would be best for all the age groups.
As for another challenge, and I mentioned this earlier, there is the entertainment attitude that we are always watching out for. In other words, when the kids come in with a preconceived notion regarding the workshop for that day – whether they are going to like it or not. They're focusing on "what thing am I going to do today?" We try to redirect them to understand that it's not just about the activity, it's about being open to learning and being part of the community.
Final Words of Advice
What is the "the one thing" that any church running Rotation should be sure to do?
Have enough volunteers. It is so hard if you come in on a Sunday morning, and you don't have enough hands on deck. There was one Sunday when, because of snow, several teachers and volunteers could not make it to church. So we merged classes and got creative. That was ok for one Sunday, but if that happened a lot, it would be very difficult to make it work.
What advice would you give to folks considering Rotation for their church?
Find workshop teachers who are excited about their class focus. The music person should love music. The art person should love art. AND make sure that these are people who genuinely care about kids and connecting with children.
Do invite some parents to be shepherds. With Rotation, you really want to express the idea that it takes a village, and that parent-involvement makes a big difference. I love seeing parents rallying around our kids and showing them that faith is important.
---
Mandy Hodges is the Minister to Youth, Children, and Families at St. Paul's Episcopal Church in Alexandria, Virginia.
This article was originally published on Key Resources.
Did you enjoy this article? Consider subscribing to Building Faith and get every new post by email. It's free and always will be. Subscribe to Building Faith.