"I hand out the love letter packets… They read, laugh, and cry. They feel loved and validated in a way that exceeds even the most popular of social media likes."
Talking with Teens about Sin
In my previous post, I wrote about talking with teens about sin. Continually chastised for "doing the wrong thing," teens tend to think of sin as breaking a rule. In my teen programs at St. Paul's, I reframe sin, attempting to move their thinking from behavioral to relational: breaking a rule isn't sinful, it's that is pulls us away from one another and from God. Sin is being out of relationship and the subsequent feelings and behaviors that continue to build up walls and remove us from community.
We are human, we sin. Our Baptismal Covenant reminds us that, "whenever [we] fall into sin, [we] repent and turn toward the Lord." So in my programs, I provide space for my teens to think about what pulls them out of relationship with God and one another, write down that sin, and then destroy it. Sometimes we all need a concrete way to see that we are not defined by our shortcomings.
We are so much more than our sins
This is especially important for teens to hear. Not yet sure of who they are, pulled in many directions by peers, family, and teachers, and constantly told "they can do better," teens need to hear that they are defined by Love. They need to hear they are beloved children of God, each made in His image, and granted unique spirits and eternal souls that truly define who they are.
Baby Face, You've Got the Cutest…
On our 7th grade retreat, which occurs midway through our two-year confirmation process, we play the perennial favorite "Baby Photo Guessing Game." Prior to the retreat, I ask families to provide me with a baby photo of each child. (Note: If you know in advance that you have children who were adopted at an older age, consult with the parents to determine whether this activity will be hurtful and adapt it accordingly.) I line up the photos, each marked by a letter. Everyone tries to guess which current teen is shown in each photo, writing down their guesses on a piece of paper with corresponding identifying letters. There are always a few obvious ones; and a few who appear to be fairy changelings. When the guesses have been made, I hold up each photo, make a few kind comments about the child pictured, and then identify them. These twelve year-olds have changed a lot physically. It's surprising how often kids don't even recognize themselves!
I wish that I could be like the Cool Kids…
Once the photos have been returned to their owners, we spend time talking about the non-physical changes that teens go through. Teen years are a time of discernment – when a young person begins the process of separating from their family and growing into adulthood. We discuss how hard it can be to become the person God intends for us to be. There are many narratives in society, in the media, and in our communities. Each narrative has different values and highlights different ways of being. As a group, we address the concept of popularity and we talk about what makes people popular: their physical looks, their clothes, their friends, their social media presence, and their extracurricular activities. I get the impression from the kids that they believe popularity is somehow magically pre-destined. It is a rock solid, objective designation of worth. Popularity is obvious, unquestionable and meant-to-be. And it's always been that way and always will be, amen…or so they think.
Those were the days…
To "prove" that popularity is indeed exactly as predetermined and obvious as they believe, I whip out my 6th grade, 1970 class photo. Once the kids quit laughing, I tell them that popularity has always been an issue for teens, even back in the dark ages of my youth. And I agree that some people have just got what it takes: the looks, the wardrobe, the charisma…popularity just oozes from every pore. Right? Then I ask the kids to identify the most popular boy and girl, circa 1979, from my photo. Because it's obvious, right?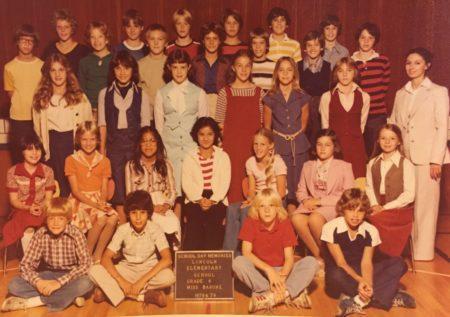 In 12 years of confirmation class retreat, no one has ever guessed correctly. (For the 12 years I have had to reaffirm that I was not the popular girl!) Then I ask the group if they've ever looked at their parents' high school yearbooks. They laugh even harder than they did at my poor picture. But as they laugh, a light goes on. They begin to grasp that popularity isn't an authentic measure of a person's worth. So then we ask ourselves, how do I assess my own worth? Am I to be judged by who I was as a baby? by who I sat next to in the class photo? Who am I supposed to be, if not someone dictated by what I wear, what I listen to, or how many Instagram likes I have?
 I honestly love you…
As the kids ponder their baby photos, their current twelve-year-old-ness, and who they might be as they grow into adulthood, I tell them that while popularity is fickle, the person they truly are, the person God made them to be, is unchangeable. There is a time in each of their lives that they can't remember, sometime at or before those photos were taken. They had no sense of self, they had no idea who they were or who they might become. But even then, before they knew themselves, God knew who they were meant to be.
"For you created my inmost being;
you knit me together in my mother's womb.
I praise you because I am fearfully and wonderfully made;
your works are wonderful,
I know that full well.
My frame was not hidden from you
when I was made in the secret place,
when I was woven together in the depths of the earth.
Your eyes saw my unformed body;
all the days ordained for me were written in your book
before one of them came to be.  -Psalm 139"
As young people growing in faith and growing into themselves, it should be their goal to strive toward the ideal person that God created. In order to do that, they need to surround themselves with other who recognize them not for their relative popularity, but for their ultimate value as a child of God. I remind the kids that there are people who truly know, love, and value them regardless of fad or fashion. These are the people who see the image of God and the light of Christ shining through each child's face, every day. The kids look at me skeptically. It's hard for some of them to believe they can be so beloved. But I tell them that my words are not hollow. I have proof.
Unknown to the confirmands, about a month prior to the retreat, I solicit "love letters" from each child's family. These cards, letters, pictures, or scrapbooks can be from anyone – parents, siblings, grandparents, godparents, extended family, teachers, coaches – anyone who knows and loves the child. Letter-writers are asked to share what they love about the child, their hopes and dreams for them. It is gift not only for the teens but a unique blessing for the parents, as well. Everyday parenting is more about correction and counsel than compliment, and rarely in keepsake form. In writing their letters, parents are invited to verbalize the underlying love and sentiment that gets lost in the stress of everyday living. For the parents, to read the glowing words of others in praise of their child is a wonderful validation and confirmation that even during the most difficult teen phase, there are people who view their child in the best possible light.
I hand out the love letter packets, explaining that they are not expected to share them with anyone. Everyone retreats to their bunks. They read, laugh, and cry. They feel loved and validated in a way that exceeds even the most popular of social media "likes." Some do share bits and pieces, if only to say, "Wow, I never knew they felt this way about me." The love letters are beautiful, awesome, and an incredibly precious gift of a lifetime.
The teenage years aren't easy. Kids make mistakes. They will, like all of us, fall into sin. But to have written words as proof that they are known and loved is an irrefutable sign of God's Grace. I hope it continues to be an invitation to live fully into the life He desires for each of them.
---
Lisa Brown recently accepted a position as the Director of Digital Ministry with Membership Vision. Building on her work in Children's Ministry and Communications at St. Paul's Episcopal Church in Pittsburgh, PA, she helps churches connect to people and to God in the digital space. An active member of Forma and Girl Scout leader, Lisa is passionate about enriching the spiritual lives of people. Her book "The Best Do-It-Yourself VBS Workbook Ever" will be published in early 2017.
Did you enjoy this article? Consider subscribing to Building Faith and get every new post by email. It's free and always will be.  Subscribe to Building Faith.