"Unbinding is a mutual activity. On every trip I have taken, I have been the one who has been unbound to the greater degree by those we came to serve."
Why Youth Mission Trips?
As people of faith, a major part of our "job description" is to serve. Christ's example of reaching out to those in need prompts many churches to consider short-term mission trips as a dynamic opportunity for our young people to live into their call as disciples.
Having planned 29 such trips, I am aware that a common false mindset is that "WE" who are more privileged are going to reach out and help "THEM." If that is a prevalent expectation within your youth group, it is important to reshape that presumption. A primary question to discuss with the youth is WHY……why are we taking a mission trip? What is the purpose of this trip? Why might God be calling us to serve in this way? How can the trip be both faith-shaping and fun?
Commandments from Scripture
When thinking about mission trips, the Bible passage that has been my guide over the years is the story of the raising of Lazarus in John 11. As Lazarus comes out of the tomb wrapped in grave clothes, Jesus tells the people to "Unbind him and let him go."
This is what disciples are called to do. We are to unbind one another from our biases, feelings of inadequacy, or lack of knowledge and experience so we can live into our call as disciples. As we teach, preach and serve we show others new dimensions of the life they can have in Christ. We must also be open to the ways those we serve can unbind us from our prejudices and limited vision. Unbinding is a mutual activity. On every trip I have taken, I have been the one who has been unbound by those we came to serve.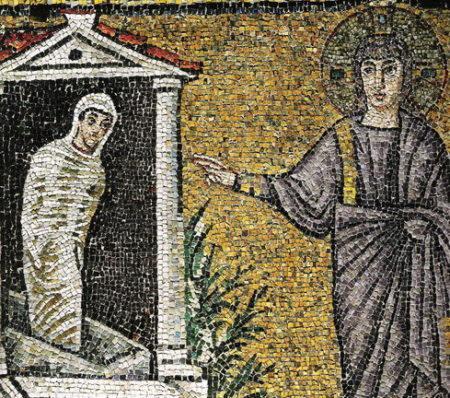 Mission Trip Planning
The tips below can also be found in my new book, Unbound: The Transformative Power of Youth Mission Trips. I wrote this book to share my wisdom planning mission trips, to inspire others to organize a mission trip, and to present new ideas to those who have taken many trips.
Planning Tip 1: Writing Group Affirmations
Planning the details for such trips can be daunting. Unbound starts with the larger questions: the "why" aspects of serving, including the advantages of traveling away from home. Two pivotal factors move a trip from an adventure to a journey of faith. One is the support of adult sponsors. The other is building a strong community before the group departs.
One of the most lasting ways to create community is written affirmations. Using sheets of construction paper or 4×6 cards, one for each participant, youth and adults write notes to each of the others in the group during the week. They can record funny events, powerful moments of work shared, or insights gained about the other. These affirmations are taken home and can be read and re-read.
Planning Tip 2: Consider Common Spaces at Your Accommodations
The book has a list of questions to ask an agency when you are deciding where to serve. It also talks about fundraising and names some of the pitfalls one can encounter. Keep in mind as you are arranging accommodations that it is really important to find a place that offers a gathering space for your group, especially in the evenings. This is when sharing meals, engaging in Bible study/devotions, recounting experiences of the day, and playing games happen. A motel normally does not offer such a space.
Planning Tip 3: Stick to your Calendar and Budget
There is a suggested calendar for planning the details of the trip. For example, by January/February you will have your location and dates nailed down, so this is the time to cement accommodations and begin publicizing the trip, especially among the adults who likely will have to ask for vacation time to go.
Prepare a preliminary budget, as you will know by now the cost requested by the agency you will work with and can begin to figure out transportation costs, food estimates, etc. This will help you determine how much money is needed from participants (try not to price anyone out of going and offer scholarship money) and from fundraisers.
A New Book for Planning Mission Trips



My book, Unbound: The Transformative Power of Youth Mission Trips, explores all aspects of mission trips through the lens of the Lazarus story. Included in Unbound are stories from participants as to how the trips impacted their lives and their faith.
At the end of the book is a Resource Section that offers such items as:
Two sample Bible study/worship booklets
Budget worksheet
Sample medical release form,
Outline for an orientation meeting with youth, parents, and sponsors
Generic grocery list, a supply list, etc.
Finally, the book contains a password that allows web access to all of the above items as Word documents, so you can make them your own.
To purchase the book or see previews, simply go to the website: www.unboundmissiontrips.com.
---
Jann Treadwell is a retired certified educator in the Presbyterian Church (USA), 2010 Educator of the Year for the Association of Presbyterian Church Educators, and author of Unbound: The Transformative Power of Youth Mission Trips.