"Love and joy come to you,
And to you glad Christmas too.
And God bless you and send you a Happy New Year,
And God send you a Happy New Year!"
An Annual Caroling Tradition
Christ Church Christiana Hundred has a long tradition of caroling. Recently, we revamped our yearly caroling event to reach more young families, and to be more mission-oriented. Here are some details:
We host the event on the Friday before Christmas
At the church we offer caroling, craft activities, and dinner for two groups of carolers.
We use printed  booklets of carols, which we have tweaked over the years.
The event is a team effort, coordinated by the Parish Life Committee, with support from the Minister for Children and Youth.
We publicize the event to the entire church community, and especially to the families of our church preschool.
We have two groups of carolers, for flexibility.
The event is about outreach, so after our time at church the carolers go out to sing for home-bound parishioners, nursing homes, and more.
The Evening Schedule
We have two groups of carolers, so that different ages can participate.  (The second group stays out later.)
First Group
We start at 3:30 p.m., so that families with young children can join. We begin with crafts, which includes making cards for the people to whom we will sing. The carolers leave at 4 p.m. and visit one location where they sing and pass out cards. One year, we sang at a group-home for women recently released from prison.
Second Group
Our second group gathers at 5:30 p.m., just as the other group is returning to church. With about 45 minutes of overlap, everyone shares a pizza dinner! We also have cookie decorating and face painting. Then the second group of carolers leaves around 6:00. This group visits home-bound parishioners and several nursing homes, returning around 9:30 or 10:00 – a long evening!
The Benefits: Intergenerational Fun
Caroling on a large scale is fun and intergenerational. The event comes at a time when everyone needs some cheer and restoration.  Our caroling event creates connections: in this case connecting preschool, church, and the communities where we sing. Finally, we get to sing more carols than we can ever possibly sing in church!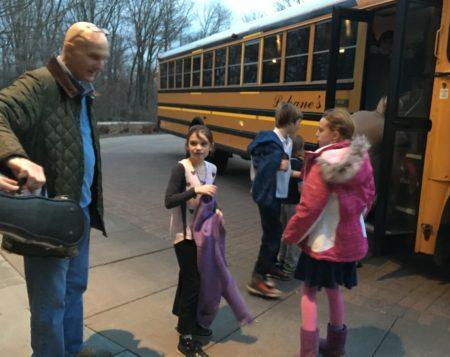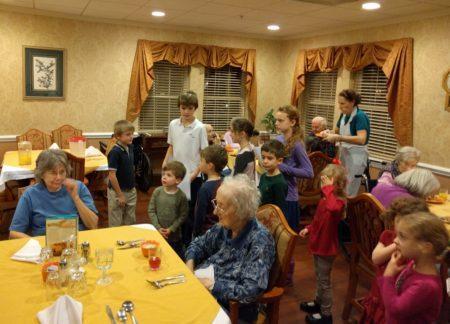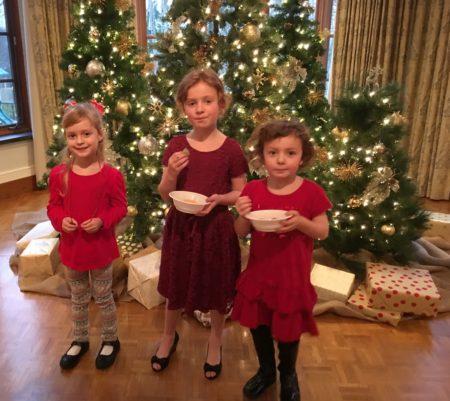 ---
Lynne Jensen is the Minister for Children and Youth at Christ Church Christiana Hundred in Wilmington, DE. As part of her duties, she is on the staff of Christ Church Episcopal Preschool. Lynne has been involved with children's ministry in the Diocese of Delaware for 26 years, including 25 years as a Godly Play teacher and trainer.