Last year, when we didn't feel comfortable hosting people inside our buildings yet, we looked for a totally-outdoor Vacation Bible School alternative that could involve people of all ages and could support creation care. What was born was the Festival of Creation, a 2-day festival celebrating the Earth and all that is within it.
Priorities: Naming What Mattered in Our Context
What we wanted, first and foremost, was for this event to be an absolute blast. Every activity needed to have an element of fun and whimsy in order to keep the tone light but focused. In addition, each part needed to have a continuing action attached to it, to keep the people focused on next steps in creation care. Our focus was turned to climate change and environmental justice – with hope for change and steps for living a more environmentally just life. Wherever possible, we involved relevant experts to make sure the focus was more on effecting systems change rather than just individual changes, but we left lots of room for individual changes too.
Structured & Unstructured Time
The first day was hosted at St. Timothy's Episcopal Church. St. Tim's has a thriving community garden, so we chose to build all the programming for that day around it. The second day was at St. Paul's Episcopal Church, which is right along the Tar River. We decided to focus on the water for that day.
On both days, there was a period of structured and unstructured activity. During unstructured time, people were free to pray using multi-sensory prayer stations, to talk with the various vendors and presenters I invited, or to grab some food from the food truck or snow cone machine.
Note: The prayer stations include the story of Creation from the Godly Play Curriculum which can be found in The Complete Guide to Godly Play Volume 2.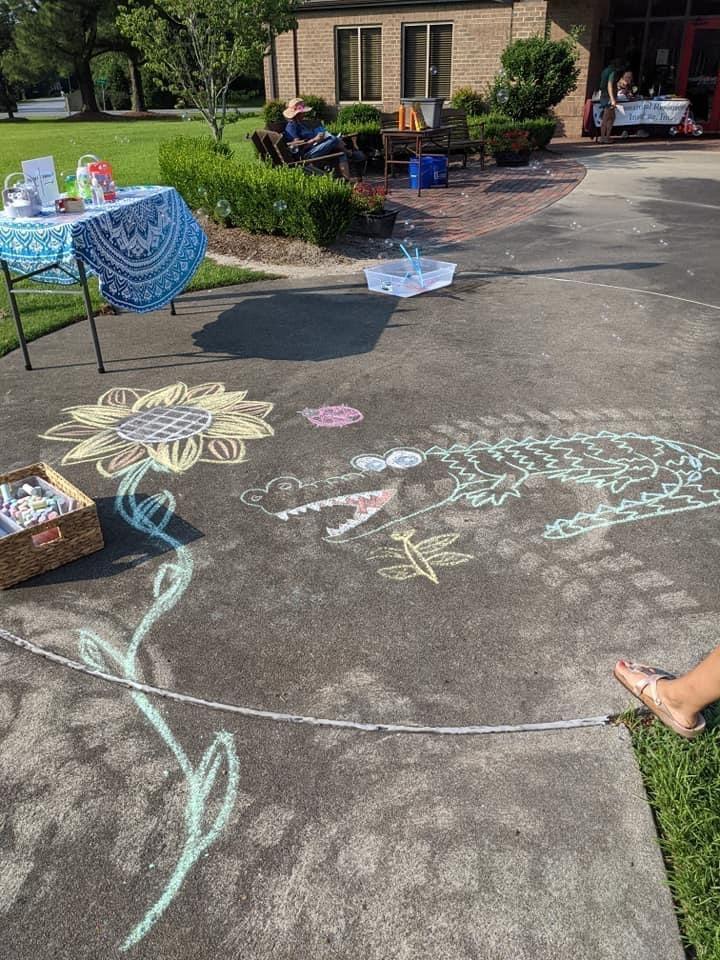 Day One: In the Garden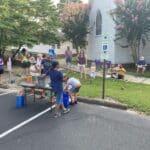 On Day 1, In the Garden, our structured time involved a presentation from the local community garden's director on vermiculture (the product of the decomposition process using various species of worms). We created compost using worms, which was a huge hit with kids and adults. I presented a lesson from Cynthia Coe's book Earth Our Garden Home which ties the practice of composting to the theological concept of resurrection.
We heard a presentation from the Unnatural Resources Institute, which is headed by a St. Tim's parishioner. Their mission is to get people thinking about ways to reuse things instead of throwing things away, and there is an annual competition for reusing refuse to create robotics, art, and useable items.
Day Two: The Waters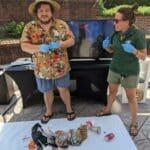 On Day 2, The Waters, our structured time involved three presentations by Sound Rivers from our local river keeper Jillian Howell. Our first activity was to test the water quality of our church and surrounding area. We tested the tap water, outdoor fountain, baptismal font, drainage ditch, and river. We were a little worried about the results, but we were proud to say that there was no E. Coli found in any of these sources! Jillian showed how the tests are performed, and we got to view both clean and tainted samples, which glow under UV light.
The second presentation was called a "trash audit." On the morning of the event, Jillian went down to the river with a bag and picked up any refuse she found in the water or on the bank of the river. She dumped it out, and we all put on gloves and sorted through it, talking about how each item can harm local wildlife or adversely affect water quality.
The third activity was a runoff simulation using large sheets of paper, washable markers, and water. We drew on the paper with different colors to represent different kinds of material. For example, farmland was green and represented pesticides and fertilizer and other chemicals. We used red for animals at farms, since their waste is known to enter rivers. We used purple to represent construction, where dirt is kicked up and piles of dirt, mulch, and other materials wash away in the rain. Then we crumpled the pages up, flattened them back out some, and slowly poured water over them. The "rivers" that formed on the page showed exactly how these hazardous materials enter the rivers.
We had an additional presentation by RAW Plastics. Our city does not actually recycle much of the plastic it collects; it is transported to a landfill elsewhere, so RAW Plastics is doing the work of recycling and using their platform to advocate for recycling reform.
We had a short worship service that included a commissioning of all who were gathered to the work of creation care.
Additional Ideas
Here are some of the ideas we came up with but did not use. I wanted to include these because they might work out for some of you!
Planting new trees on St. Tim's property. There is an upcoming road-widening project that will cause them to lose many of their trees, so it would be good to replace some in advance of that.
Showing a movie outdoors in the evening. St Tim's was growing popping corn in their community garden; we wanted to pop some and show kids where it was grown.
A presentation on farming oysters in the rivers. Oysters are filter feeders and naturally clean polluted water.
Exploring the practice of "guerilla grafting" – where people will graft fruiting tree branches into the trees on public property to make the food they produce freely available to people in urban areas who don't have access to fresh fruits and vegetables.
A presentation on a plant-based diet and the environmental aspect of the meat industry. This could have included doing a taste test with various meat substitutes.
Cleaning up trash downtown together.
Bringing in water defenders who bravely resist the building of oil pipelines through indigenous lands.
Bringing in indigenous experts to talk about the land and how their relationship to the land has been disrupted by colonialism.
Bringing in experts on food insecurity and food deserts.
Bringing in honeybee experts and talking about how keeping bees is beneficial and how to help the bees.
Planting seeds in containers to take home and grow.
A demonstration of canning and pickling to preserve fresh food.
---
This article contains Amazon affiliate links that benefit Lifelong Learning at Virginia Theological Seminary.
For additional information and images, check out this post on Juniper LaNunziata's website!