Finger labyrinths are versatile faith formation tools for all ages.
Finger labyrinths are great for all ages; we have used them as part of worship kits for little ones, as part of explaining prayer to elementary age children, in our Confirmation program, and for adult retreats and prayer stations.
We have used them in a class learning about prayer and also will be including them in prayer on the go bags for families to take home.  They could also be used in worship boxes to have at the entrances to a church for use by young children during the service, as a "quiet" item.
They are simple to make with whatever solid color fabric you have on hand; patterns are too distracting and make the lines of the labyrinth hard to see. You can see in the photo above that I used a flannel fabric that was blue but had splashes of a different color on it. In the future, I will use a fabric that is totally solid to make it easier to see the pattern.
Materials
8 ½ x 8 ½ inch piece of fabric for the top

8 ½ x 8 1/s inch piece of batting

10 ½ x 10 ½ inch piece of fabric for the

backing (

bottom)

Labyrinth pattern on plain copy paper

Contrasting thread for machine quilting the design
Instructions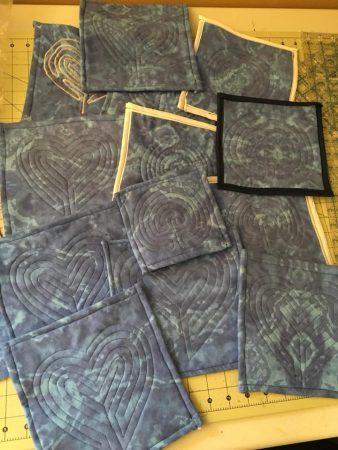 Center the top fabric (face up), batting and backing (face down). Pine together, leaving 1 inch extra of the backing around all the edges.

Center the paper design (face up) on the right side of the

top, and

pin the paper pattern to all three layers.

Using a straight stitch, sew all four pieces together, following the labyrinth design. Shorten the stitch length on your machine which will help the paper tear away easily.

Tear away the stitch pattern.

To finish the edges, begin with the corners, and fold the backing over itself at

45-degree

angles towards the quilt top, covering the raw corners. Stitch each mitered corner in place. Then fold the backing of each of the four sides in halfway, then fold again, over the raw edge. Finish by topstitching with a ¼ inch-3/

8 inch

seam allowance.
If you don't sew, this is a simple project that could engage the sewers in your congregation! Put out a request for sewing volunteers in our weekly bulletin or monthly newsletter or on Facebook and you will be surprised how many are willing to do this project; most sewers have extra fabric pieces laying around that they would be willing to donate as well. It's a great intergenerational way for older people to create for younger ones.
Click here to download the Circle Pattern and the Heart Pattern.
---