During the pandemic, one of the challenges for every congregation has been keeping people connected. With periods of online-only worship, lack of potlucks and dinners and even small groups, maintaining and growing relationships has been made challenging.
Attending to Morale
In the early days of the pandemic, I realized that part of my role as priest would be to monitor the "morale" of the church. Spiritual and emotional health is tied directly to morale. I challenged our Vestry and leadership to be mindful of this as well. We sought to find opportunities to celebrate the impact of the church on people's lives and to share moments of "grace" through our eNews and in our worship.
A Creative Way to Celebrate Birthdays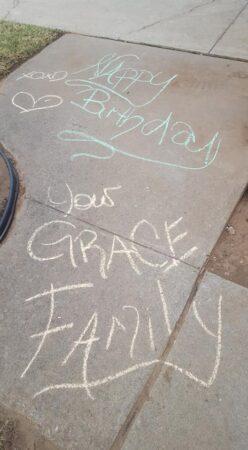 One day, one of our members pointed out to me that we had stopped doing the birthday blessings in church when we stopped in-person worship. "We need to find a way to celebrate birthdays!" she said. I could think of no better way to raise morale during the pandemic. "What should we do?" I asked. She thought about it and came back to me a day later and said, "Let's get a team together to chalk people's driveways on their birthday!" Thus, our Birthday Chalking Ministry began.
Each month I share a google spreadsheet with names, birthdays, and addresses, and people sign up to chalk the driveway of the person celebrating a birthday. The reaction was wonderful: People would wake up to this surprise and post on social media, thanking their church family for remembering them on their birthday. This ministry brought much joy and raised the spirits of our church family. Being remembered and celebrated, especially in times of isolation, is an important way to incarnate the love of Christ in our communities.