"The curriculum is informed and viewed through scripture, reason, and our wonderfully rich Episcopal tradition… ECC is, quite simply, our Children's Christian Formation 'home.'"
Editors' Note
The Episcopal Children's Curriculum (ECC) was one of the best-selling and most widely used Sunday school programs ever created for the Episcopal Church. At its height, thousands of Episcopal parishes used ECC, touching the lives of countless children, families, and teachers. ECC was created by expert educators at the Center for the Ministry of Teaching at Virginia Theological Seminary. Though no longer in print, the entire curriculum is available for free on the CMT website. Building Faith is publishing a series of articles on the Episcopal Children's Curriculum; this is the third. Explore the ECC here.
Note of Caution: Because the ECC materials have been scanned as pdfs, many images are not always easy to print in proper sizes and formats. For example, the small children's books and learners books are difficult to print in book form. We know this is inconvenient and we apologize in advance!  Please be patient, and feel free to contact the Center for the Ministry of Teaching with questions.

Bits and Pieces: How We Use the ECC Materials – by Nancy Eubanks
At St. James Episcopal Church in Marietta, Georgia, we do not run 'the full' Episcopal Children's Curriculum. Rather, I select pieces from the various ECC materials, incorporating them in our formation program.
Lesson Plans: The ECC Teacher Guides are used as a valuable framework from which to build a lesson, perhaps adding video snippets and different hands-on activities to capitalize on the particular needs and interests of my children.
Baptism Materials: I have used Shell Year Teacher Guides to develop baptism instruction for children and parents, separate from its use in Sunday School.
Communion/Eucharist Materials: Similarly, the Chalice Year Teacher Guide provides lesson outlines for a stand-alone Eucharist class for younger children, and the matching Intermediate Treasurebook serves as excellent adult/teacher resources to support the class.
Posters, Maps, and Templates: I enjoy using the Teacher Packets which are full of teaching goodies! The packets include a variety of posters with templates, such as a model of the ark, paper doll clergy with various vestments, as well as Bible story puppets. Useful recipes, maps, and so much more information and directions for art activities – such as how to make an ancient clay oil lamp – are included to help enrich and augment lessons I've presented during Sunday School, VBS, and summer church camps.
The diversity of paintings, sculpture, and other media shown on many of the posters help the children enjoy the many ways Bible stories can be interpreted, whether via classic and modern art. During Advent, in Children's Church, we use a poster showing two different artistic representations of John the Baptist. The images encourage discussion, help the children formulate their own idea of how John might have looked, and ultimately aid in their remembering the lesson.
Perhaps my favorite trick is to gather all the posters that represent the Last Supper, across all age levels, guiding the children in comparing the way the event is expressed by artists. What clues to their thoughts do the artists give us about Christ and about how he/she represents each disciple?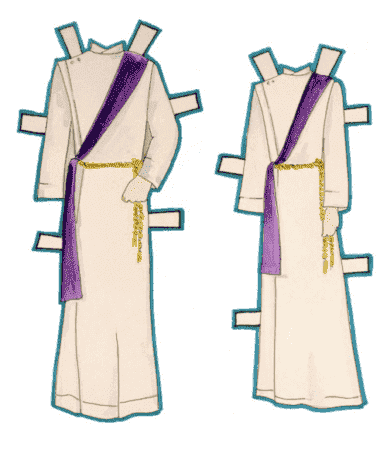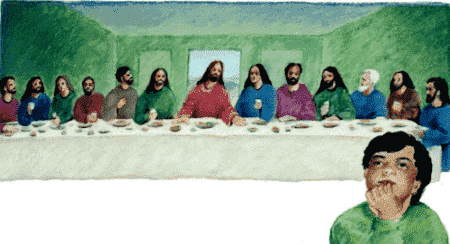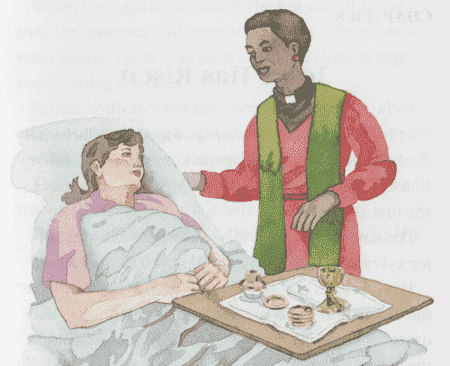 Take-Home Cards: The Take-home cards are used as great reminders of our lesson and include points for parents and children to discuss, continuing the conversation at home whether or not the lesson was taken from ECC.
Learners' Books: My favorite components of ECC are the Primary "Learners' Books." Clearly and concisely written in language that all ages understand, these little gems have been used year after year in many ways. For example: "The Church Prays" (Primary Chalice Year) has been used as the children's introduction to The Book of Common Prayer during an Anglican Roots unit.
Similarly, "Saints of the Church" (Primary Cross Year) and its succinct biographies have helped children prepare to portray their favorite on All Saints' Day. In addition, "Christians Celebrate Eucharist" (Primary Chalice Year) has provided a take-home resource for Sunday afternoon Eucharist classes. Finally, "The Church Begins" (Primary Shell Year), filled with biographies, is being used as the basis for a Workshop Rotation on early Christians.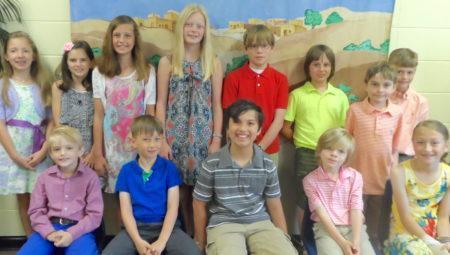 Sunday School children at St. James Episcopal Church
A Grounded and Informed Curriculum
ECC is a thematically-based Episcopal curriculum for children. In the three-year cycle, themes of both Old and New Testament Bible stories are coupled with the Sacraments and Church studies, a combination specifically written for children which I have not found anywhere else. Woven throughout every lesson is the Book of Common Prayer, a valuable feature that grounds our children in its familiarity.
In addition, I appreciate that the spiraling curriculum allows the children, and their teachers, to revisit subjects at each age level for new understanding and insight that inevitably comes with growing up and into our faith. In short, the curriculum is informed and viewed through scripture, reason, and our wonderfully rich Episcopal tradition, embracing the liturgy. ECC is, quite simply, our Children's Christian Formation "home."
Advice for Those Considering ECC
For those thinking about using Episcopal Children's Curriculum at their churches, I have a few pieces of advice. First, remember that it is free! Episcopal churches with a huge budget, no budget, or anywhere in between have the very best Christian Formation lessons and materials available, online.
My main advice is to realize that ECC is extremely flexible. For example, it can work in churches that do formation with mixed-age groups, and with groups of various sizes. There is an excellent opportunity for flexibility since the spiraling curriculum allows teachers to mix and match lessons and materials to adapt to the ages, needs, and abilities of their children.
Finally, pieces of the Episcopal Children's Curriculum can be used in a variety on contexts. It can be used as Sunday School curriculum on its own, or in combination with other curriculum material.  You could also use ECC materials as part of a Wednesday night offering, for Children's Church, or as a VBS or summer camp framework. All in all, ECC continues to have so much to offer!
Watch this video tutorial that explains the ECC website
Did you enjoy this article? Consider subscribing to Building Faith and get every new post by email. It's free and always will be. Subscribe to Building Faith.