Inspired by Kari Ann Lessner at the Diocese of Texas Cathedral, I offered a book discussion and activity before the movie version of A Wrinkle in Time was released in 2017. In 2018 we showed four movies on Friday nights during the summer. In 2019 we'll offer 3 Books and Movies in Pajamas.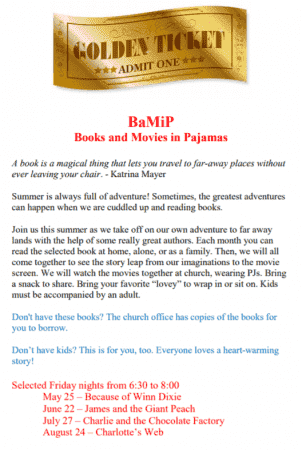 Why "Books and Movies in Pajamas"?
Two reasons:
It seems cozy to imagine people reading books in their pajamas, alone or as a bed-time ritual with a parent
It's fun to come to church in pajamas, then at the end of the Movie Night it's easy to go home and jump into bed.
How it Works
I chose the books for the first summer myself. I asked a couple moms help me choose books for summer 2019. They recommended so many I have my list for 2020 all set! After the success of the first summer, I started planning immediately, so I could have lots of time to buy books CHEAPLY. At church, I put out copies of the books for families to borrow to take home and read. In Texas we have a chain of used book stores called ½ Price Books, so I slowly stock up on copies, one or two at a time, each time I visit the store & they happen to have what I want. Amazon sells used books, too.
Families come if they've read the book or not. My primary goal is to build community.
People bring snacks to share, and there are always lots of snacks. I usually bring a snack that goes along with the book. For Charlotte's Web, I offered gummy spiders. For James and Giant Peach, I made peach jello.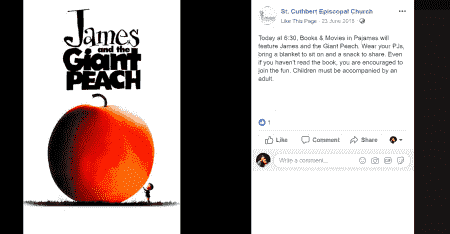 Things Known…
I do have a sheet for families to sign out their book in order to take it home. However, I purposefully NEVER follow up to see if a book has been brought back.  The sign-out sheet makes it seem legit to take a book from church. I'm happy if I get a few of the books back, that means there are good books in people's homes!
I plan and advertise what topics we'll be discussing.
Sometimes it's a Bible verse, as it was for Charlotte's Web: We discussed how 1 Corinthians 1:27-28 "God chooses the foolish things of the world to shame the wise. He chooses the weak things of the world to shame the strong. And God chooses what the world think is not important." applied to the story.
Some evenings we discuss themes. This summer after we read and watch Louis Sacher's Holes, we'll talk about sacrifice and redemption.
…and Unknown
I discovered there is a lady in my parish who loves to go to garage sales. She was delighted to be asked to snatch up copies of books.
I discovered there is a Mom who is excellent at leading the discussion at the end of the Movie Night. Bonus, I've now got her in the Children's Chapel ministry!
I was very happy with attendance last summer. We packed the Youth Room to the rafters! I moved to a bigger room once, but moved back for the next evening, It felt better to be together like one big family gathered around a TV.