"With this faith we will be able to hew out of the mountain of despair a stone of hope. With this faith we will be able to transform the jangling discords of our nation into a beautiful symphony of brotherhood."
Remember and Celebrate Dr. King
Much of the country sets aside the 3rd Monday in January to celebrate and remember the words and actions of the Reverend Martin Luther King, Jr. As a pastor and a preacher, Dr. King read the same scriptures we read and he was inspired by the actions of Jesus, just as we are. King's speeches and sermons connected his listeners' current situation to historical events and the Gospel.
3 Picture Books 
Here are three books to check out – each of these would make an excellent choice for Black History Month in February.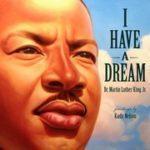 I Have A Dream, Martin Luther King Jr, illustrated by Kadir Nelson
This is the text of King's speech, given on the steps of the Lincoln Memorial, August 28th, 1963. Beautifully bold paintings by Kadir Nelson bring the reader onto the steps with King.
Note: You can listen to Martin Luther King, Jr read his speech from August 28th, 1963 through Freedom's Ring at the King Institute of Stanford University. The Stanford site offers rich resources for teachers and readers, through Dr. King's papers, programs, and books.
The Beatitudes
, Carole Boston Weatherford, illustrated by Tim Ladwig
Churches that follow the Revised Common Lectionary in 2017 will be hearing the Beatitudes, Matt 5: 1-12, for Epiphany 4. In this book, using free-form poetry, Weatherford connects Jesus' powerful sermon (found along the bottom of each page) with the experiences of African-Americans: from the earliest instances of slavery through the Civil Rights Era and today.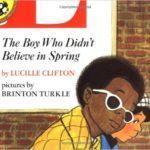 The Boy Who Didn't Believe in Spring, Lucille Clifton, illustrated by Brinton Turkle
While not overly spiritual, Clifton's books display a deeply loving world that affirms the human capacity to overcome adversity and maintain community. In this book, a young boy doesn't believe in the Spring that the adults tell him about, so with a friend he goes in search of it. This might be the perfect read for the long days of waiting for Jesus' resurrection on Easter!
---
---
Charlotte Hand Greeson shares her passion for formation as a manager, editor, and writer for Building Faith. She currently lives in California. 
Featured image Bob Fitch photo archive, Stanford University, 1966 March Against Fear, Mississippi.