"I have watched as the Lego walls of Jericho were built and then came crashing down.  There is no shortage of material to be explored, created and discovered…"
Boy Faith
There is a rather vast, uncharted territory called "Boy Faith."  As Christian formation ministers, it is rare that we venture into the rough and ragged place where boys live, learn and grow. I happen to have a heart for sharing faith and life stories with elementary school boys so I needed to figure out a new language for faith expression.
It was apparent after engaging with boys in different settings that art response was not enough. Craft supplies and talking were not getting to that place of awakening that I knew lay waiting in the hearts of these boys. I finally found the place where real life meets faith sharing:  Legos™… and lots of them.
Brick-by-Brick as a Formation Concept
My specific response became Lego™ My Bible – a six week afterschool group for Kindergarten through Grade 4. The group was open to both boys and girls, but it was mostly boys who showed up.  Since then I have used this method as a summer Sunday school, an alternative to dull lesson options, a weeknight class, and even as a parent-child event. Lego My Bible works with various ages in a number of settings. You can read all about it in my book, Building Faith, Brick by Brick.
As for the overall concept: when people ask me about using this idea, I offer at least three keys to success:
Thoughtful story selection
Intentional real-time processing and discussion
An openness to a boisterous room of budding, noisy theologians
The Basic Method
1. Select Bible stories with action, adventure, blood, guts, drama, wonder, suspense, etc. (I often ask for suggestions from the children during the first session.)
2. Explore one story each session.
3. Begin in a circle with a large Christ candle. (What boy doesn't love to focus on fire?)
4. Invite each person to write/draw a prayer on a construction paper block.
5. Optional – sharing of prayers
6. Tack prayer blocks on a bulletin board to "build" a prayer "wall" week by week.
7. Introduce the story: Where can it be found?  Who wrote it?  When did it take place? Who are we going to "meet"?
8. Read the story.
9. Allow each child to fill a plastic bucket with Legos and then find a place in the room to work. (Floor work is best.)
10. Set the expectation that something from the story must be made before any other creations can be constructed.
11. Be available to answer questions, review the story, or help "stuck" children.
12. Establish a place for display.
13. One on one, listen to the stories the child wants to share about his/her work. (This is most effective if the whole group isn't listening.)
14. Optional: take a photo of child with the creation.
15. Optional: story related snack (at beginning or end)
16. Invite each child to show his/her work to a parent/adult and have child share something from the story.
17. Hand out the Scripture citation on a small sheet so families can revisit the story during the week.
Bearing Fruit
What has emerged in these moments?  A different type of Holy Ground. I have been in the presence of such rich and surprising theological reflection. Children have witnessed to the power of being wonderfully made in the creation story. I have watched children work through the meaning of the Ten Commandments – what are the promises of God to us and we to others – even if those "others" are our older brothers?!
I have been in the presence of children deeply understanding (sometimes for the first time) the power of Jesus' Crucifixion and the glory of the Resurrection. I have watched as the Lego walls of Jericho were built and then came crashing down. There is no shortage of material to be explored, created and discovered.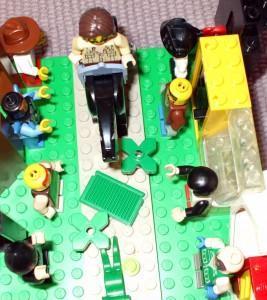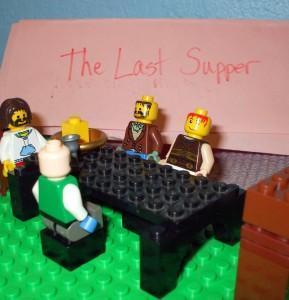 Wisdom from our Children
There is always that story, that child, who shows us the Face of God. For me that child was Riley, age 5. Riley struggled with making anything related to the story and had a one-track mind that only wanted to pray for dead dinosaurs. After five weeks of disconnect, something remarkable happened. Riley worked and worked, digging deep into his Lego bucket, clearly on a mission.
When it came time to display and discuss his work with me, he proudly presented a tiny creation that consisted of three Lego pieces. It looked like a tiny clam shell with a single Lego figure nestled inside. After five (long) weeks, Riley spoke the wisdom of the ages:
"It's Jonah. The fish wasn't angry. He was a helper. This is Jonah and the whale. He was waiting. Waiting for God. Sometimes you need to wait for God, Ms. Emily."
I was standing in the presence of a pint-sized prophet. The Word of the living, active God was revealed in just a few plastic pieces. The truth is, it can happen anywhere if we are willing to show up and be present to our children. Just bring a bucket of Legos and a willing heart.
---
Emily Given is the Director of Children & Family Ministries at St. Michael & All Angels Episcopal Church in Dallas, Texas. Photos of Lego™ stories are from St. Michael & All Angels as well as Cathedral of St. John in Albuquerque, New Mexico.  You can read more through Emily's book: Building Faith Brick by Brick.