"Helpful signs answer these questions. And when questions are answered, a funny thing happens: anxiety goes down, and people can focus on what's really important."
The Importance of Church Signage
I know… there is no product that can replace Christian hospitality. But on the other hand, to be a truly welcoming church, it takes more than just hospitable people. One needs to consider architecture, communication… and church signs!
We've all been in the situation of arriving somewhere new, whether it's a new church, new school, new doctor's office, etc. The same questions come up: Where should I park? Where's the event? Where do I go? Where's the bathroom? Helpful signs answer these questions. And when questions are answered, anxiety goes down, and people can focus on what's really important. Churches need good signage to welcome visitors, help guests feel at ease, and ultimately allow people to focus on God. Yet churches are notorious for having poor signage… for a few reasons:
1.  We think we don't need signs because "we already know where everything is."
2.  Signage can be expensive.
3.  Event locations change constantly, and permanent signage cannot keep up.
Using Plastic Holders for Signage
So how to create more church signage that is flexible and doesn't cost a fortune? One answer is plastic sign holders. These items only cost about $8. They can be installed almost anywhere, and you simply slip printed signs into them. You can mount the sign holders to walls, or create signposts.
1. Mount plastic holders to walls or doors
This is especially helpful on meeting room doors. As meetings or events change, signs can be changed in and out.
• Use screws or adhesive to mount sign holders.
• Create printed signs on your computer (consider using Canva.com)
• Helvetica is a great font, with upper and lower case letters
• Consider laminating your printed signs, this helps a lot.
• Slide the printed sign into the holder.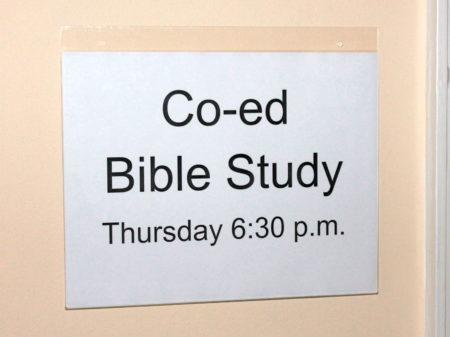 2. Create signposts
This solution works for areas that are not near walls, or for places where you don't want to drill into a wall. Parking lots or walkways, for example.
• Use 2×4 pieces of wood to create a base and a post. Or use wooden closet rod.
• Make a groove at the top of the post to hold the sign. It must be a tight fit!
• The picture below is just a sample I made; your groove should be deeper.
• Definitely laminate your signs for this type of use.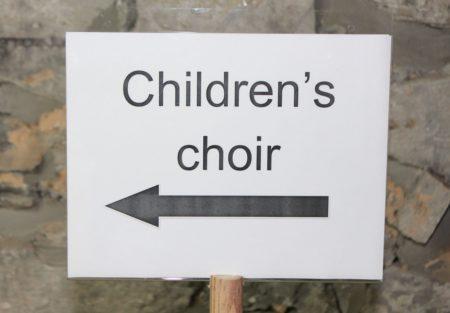 Where to Place your Signs
Consider placing signs in the following locations. Your visitors will be thankful! (Even long-time parishioners sometimes need directional assistance.)
Extra parking
Bathrooms
Nursery
Sanctuary
Pageant rehearsal area
Music rehearsal area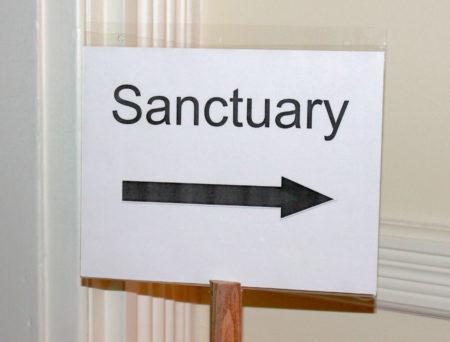 Changing our Perspective
Try to put yourself in the place of first time guests, seeing everything through their eyes. What if you used a wheelchair? What if you were carrying a baby? What if you arrived late?
Think of how God may be working in the lives of visitors who arrive at your church. Consider what an honor it is to play even a small part in one person growing closer to Jesus Christ. Extending hospitality is a privilege, even when it starts with a plastic sign.
Did you enjoy this article? Consider subscribing to Building Faith and get every new post by email. It's free and always will be.  Subscribe to Building Faith.