"My life is a gift from God. Never refuse a gift because it deprives the giver of the joy of giving."
A Blessed Thought or Practice for Each Day of Lent
Each year, the Rev. Stephen Rozzelle creates a special Lenten resource: a series of thoughts/practices/prompts, one for each day of Lent. It's a beautiful balance of the divine and ordinary; the sublime and the every-day. By following this guide, you can deepen your relationship with God, with yourself, and with others. The practices range from simple actions, to powerful statements. Some days offer a thought that will challenge you to look at life in a new way. There is also plenty of lightheartedness and joy throughout!
Like many spiritual exercises, this Lenten guide can be even more fun and fruitful when done as part of a group. However you use the guide, we hope you find joy and growth.
Editors' Note from Building Faith
This Lenten devotional may be different than what you are used to. Our suggestion is to read each thought/practice in the morning, and let it sit with you throughout the day. Here are some ideas to get started:
•  Print out the guide and slip it into the Lenten discipline you have chosen, whether that is a book, the Bible, Praying in Color, etc.
•  Print and cut out each day's prompt so that you can take it with you. Stick it to your dashboard, your coffeepot, or your computer.
•  Tweet each day's prompt! What sort of community is created when these are floated in social media? (Some of the daily prompts are longer than 140 characters, so you can do some creative condensing.)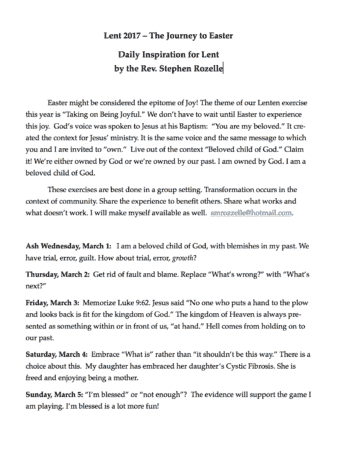 Daily Lent 2017 – The Journey to Easter
---
Stephen Rozzelle is the Priest-in-Charge of Christ Church in Pompton Lakes, New Jersey, having previously having flunked retirement.
Did you enjoy this article? Consider subscribing to Building Faith and get every new post by email. It's free and always will be. Subscribe to Building Faith.