My Flat Jesus arrived this week just as it seemed that all the blogs started sharing this ministry of St. James Episcopal Church in Birmingham, Michigan. Meant to be a fun way to bring Jesus along with you on your summer vacation and adventures, I first learned of Flat Jesus about a month ago when I kept seeing him pop up on various friends' Facebook pages . . . in Ireland, Maine, the beach, the car, and yes – churches. He arrived in a plain brown envelope, with an evangelical message stuck on the front: "Do not bend. Flat Jesus enclosed."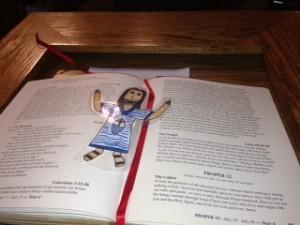 It took a little investigation, and with the help of Google and Facebook I tracked down where I could have my own Flat Jesus to join me on my travels at home and abroad. My first insight into this phenomena was through Elizabeth Kaeton's blog, Telling Secrets. I believe she was really the first to break this story!
Of course, Flat Jesus has his roots in Flat Stanley, a childhood favorite book. And before Flat Jesus, was Flat Andy, of the Episcopal Diocese of Texas. Started awhile ago, anyone can get a Flat Andy by simply downloading him from their website. Coloring and lamination on your own.
St. James sends along some instructions (printed on the back of Flat Jesus):
Take your Flat Jesus everywhere with you this summer and takes lots of pictures.

You can upload your pictures through Facebook
Talk with your family about what you and Flat Jesus experienced.
Since I've had Flat Jesus, he has come along with me to preach and visited with my dad at his Assisted Living apartment. (Dad just shook his head.)