"St. Nicholas is one of the few figures in Christianity that can form a bridge between true discipleship of Christ and a cultural icon that populates the imagination."
Why We Celebrate St. Nicholas
St. Nicholas' Day (December 6) falls at a time during Advent when families are ready to start thinking about Christmas. But they are also thinking about how to keep themselves and their children connected to the central message God's love, the birth of Jesus. This message often gets lost in the wider cultural observance of the Christmas season. The good news is, we've discovered that families are eager to come together with their church family – before all the school performances and family travel take over!
St. Nicholas, the 4th century Bishop, forms a bridge between true discipleship of Christ and a cultural icon that populates the imagination of most every kid in our churches. Celebrating St. Nicholas' Day helps kids connect their faith with everyday life, and to learn how to be more giving and generous to others.
How We Celebrate
For the past few years, we've offered a St. Nicholas Celebration.  There are three parts: evensong, potluck, and party! The celebration begins in the late afternoon of the Sunday closest to St. Nicholas' Day. We announce the activity this way:
Please join us to celebrate this saint who teaches us about Giving. This is an all ages service and event with a special visit from St. Nicholas. Please bring an appetizer and a toy donation for a child at Santa Maria Urban Mission.
We have the short worship service (see below), and then gather in the parish hall. There we share a simple potluck and create St. Nicholas crafts, including gifts for our local children's shelter. We end the evening with a visit from St. Nicholas!
In my planning, I rely heavily on the excellent resources at the St. Nicholas Center. The St. Nicholas Center website is so full of ideas that we have different and new activities to do each year! Last year, we rented their "party kit" and used those activities, especially the brass rubbings. But most years we use an assortment of their free resources. The liturgy I have created for our church uses pieces of liturgies and prayers found on the website, as well as well-known hymns with the words rewritten to reflect St. Nicholas, also found on the website.
Here are two examples of the excellent crafts from the website:
Apple and Walnut St. Nicholas Figure Craft
Spoon and Paper St. Nicholas Craft 
Click the picture/link below to see the worship guide for our St. Nicholas service.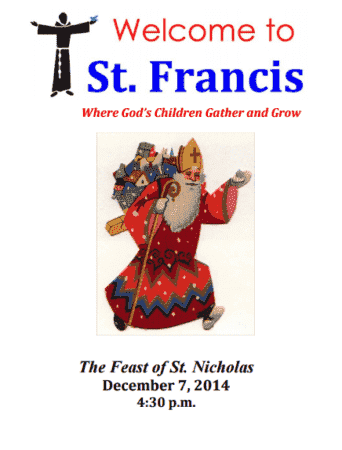 Feast of St Nicholas Worship Service
(This document is for sample use only. You must have your own permissions to print copyrighted music.)
Don't Forget the Shoes!
In Europe, children leave their shoes outside their doors for St. Nicholas to fill with chocolates. So it is that we invite the children at our event to take off their shoes before the worship service. While the service is in progress, St. Nicholas leaves chocolates in the shoes left for him!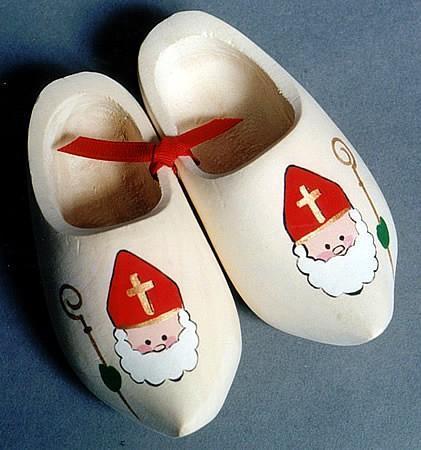 (Picture from St. Nicholas Center)
---
The Rev. Katherine B. Doar is the Associate Priest at St. Francis Episcopal Church of Willow Glen in San Jose, CA. Katherine has shepherded children's, youth and family ministries in this Silicone Valley neighborhood congregation for the past sixteen years; she recently added adult formation as her latest adventure. When asked why she hasn't become a rector yet, she replies that ministry with children, youth and families is just as important…and way too much fun.
Did you enjoy this article? Consider subscribing to Building Faith and get every new post by email. It's free and always will be. Subscribe to Building Faith.