"The Good News of Easter is for every day. Christ is our Good Shepherd and He will always care for his flock. That love stays with us, no matter where we go or what we do."
Baptizing Your Easter Basket
Can an Easter basket contain more than a sugar high? Absolutely! With a little extra shopping effort, some scraps of paper, and a handful of Bible verses, we can help our kids connect the gifts of their faith with the festivities of the day. Consider filling a basket with the following items, each of which has a true Easter connection.
Suggested Items for a Biblical Easter Basket
1. Bubbles – Joy Comes in the Morning
Because of Easter Morning, we can celebrate new mercies each and every morning! Celebrate the miracle of the resurrection with bubbles. Watch them disappear just as Christ disappeared from the tomb.
But on the first day of the week, at early dawn, they came to the tomb, taking the spices that they had prepared. They found the stone rolled away from the tomb, but when they went in, they did not find the body.
-Luke 24:1-2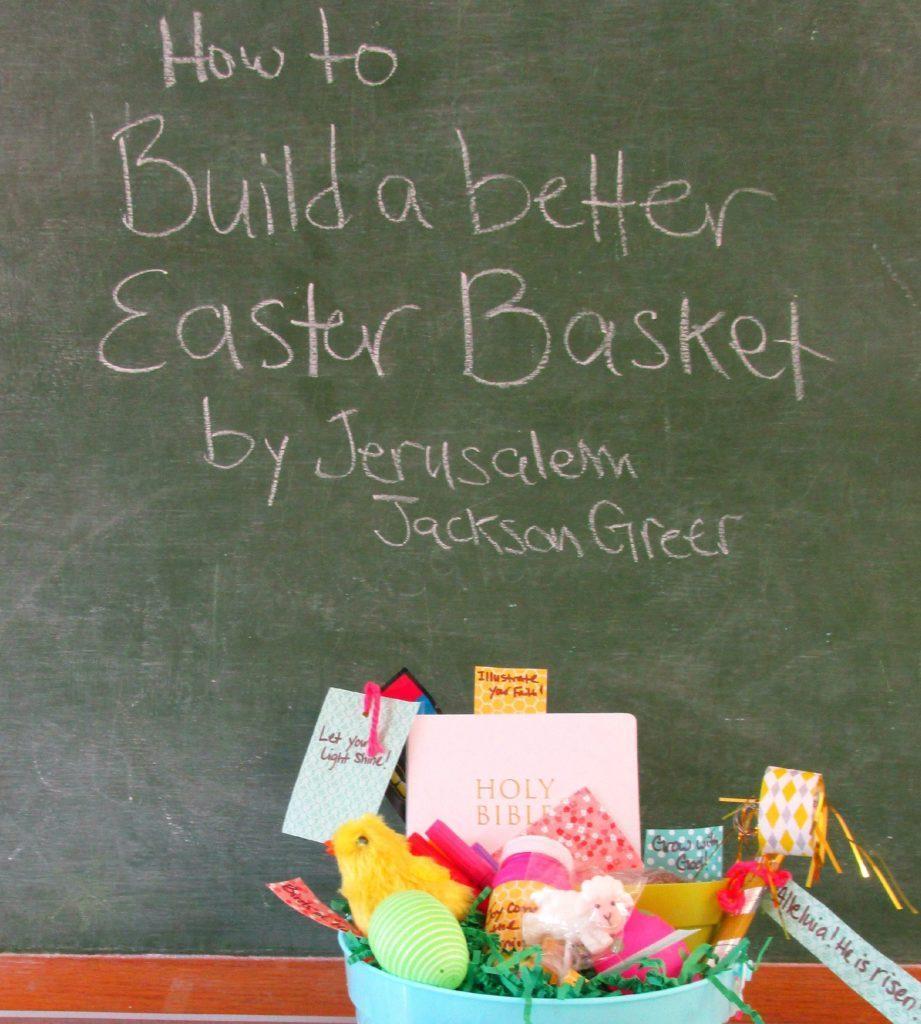 2. Party Blowouts – Alleluia He is Risen!
Death could not keep Jesus in the grave, and nothing can keep us from God's love! Make a joyful noise about this amazing gift with party blowouts, just as if the angel had told you on that first Easter morning that Christ had risen.
But the angel said to the women, "Do not be afraid; I know that you are looking for Jesus who was crucified. He is not here; for he has been raised, as he said. Come, see the place where he lay."
-Matthew 28:5-6
3. Glow Sticks or Bracelets – Let Your Light Shine
Christ has risen and now our job is to shine his light in the dark places of the world. Glow sticks and bracelets are a good reminder that we take Christ's light with us wherever we go, sharing it with everyone we meet.
In the same way, let your light shine before others, so that they may see your good works and give glory to your Father in heaven.
-Matthew 5:16
4. Bible or Prayer Book and Markers – Illustrate Your Faith
We know the story of Jesus through scripture and we make that knowledge our own through prayer. This Easter Basket addition is particularly good for pre-teens and teens. Give your kids an inexpensive bible or prayer book, a set of markers and permission to draw and otherwise illuminate their bible or prayer book. Watch their connection to scripture and prayer begin to flourish.
They said to each other, "Were not our hearts burning within us while he was talking to us on the road, while he was opening the scriptures to us?"
-Luke 24:32
5. Small Flower Pot Kit – Grow With God
Spring is the season of new life! What better way to begin a conversation about spiritual disciplines than by planting seeds that must be watered, weeded, fed, and cared for daily? Small flower or herb kits are a great way to begin this practice and teach the value of nurturing growth, both physical and spiritual.
But grow in the grace and knowledge of our Lord and Savior Jesus Christ. To him be the glory both now and to the day of eternity. Amen.
-2 Peter 3:18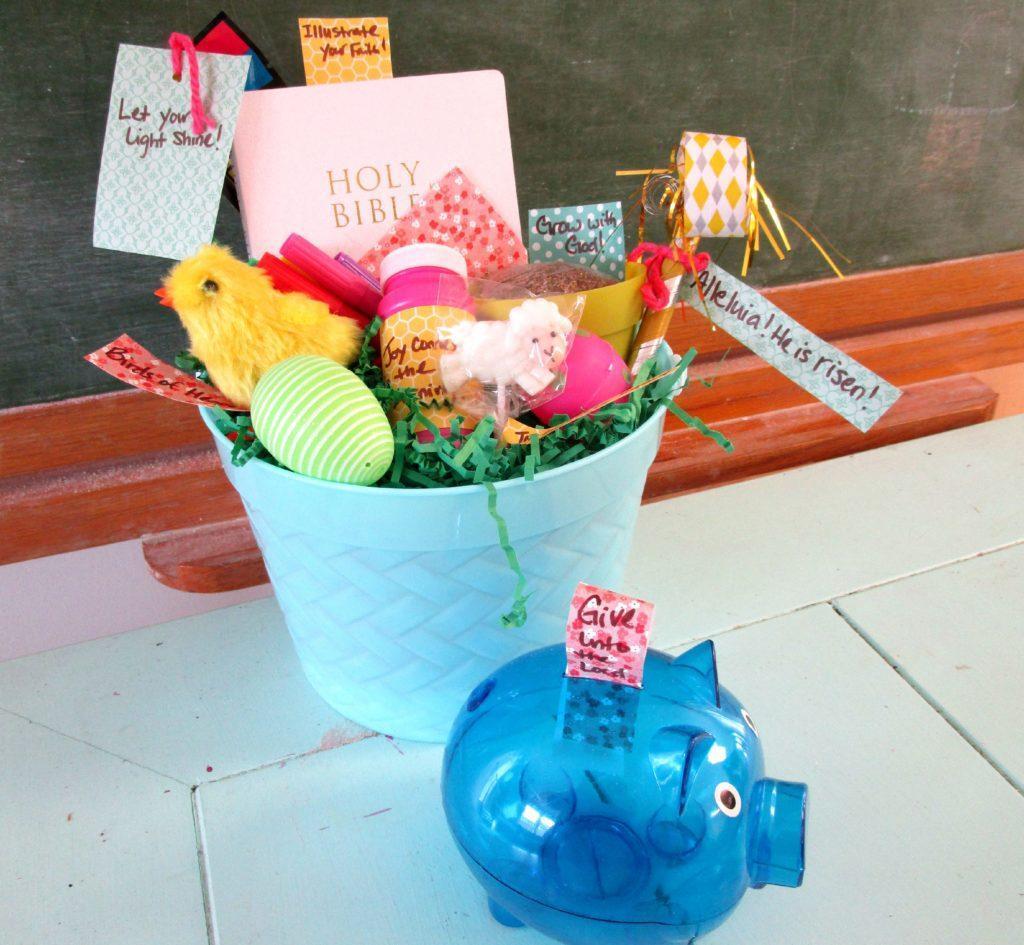 6. Piggy Bank – Give Unto the Lord
Easter isn't just about getting, it is also about giving. Use Easter, and Jesus' great gift to us, as a springboard to begin collecting loose change and portions of weekly allowance in a piggy bank. Next Lent you can decide where to donate your Easter blessings.
Jesus said to him, "If you wish to be perfect, go, sell your possessions and give the money to the poor, and you will have treasure in heaven; then come, follow me."
-Mathew 19:21
7. Stuffed Lamb or Sheep-shaped Candies – The Lord is My Shepherd
Easter isn't just one day! The Good News of Easter is for every day. Christ is our Good Shepherd and he will always care for his flock. That love stays with us, no matter where we go or what we do.
"I am the good shepherd. The good shepherd lays down his life for the sheep." John 10:11
8. Wind Up Chick & Donation of Poultry – Birds of Heaven
God cares for all creation. God cares for creatures big and small. He cares for our families and those on the other side of the world. We manifest that care when we help one another. A donation of a flock of chickens or ducks to a family in a developing country is one way of entering into the great love that was shown to us on Easter!
Consider the ravens: they neither sow nor reap, they have neither storehouse nor barn, and yet God feeds them. Of how much more value are you than the birds!
-Luke 12:24
More Easter Basket Ideas
+ Fair trade candy or chocolates
+ Paschal Candle craft materials
+ Cross craft
+ Prayer journal
Bonus Idea: Printed Scripture Verses

Print out the scriptures from this post, and have kids match each scripture to each item. You can even make this part into a treasure hunt, determining what they are searching for!
---
---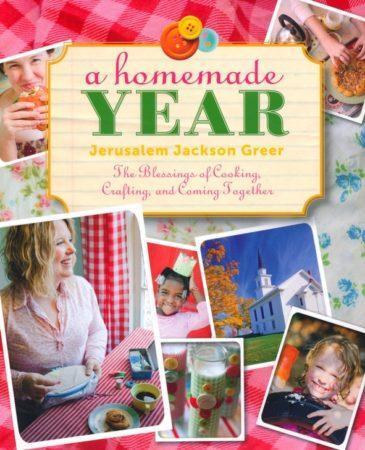 Jerusalem Jackson Greer is a writer, speaker, nest-fluffer, novice farm-gal, and author of A Homemade Year: The Blessings of Cooking, Crafting and Coming Together. She is also the Minister to Children, Youth, and Families at St. Peter's Episcopal Church in Conway, Arkansas. Jerusalem lives with her husband and two sons on a little farm in Shady Grove, Arkansas. As a family, they are attempting to live a slower version of modern life. She blogs about all of this and more at http://jerusalemgreer.com
Pictures in this post are by Jerusalem Greer, all rights reserved.