"May I never boast except in the cross of our Lord Jesus Christ, through which the world has been crucified to me, and I to the world."
-Galatians 6:14
A Spiritual Practice for Lent
In Lent it's important to offer ourselves fresh opportunities to connect with God. There are also many folks at our churches who may need a gentle nudge to find prayer time this Lent. The Lord's Prayer Tracing Cross is much more than a craft – it is a spiritual practice that people of all ages can do.
The idea is simple: using the tracing cross as a guide, you say the Lord's Prayer while moving your finger along the outside of the cross, touching each phrase of the prayer as you go. The visual and tactile nature of the tracing cross creates a special experience of prayer.
Instructions
1. Print the tracing cross pattern (found below) on color cardstock.
2. Glue the tracing cross to a piece of scrapbook paper that is cut slightly larger than cross.
3. Cut and add an additional cross on top. This cross can be a complementing color/pattern. See image below.
4. Laminate the entire project.
5. Optional: Punch a hole in the top corner and insert key ring or add ribbon loop.
Share it at your Church
There are many ways to invite people at your church to join in using the Lord's Prayer Tracing Cross. You could have a workshop where you make the crosses together. Also, if you punch a hole and add a ribbon loop to each tracing cross, you can attach them to a worship bag – for use in church or taken home.
Special Thanks
The Lord's Prayer Tracing Cross comes from Krista Lovell, who was recently a panelist on Building Faith's webinar "Planning for Lent." Krista is a PCUSA Certified Educator who has served congregations large and small over the past 35 years. She currently serves as the part-time Mission Coordinator for Faith Presbyterian Church in Huntsville, Alabama.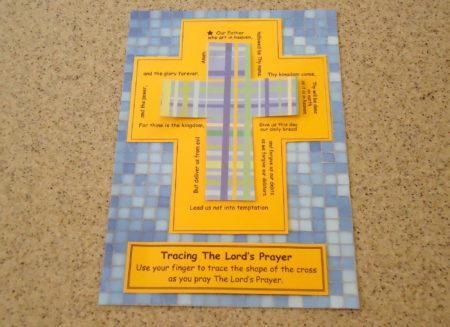 Lord's Prayer Tracing Cross (not yet laminated)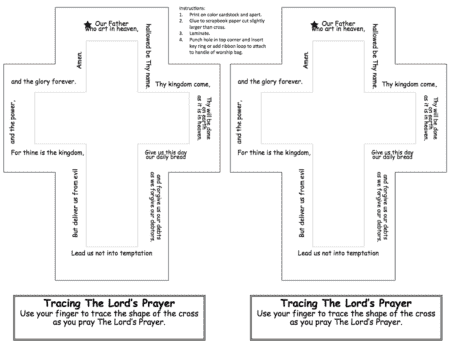 Lord's Prayer Tracing Cross pdf