'Maundy' comes from the word mandate, as it is at the Last Supper that Jesus tells his followers, "A new command I give you: love one another. As I have loved you, so you must love one another. By this everyone will know that you are my disciples, if you love one another" (John 13: 34-35).
Maundy Thursday is the entrance into Good Friday, Holy Saturday, the Vigil and Easter Day. There is a lot of action and meaning. We remember Jesus' Last Supper with his friends, when he gives them (and us) the new commandment to love one another—we live out Jesus' call to love one another in our daily actions, and we recall the Last Supper when we celebrate the Eucharist. Maundy Thursday is also when, in act love and service, Jesus washed the feet of his followers. After eating, Jesus goes to pray in the garden of Gethsemene, where he is arrested.
Sharing a Meal, Sharing the Love of God
To move through these remembrances, some congregations host an agape meal. The meal itself is simple, foods that reflect the middle eastern tradition of 1st century Jerusalem or a potluck, and served to the gathered community all at once. Often, John 13-17 is read aloud, and occasionally a foot washing is included during this time. The gathered community then moves into the sanctuary where the service concludes with the stripping of the altar and the congregation departing in silence.
The Maundy Thursday agape meal is a wonderful opportunity for communal fellowship and family worship. But it can be a challenge for those of us, young or old, who can't sit for long and who need to learn by doing.
Activity Cards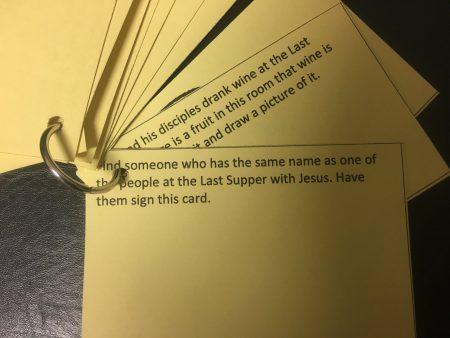 We used these activity cards to help engage the children during our agape meal. We had about 80 people, with only about 10 children. Children, parents and non-family adults enjoyed asking and answering questions. Everyone learned something about the symbolic pieces of Maundy Thursday and Holy Week. Most importantly, the cards provided a way for the congregation to interact across generations.
Cards were printed on cardstock (you could also laminate them) and connected with an O-ring. There was one activity deck for each child.
---
Kat Mercer has more than thirty years' experience in faith formation leadership. She has worked with programs for children, youth, families and adults at the congregational, diocesan and provincial level, and is an enthusiastic advocate for intergenerational formation and supporting families in faith formation at home. Currently, Kat serves as Chaplain at St. Luke's Nursing Center, a ministry of Grace Episcopal Church in Carthage, MO, where she incorporates Godly Play into her ministry and provides consultation and support in children's ministry for congregations.