The Festival of Lessons and Carols, like the best holiday traditions, is always the same, yet always new.  Plan yours with care; enjoy it with delight!
Why Lessons and Carols works
Every December, choir directors the world over have the care and delight of preparing a Festival of Lessons and Carols.  Some might consider a cantata or oratorio a more fulfilling Advent/Christmas enterprise. But I can attest that Lessons and Carols, the annual retelling of Prophecy and Fulfillment, can give the greatest joy to a conductor or choir.
The genius of the Festival of Lessons and Carols lies in the very simplicity and predictability of the liturgy. This simplicity gives rise to an endless possibility of choral and instrumental pieces. Lessons and Carols "works" in the humblest of chapels with one reader and no choir, as well as the grandest worship spaces with vast resources.
How Lessons and Carols "went viral"
The popularity of Lessons and Carols is an early example of technology "gone viral."  The service format was drawn up by The Reverend E.W. Benson, later Archbishop of Canterbury, for use in Truro Cathedral on Christmas Eve 1880. This basic model was adapted for use at Kings College Chapel, Cambridge, in 1918, by Dean Eric Milner-White. With some alteration, it has been presented every Christmas Eve since.
Here is how technology came into play. Beginning in 1928 the Kings service was broadcast by the BBC, and, except in 1930, it has been heard annually, even during World War II when the chapel's priceless windows were removed. Sometime during the 1930s, overseas broadcasts began, resulting in millions of world-wide listeners each year. It is still, next to the World Cup, the most listened-to radio broadcast in the world.  Liturgy gone viral—in the 1920's!
"A masterful combination of teamwork"
In my decades of serving Episcopal churches and schools, I have had the privilege of offering this service in three cities, in a variety of settings. I have worked with young choristers as well as with volunteer and professional adult singers. Always, the clergy and communities have been enthusiastically supportive of these carol services. It's a masterful combination of teamwork: clergy and lay readers for the scripture and prayers; congregations for the favorite hymns and carols; and choirs on their best behavior, singing their hearts out.
These days, I coordinate the music for Lessons and Carols in two very different places. At St. Albans School for Boys and National Cathedral School for Girls, I coordinate our annual festival in Washington National Cathedral, with over 600 student singers, orchestra players, and dancers. The liturgical team includes five school chaplains; both school heads, and other faculty and staff; student readers, acolytes, and banner bearers; the Cathedral Vicar; and the Bishop of Washington. Over 2,000 attend, and the service is webcast.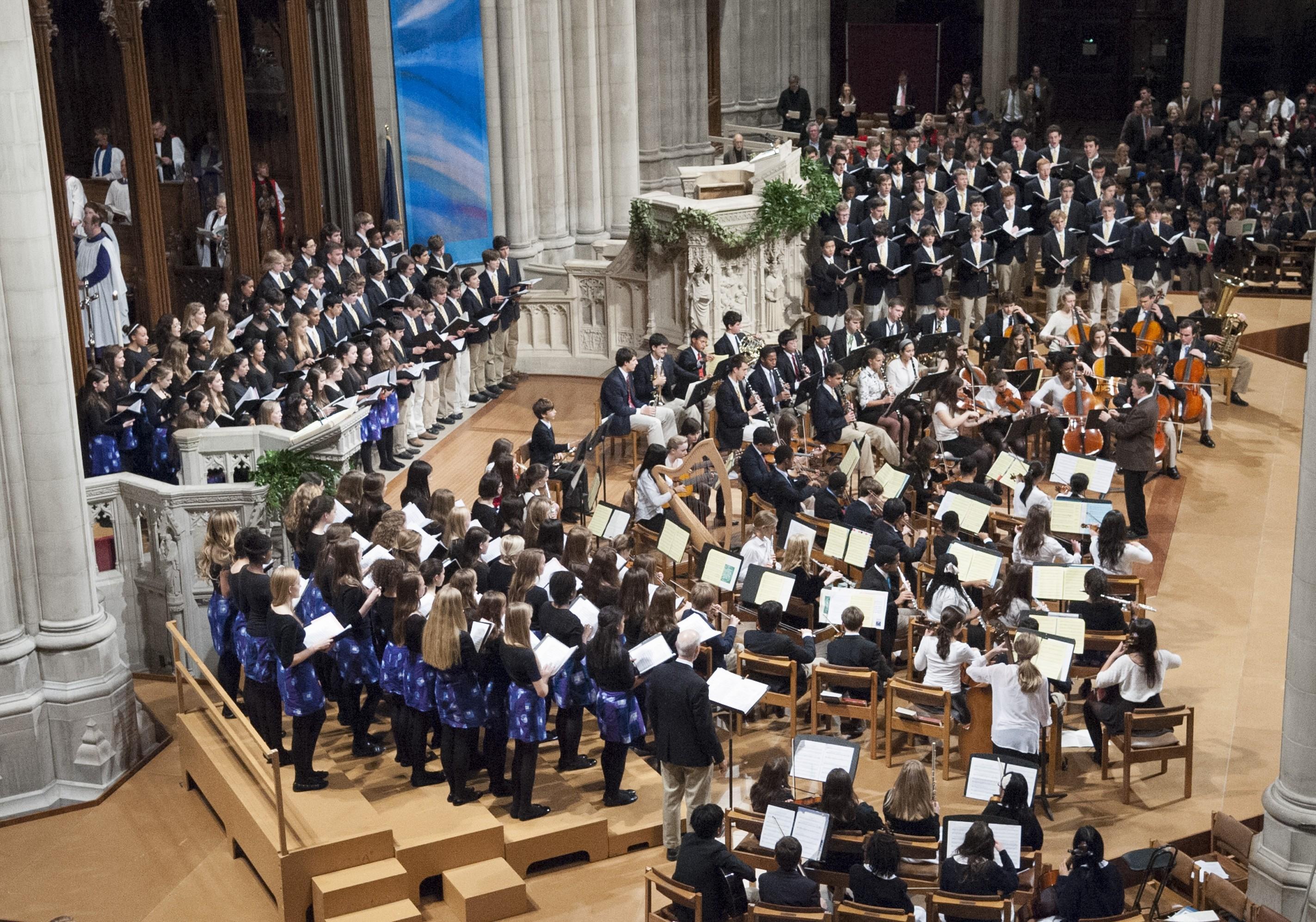 "Liturgical magic made"
While "intimacy" may seem the last word to describe such a liturgy, the St. Albans-NCS Festival of Lessons and Carols has a strong sense of community, since we gather in this way as two schools every December. With nine grades, 4-12, a number of our students have participated for nine years. We also station choirs throughout the Cathedral, and move other choirs through the space. Even the people sitting in the back of the nave or in the side transepts feel included.
With careful planning among chaplains, vergers, and musicians, there are smooth transitions from readings to music. We start on time and finish in 90 minutes (the length of the Kings broadcast). This year the youngest boys will sing Holst's "On this day, earth shall ring," from the Cathedral crossing. Immediately following, the 132-voice coed Upper School Chorale will sing Whitacre's "Lux aurumque" from the west end of the nave. Of such a juxtaposition is liturgical magic made.
And now for something completely different…
My other Lessons and Carols is at my parish church, St. John's, Lafayette Square. Here the service is sung by a choir of twelve professional singers. Such a wealth of talent allows for some challenging music, both historic and new. The choral pieces reflect St. John's parish membership and outreach, as well as the international status of Washington. For example, this year will feature a 16th Century eight-part Spanish-Mexican Kyrie, in addition to a Nigerian carol with African drumming.
The St. John's format is still the time-honored and simple one, with lay readers from representative groups in the parish, the wardens, and the clergy reading the lessons and leading the prayers. Our congregation raises their voices in the hymns of Advent, as well as a Christmas carol or two.
Always the same, always new
I know that my annual December experiences are shared by clergy and musicians in the United States and throughout the world.  The Festival of Lessons and Carols, like the best holiday traditions, is always the same, yet always new. Plan yours with care; enjoy it with delight!
---
Ben Hutto is Director of Performing Arts at St. Albans and National Cathedral Schools and Director of Music Ministry and Organist at St. John's Church, Lafayette Square, in Washington DC. He has served Episcopal churches and church schools for over forty years, and he is active in both the Association of Anglican Musicians and the Royal School of Church Music. He was a contributing composer to The Hymnal, 1982, and his church anthems are in the catalog of Selah Publishing Company in the United States and Encore Publications in the United Kingdom. In 2012, he was awarded the degree Doctor of Humane Letters (honoris causa) by Virginia Theological Seminary.
Did you enjoy this article? Consider subscribing to Building Faith and get every new post by email. It's free and always will be.  Subscribe to Building Faith.