"One of the most freeing spiritual exercises I have ever experienced! I am so very grateful for this sacred space, especially now, during Lent."
Painting Workshops in Lent
The supplies are simple: tubes of paint, paper, tables, chairs. Invite God's children of all ages; add prayer, conversation, and fellowship. The results are nothing short of masterpieces.
Roger Hutchison has been mixing these ingredients for years, and watching as the Holy Spirit works through people of all ages to create beautiful art, and more importantly: relationships.
Having published The Painting Table in 2013, Roger continues to offer workshops which bring people together to pray and paint.  This Lent, he has led and inspired workshops around the country focusing on art as a way of understanding the "beauty and pain of the life of Jesus Christ."
Could such an event occur in your church or faith community? Absolutely! Here are some of the keys to a painting table session:
Think Intergenerational
This type of painting works for all ages: children, youth, and adults. Sometimes a session will combine all the age groups together.
Prepare the Space for Community
The setup is key. Tables must be arranged so that everyone is part of a group, not painting on their own. Supplies are shared, and the art is done in community.
A Lenten Series
The program works best as a series of sessions over several weeks. Each week may have a theme, such as a the following schedule:
Week 1- Remember
Week 2 -Prayer
Week 3- Hope
Week 4 – Fear
Week 5 -Quiet
Week 6- Joy
Don't Hide it Under a Basket!
The results of painting table worskhops are to be shared. At Trinity Episcopal Cathedral, the participants focus on the Stations of the Cross. By the end of the program they have a piece of art for each station of Jesus' passion. These pieces are then hung in the church and used by the congregation for the Stations of the Cross service.
Roger explains, "Although always powerful and moving, the end result of The Painting Table is not the painting that is created. It is the conversation, sharing, and listening that takes place around the table.  While there is grief, sadness, and loss, there is also hope. There is an opportunity for celebration as we gather together, break bread, talk, and are welcomed. Whether through cooking, painting, or Eucharist, we come together to remember."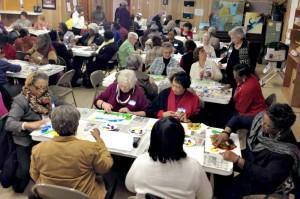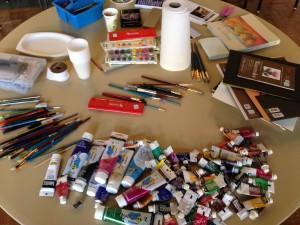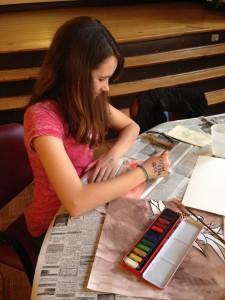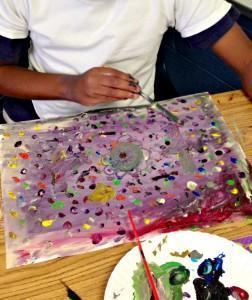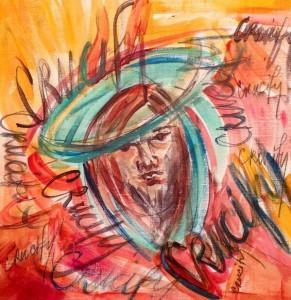 One participant named Cyndi concludes, "The "Painting Table has been one of the most freeing spiritual exercises I have ever experienced! I find myself deep in meditation as I apply the colors to the paper and images appear. I am so very grateful for this sacred space, especially now, during Lent."
---
Roger Hutchison is Canon for Children's Ministries at Trinity Episcopal Cathedral in Columbia, South Carolina. His new book, which details many of the methods explained above is entitled The Painting Table.
Did you enjoy this article? Consider subscribing to Building Faith and get every new post by email. It's free and always will be. Subscribe to Building Faith.