Every year at our Maundy Thursday service, I told the story of Jesus' Last Passover. Usually, the children joined me at the front of the sanctuary, where I told the story on the carpeted floor. But one year, in response to grumbling that the rest of the congregation could not see, I set up my wooden figures on the communion table. At the very moment I had all twelve disciples lined up for their journey to Jerusalem, my trailing sleeve caught the figure of Jesus, knocking him into the ranks of the disciples, who went down like dominos, making an unholy clatter and causing several children to squeal, "They're all dead!" From this misadventure and others, I have learned a few things about reading stories with children.
Prepare Your Environment
Children are unpredictable, so you should control the variables you can, including physical space and technology. Some questions you might consider:
Where will you be reading the story? In a church sanctuary? A classroom? Outdoors?
How many people will be there? Where will they sit?
Is the story meant to introduce some kind of response activity? If so, you will need to prepare the supplies in advance, then set them aside so they are not a distraction (as any teacher knows, putting paper or other objects in the hands of children before you start to read is a recipe for trouble).
Are you using a microphone? If so, make sure it works and is wireless so you have both hands free for turning pages. Buy extra batteries.
How will you show the illustrations? If you are using a digital projector, ask the publisher for permission first and make sure to test the technology. Check the batteries in the remote and make sure the person who advances the slides has a script of the story with all the page turns marked.
Prepare Yourself
Give some thought to what you will wear. Can you easily sit down and get up again? Think twice about flowing sleeves, jingly bangles, or bracelets with dangling charms that might obscure the illustrations or distract listeners every time you turn a page.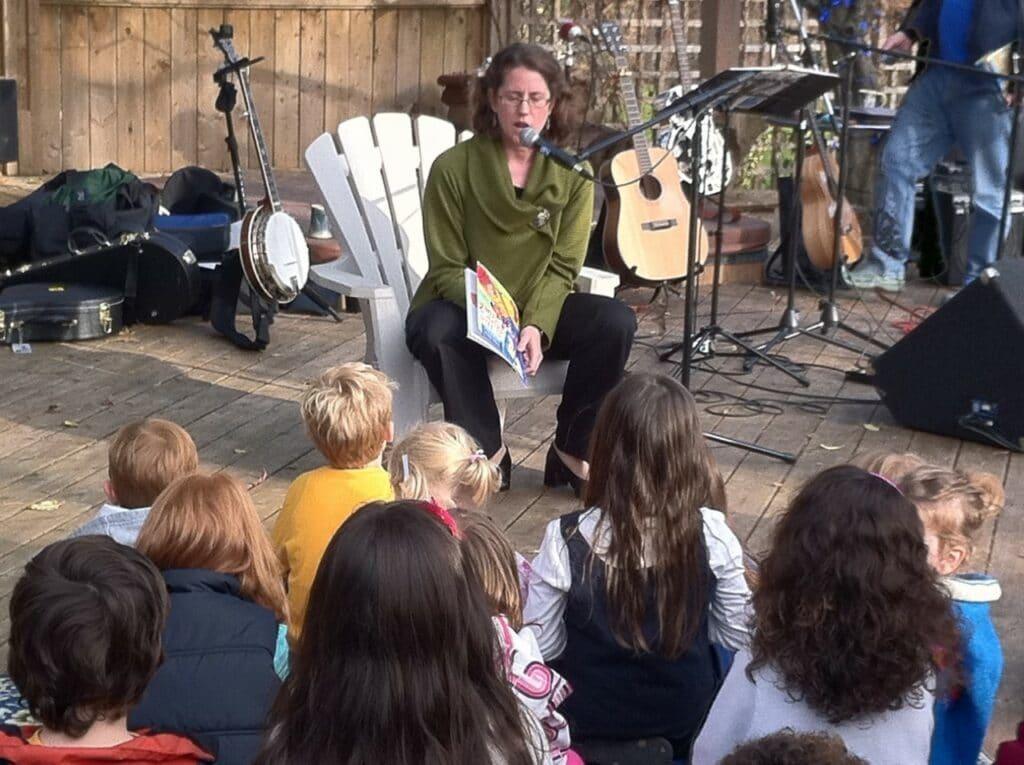 Practice those basic actions—sitting down, turning pages, getting up—until you can do them smoothly. Practice reading aloud too, paying special attention to your pace and expression. If you plan to use a microphone, make sure you have a place to clip it and put the battery pack (an issue for clothing without pockets).
Be Clear Who Your Audience Is
When I read to a large intergenerational group, I usually ask the children to remain with their grownups, reassuring them that everyone will be able to see and hear. Then I read from a lectern, projecting the illustrations on a large screen.
If I want to share a story specifically with children, I invite them to gather around me and I sit at their level (on the floor, a step, or a low stool), making sure that the children are facing me, with their backs to the congregation. A rug is an effective way of creating a special seating place. Children will tend to gather on it without being asked. When I introduce a book (briefly), I look to speak directly at the children rather than over their heads. A good wireless microphone allows me to use a gentle voice, so the children around me feel like I am speaking to them, not to the grownups at the back.
Use The Physical Book
Even when I am projecting the illustrations, I read from the actual book. Technical glitches happen at the worst times and, if you have the book in hand, at least you can read the story and let your listeners imagine the pictures.
Anticipate Interruptions
Having prepared what you can, the next step is to admit that there are some things you cannot control. This includes what the children will say and do! Maybe you have a budding entomologist in the group who wants to update you on the progress of the ant crawling across the carpet. Perhaps someone is fascinated by your shoes.
One time I chose a book that had a cat cleverly hidden on every page. I thought this was brilliant until one little girl declared loudly with each page turn, "I have a CAT!"
In situations like these, I try to use a phrase like, "I'd love to hear about your cat later. Right now, this story has something to say to us. It's time to listen." Just make sure you keep your word and check in about the cat later.
Don't Break The Spell
When children are really absorbed in a story they are under its spell. Avoid doing anything to break it. This includes eye contact, asking questions, or making comments about the book. The reason I avoid eye contact is that when you look directly at children, you tacitly draw their attention toward you. This is a good way to connect when you welcome them and introduce the story. But once you begin to read, you want their focus to turn toward the story itself. If you keep your eyes on the pages, it is more likely your listeners will too.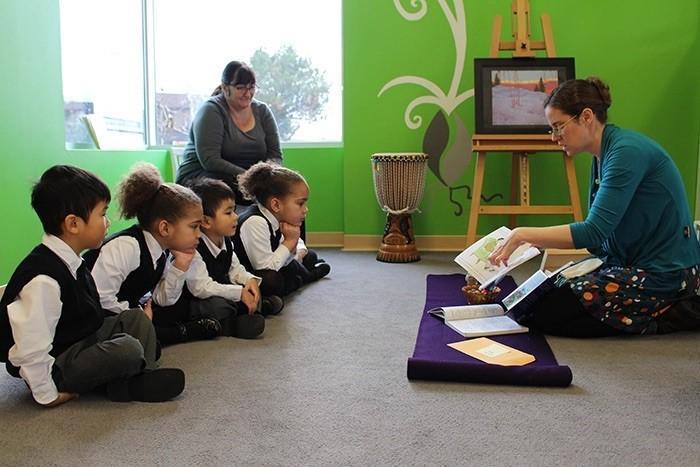 As tempting as it is sometimes, I never stop in the middle of a story to make a comment, offer an explanation, or ask a question. Not only does this interrupt the flow of the story and pull the children out of it, but it also can lead the whole group off on tangents from which they never return. As an author, I feel particularly strongly about this. Writers and illustrators work hard at their craft and create stories with intention and care. Reading a book aloud is a form of performance. It is a mark of respect for the creators of the book to allow it to be heard as a whole—like a piece of music. There will be plenty of opportunity for questions and comments after everyone has experienced the story.
Leave Room for the Spirit
Finally, a plea to leave room for wonder. I often hear teachers preface a story with the words, "While I am reading, I want you to listen for…" Although I understand that their intention is to help the children connect the story with the lesson, I cringe every time I hear these words. Telling children what they should be listening for short-circuits the process of their own deep engagement with a story.
By all means introduce a book by its title, author, illustrator, and publisher. Maybe take some time to look at the cover and wonder together what the story might be about. But give the children a chance to figure out what is important to them about the story. If there are questions and comments afterward, let these be the children's own questions and responses, not reactions to cues fed to them. Let them wonder in their own way, even if their minds wander. There are worse things than daydreaming during a story. Plenty of grownups drift off during sermons, and sometimes these mental wanderings lead to important insights.
Trust the story. Trust the child. Trust the Spirit. And have fun!
---
Laura Alary is a writer and storyteller who believes that stories can make us bigger on the inside. Laura's books include:
The church year series Make Room, Look! and Breathe
Here: The Dot We Call Home
Read. Wonder. Listen. Stories from the Bible for Young Readers
What Grew in Larry's Garden
Sun in My Tummy
The Astronomer Who Questioned Everything: The Story of Maria Mitchell
Photos provided by author.