"What things are happening in our world today where this song could bring a word of hope?"
Debbie Levy's picture book, We Shall Overcome: The Story of a Song, traces this song of faith in God's justice from the 1800s to the current day. Using the well known lyrics, Levy shows how the words of this spiritual have served as a beacon of hope to people around the world who are suffering from oppression and intolerance.
We Shall Overcome: The Story of a Song is an excellent way to celebrate Martin Luther King, Jr's work and the ongoing work of acceptance and diversity in our country and our world today.
For using the storybook in your faith community, Storypath provides a solid introduction and foundation for theological conversation. Each book reviewed by Storypath offers book details including age range, a narrative summary, literary elements, theological elements, faith talk prompts, and suggests other books that might go well with the one reviewed.
Here, reviewer Krista Lovell connects the hope of American slaves for freedom with the Israelites in Deuteronomy 7:9 and with Paul's expansive hymn to new life in Christ from Galatians 3:28-29. Faith talk prompts range from questions about making others feel badly because of how they look to the more action-oriented one at the top of the page, encouraging all of us to keep our eyes on the prize and work for justice, mercy, and peace.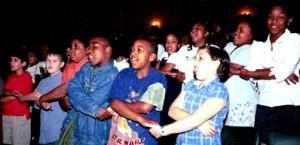 Further books on prejudice, tolerance, and diversity can be found in this bibliography on Storypath's webpage.
---
Storypath was founded on a conviction that books could serve as a rich resource for those involved in educational ministry in the church. Resources include book reviews, lesson plans using children's books, and other ideas for using children's literature in different settings. It is their prayer that these resources will be a prod to your own imagination, your own pleasure in this particular genre of literature, and in your ministry.
Did you enjoy this article? Consider subscribing to Building Faith and get every new post by email. It's free and always will be. Subscribe to Building Faith.