Kiddie pools + plastic sheeting + water = silly, cool fun during these last hot days of summer! 
Dog Days of Summer
We have reached that time of year: school has started (or will soon), youth group is gearing up, and it is still miserably hot. So how do you entertain a group of teenagers in a new, fresh way? This summer we introduced our group to Slip 'n' Slide Kickball. That's right, a favorite summer lawn activity meets a little competition. It went over like the last Stars Wars movie – hugely successful, lots of fun!

Getting Ready
Set up is fairly easy. First you need a big field- the bigger the better. (Kickball is normally played on softball or baseball field with 3 bases, a pitcher's mound, and home plate.) You'll need plastic sheeting and kiddie pools and something to make it all more slippery. We used two packages of 30′ visqueen, and four kiddie pools: three 3′ wide for the bases and one 5′ for home plate.  Baby shampoo, the more the better, was our lubricant. 
Place the kiddie pools to form a baseball diamond. Leave enough space between bases for plenty of sliding! Cut the visqueen in half lengthwise and place between the pools to form the base paths, then squirt with baby shampoo and fill the pools with water. Grab a kickball and get ready to play ball!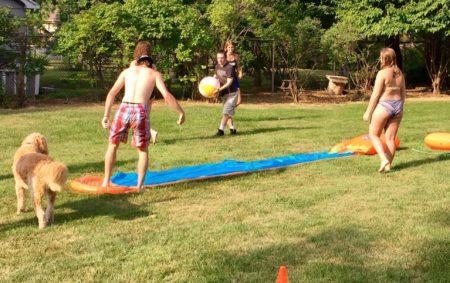 A few things to note
The first time we played this was at summer camp with 25 competitive teenage boys. I was a little worried it could get out of control, but with a little chat beforehand about being a good sport and emphasizing that this was a FUN activity which no one can look "cool" doing, it went so well! They cheered each other on, we're safe and had a ton of fun! Make sure you start with clear guidelines and no one should get hurt or feel left out. Allowing everyone one time around the "bases" gives a more equal start to the game, as well.
Access to water is important. A nearby hose keeps kids cool while they are waiting to kick, but buckets you can refill work too. Put an adult on hose duty, they can keep kids cool and hose down the plastic at the same time. Reapply baby shampoo as needed.
You may also find you need volunteers to scoop grass out of the pools and refill when they get too dirty.
If you use stakes to hold down the plastic sheeting, make sure they are placed at the far edges of the visqueen and test out the slide for sharp spots.

It's tempting to use slippery baby oil or cooking oil. Don't do it! Oil + sun = hot plastic and sunburns galore! Baby shampoo worked much better and is tear free so no worries about it getting in anyone's eyes. Players with especially sensitive eyes might want to bring goggles. 
Make sure you have plenty of drinking water and plenty of fun! Slip n Slide Kickball is a great way to be silly, have fun and stay cool during these last hot days of summer.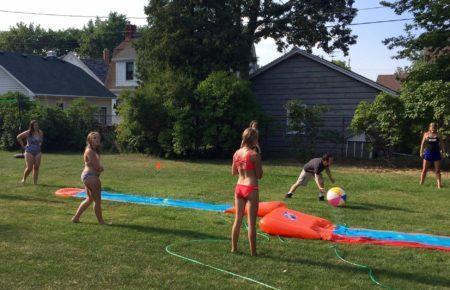 Photos courtesy the youth group of St Thomas, Menasha, WI.
---
Ashley Haggard is the Youth Minister at St. Mark's Episcopal Church in Little Rock, Arkansas. She loves Harry Potter, good food, and silly games, all of which she can connect to the life of the church. 
Did you enjoy this article? Consider subscribing to Building Faith and get every new post by email. It's free and always will be. Subscribe to Building Faith.