"The overall goal is to help families connect church and the Bible to their daily lives."
Spark Family Magazine
Looking for a way to connect your church families (or your own family) with their faith story when they are not in church? Sparkhouse publishing offers a quarterly magazine aimed at families with children. Each issue tells bible stories in fun and engaging ways with plenty of illustrations. Old Testament, Gospel and Epistle stories are featured.
Each magazine issue groups readings thematically, for example Water or Prayer. The overall goal is to help families connect church and the Bible to their daily lives. What makes this magazine special are the multiple "extras" such as puzzles, games, art connections, physical activities, discussion questions, and cut-out prayers for the whole household.
Who is Spark Family For?
The sweet spot for many of the activities seems to be children in 2nd and 3rd grades. That said, the prayers, Bible background stories, and parent-driven application to everyday life would absolutely work for preschool through 5th grade.
As explained above, each issue has a single theme. In other words, Spark Family magazine is not tied to the Revised Common Lectionary, offering families the opportunity to learn bible stories that are not always featured at church.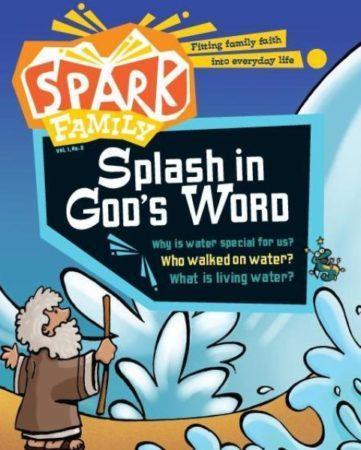 How to Get it
Spark Family is affordable! An individual quarterly subscription is just under $10. If you buy in bulk for families in your church, the price drops substantially. Go to wearesparkhouse.org/kids/spark, scroll down below curricula & bibles, and follow link for Spark Family.
---
Did you enjoy this article? Consider subscribing to Building Faith and get every new post by email. It's free and always will be. Subscribe to Building Faith.