"Let the words of my mouth and the meditation of my heart be acceptable to you, O Lord" (Psalm 19:14).

"Insha'Allah" (Arabic for "God willing").

"Fun dayn moyl in gots oyern" (Yiddish, meaning "From your mouth to God's ear").
A Prayer is an Ephemeral Thing
No matter the language we use or the religion we embrace, our most fervent prayers are those deepest desires offered in wordless plea, carried to God on the fragile wings of faith. For these prayers there are no words, nor motions or positions; they are a yearning, a need, an urge that only God can satisfy.
Humans are Corporeal Beings
We are solid flesh and blood. Like Thomas, in the Gospel of John, we want to be able to touch the wounded side, to feel the words spoken reverberating in our ear, and to taste the bread and wine on our tongue.
How can we reconcile the intangible nature of prayer with our very tangible reality? Our Christian tradition is rich in written prayer. As a writer and self-proclaimed word geek, the exquisite language of the Episcopal Book of Common Prayer speaks to me. In many circumstances those prayers articulate the perfect translation of the meditations of my heart into wording that makes sense to my brain.
And yet… a written prayer, a spoken prayer, is still too much in my head and not enough of my heart. To really capture the emotion of a prayer, I sometimes turn to a physical manifestation.
Prayers Can be Physical
To light a candle is a physical act: a quick scratch of a match, the whiff of sulfur, the flare of the wick, and the sting of hot wax. Heat and smoke ascend, as we imagine our words do. Prayer beads, or Anglican rosaries, help focus the mind, as the fingers are reassured by the roll of each small repetitive sphere. Prayer stones and pocket crosses give substance to prayer. The solid weight of a stone and its texture – whether smooth or rough – offer the satisfaction of holding a prayer in the palm of your hand.
A Tactile and Creative Approach to Prayer
When we use art as prayer, we pray twice. Non-figurative visual prayers, as suggested in Sybil Macbeth's Praying in Color or Roger Hutchinson's The Painting Table, offer the artist in all of us a way to put the range of our feelings to paper. Creating an object to focus our prayers is another way of using our creative gifts to glorify and pray to the God of Creation.
For Lent last year, I lead a multi-age group in the creation of prayer stones. We discussed types of prayer: thanksgiving, forgiveness, and petitions. We considered who we might pray for – ourselves, those we love, and the broader world. We read the various forms of the Prayers of the People found in the Book of Common Prayer. We looked at Milestones Ministries' prayer stones. Then the children created their own prayer stones, drawing images on small craft store pebbles. I gave each child a little drawstring bag in which to store their stones.
My Girl Scouts used the same process to create prayer wheels for children's pew bags. Rather than drawing images on stones, they created artwork which was printed on heavy cardstock cut in a circle. Other than indicating that it was a prayer wheel, we offered no explanation as to how to use it, preferring to leave each child to consider the images and let their prayers derive organically as they rotated the wheel.
Tactile and Creative Prayer Done in Community
Tactile, artistic prayers create meaningful community prayer and focal points. I was particularly inspired by one church's prayers for peace manifested in hundreds of origami cranes, each one lovingly created and then hung in a cascading mobile. At Vacation Bible School, we created a giant prayer cross, cut from a 7 foot sheet of corrugated cardboard and covered with children's hand prints, each one a prayer. The cross now hangs in the entryway of our nursery school.  It delights me to see the original creators compare their now-grown hands to the tiny versions on the cross.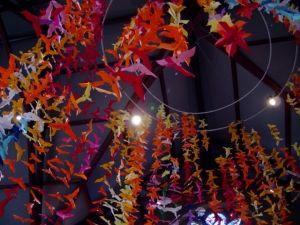 Giving Creative Form to the Ephemeral Prayers of your Corporeal Heart
Adults also respond to the physical forms of prayer. Personal or collective, tactile and creative prayer expressions aren't only for children. Every creative endeavor can be an expression of prayer. Each stitch in a lovingly crocheted prayer shawl is a prayer of hope and healing for the recipient. Prayers written in permanent marker on scraps of cloth then tied to a loosely draped net or to a tree, create a unified, fluttering collection of the prayers of a community.
I guarantee that as you move beyond words, your prayer life will take on a new-found depth and richness.
---
Lisa Brown recently accepted a position as the Director of Digital Ministry with Membership Vision. Building on her work in Children's Ministry and Communications at St. Paul's Episcopal Church in Pittsburgh, PA, she helps churches connect to people and to God in the digital space. An active member of Forma and Girl Scout leader, Lisa is passionate about enriching the spiritual lives of people. Her book "The Best Do-It-Yourself VBS Workbook Ever" was published in 2017.