"The four weeks in November that lead up to Thanksgiving –that lynch pin before Advent – offer plenty of time for teaching gratitude."
Teaching Gratitude
The four weeks in November that lead up to Thanksgiving – that lynch pin before Advent – offer plenty of time for teaching gratitude. And gratitude is important. The researchers at Greater Good Science Center have discovered that feeling grateful can motivate students to help others and use their strengths to contribute to society. Feeling grateful does good!
Tips for Gratitude Crafts
Moving from an abstract concept to a visual symbol of thanks is what make crafts ideal learning tools. Crafts are therefore wonderful tools for teaching gratitude, as the visual image ties it all together. Keep in mind the following tips:
• Collect "thanks" for a week or two before completing the craft.
• Before and during the craft, allow time time to think about what we are thankful for
• Encourage your crafters to verbalize thanks using words
• Hang up your crafts at home or in the classroom. Crafts are fun to show off, and they create visual reminders of being thankful.
• At church, display gratitude crafts where the whole congregation can see them.
5 Thanksgiving Craft Ideas
There are lots of Thanksgiving crafts on the internet. Look for those that can incorporate words (or images) of thanks, that can be shown off on a wall or somewhere in church, or that can incorporate scripture verse.
1. Paper Turkey Craft
Turkeys make great gratitude crafts. Not only do we celebrate this great bird at our annual feast, there are also lots of spaces on which to write our thanks! The blogpost shows how one craft can result in a flock of different-looking turkeys, all of them beautiful with their feathers of thankfulness.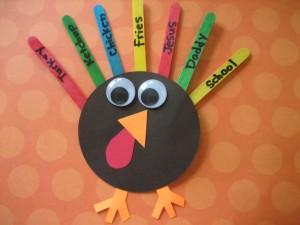 2. Craft Stick Turkey
A simple circle with googly eyes and craft sticks of thanks make the most of what is likely in your craft closet! Use the picture at left as a guide, focusing on the "feathers" to list parts of our lives for which we are thankful. With such a simple project, more time can be spent really encouraging children to brainstorm their thanks, instead of hurrying through with easy answers.
3. Thankful Garlands
Looking for something less glitter & glue? Words or images of gratitude can be written or pasted on strips of paper to make a garland, or on leaves to create a Thankful Tree. While many the crafts on this page are very elegant, you don't need fancy papers or stamps to make an impact!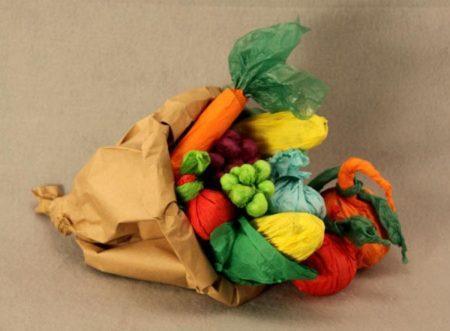 4. Paper Bag Cornucopia
You can make a cornucopia out of brown paper, either rolling an off-center cone, or a more 3-D version with a brown paper bag. Cut out simple shapes to represent fruit and vegetables and write words of thanks on them before gluing them into the cornucopia.
5. Thankfulness Placemat
We spend Thanksgiving with our families and friends around the dinner table; a most appropriate craft is a placemat. Print a favorite prayer or table grace in the middle, and surround it with words and images of gratitude. For inspiration, take a look at this placemat made for the Jewish holiday of Rosh Hashana, which includes a blessing and a craft. You can also check out Pinterest for other examples.
Adding Scripture to your Craft
Incorporating scripture reminds us that we belong to a tradition of giving thanks. The Bible is rich with wonderful words of gratitude. The Psalms and the As are the New Testament Letters are great places to start:
Oh give thanks to the Lord, for he is good, for his steadfast love endures forever!
-Psalm 107:1
This is the day that the Lord has made; let us rejoice and be glad in it.
-Psalm 118:24
And let the peace of Christ rule in your hearts, to which indeed you were called in one body. And give thanks.
-Colossians 3:15
In every thing give thanks; for this is the will of God in Christ Jesus for you.
-1 Thessalonians 5:18
---
Charlotte Hand Greeson is thankful to share her passion for formation as a manager, editor, and writer for Building Faith. She is grateful for almost twenty years of Navy life, which has exposed her to a variety of churches and formation styles. She lives in Alexandria, Virginia with her husband and two teenagers.
Did you enjoy this article? Consider subscribing to Building Faith and get every new post by email. It's free and always will be.  Subscribe to Building Faith.