"Such a program can draw the entire congregation into a specific model of theological reflection that transcends the generations."
You Drew What?!
Picture, if you will, a hand-drawn comic strip. Abraham stands with a bloody knife in his hand. Lying in front of him is the body of his son Isaac. A voice bubble booms from heaven: "Abraham! Abra- … oops. Too late." This was my cartoon for the camp newspaper that we produced when I was in 7th grade. Looking back, I am grateful that no adult told me my cartoon was inappropriate or in poor taste. After all, I was doing theological reflection with that cartoon(!)
The Book of Comic Prayer
Karl Barth once wrote that, "Laughter is the closest thing to God's grace." Heather Annis aptly used this quote in her new book The Book of Comic Prayer: Using Art and Humor to Transform Youth Ministry. This book is for the kids like me who imagined a Bible story gone bad, as well as for youth directors who might not know what to do with us! Many teens have deep thoughts about life and death and more – and the church may not always address their concerns adequately. For them, we need to offer other avenues for theological reflection. Why not cartoons?
A Platform for Engaging Youth
At its heart, The Book of Comic Prayer is a guide to structuring an entire youth formation program around the creation of original cartoons. Clearly, this is author Heather Annis' passion, and it has rubbed off on her congregation. Annis makes clear that such a program, when faithfully executed, can draw the entire congregation into theological reflection that transcends generations. Of course, you do not need to take on a Comic Prayer Book all at once. The book also offers many one-off activities, both in the individual chapters and in the helpful appendices.
Most importantly, Annis presents us with an imaginative, theologically informed ethos for understanding the value of creativity in Christian formation. It's not just about drawing cartoons; there are ideas here for kids (and youth ministers) of every talent.
Heck, this book is a good read for any Christian, because it breaks open our assumptions of what might or might not contribute helpfully to our journey of faith. Cartooning can be prayer. Kids can be superheroes. Art can be a team sport. Psalms can be angry. And silliness can most certainly bring us closer to God.
Conclusion
I'd like to close by pointing to a Charles Schulz's Peanuts comic strip from 1973. This particular comic makes one of Shulz's deepest theological statements, without even mentioning God. Leaning on the familiar brick wall, Linus pontificates the following: "Life is rarely all one way, Charlie Brown. You win a few, and you lose a few!" Good ol' Charlie Brown replies, "Really? Gee, that'd be neat!!"
Reflect on that for a while, and then pick up a copy of The Book of Comic Prayer. You may find yourself asking, "How else can I help the youth of my congregation use their creativity to draw closer to the mysteries of God's love?"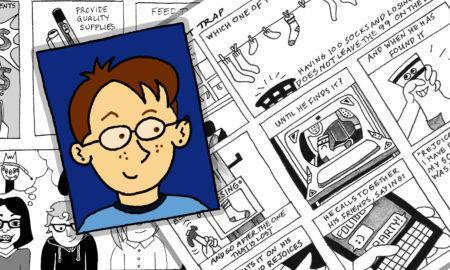 The Book of Comic Prayer, available from Church Publishing, Inc.
---
The Rev. Josh Hosler is Associate Priest for Adult Formation at St. Paul's Episcopal Church in Bellingham, WA. A large chunk of his job is to serve as chaplain to the students of Western Washington University. Though he doesn't draw cartoons much anymore, he might still sketch out a decent Garfield or Odie if you asked him. Josh blogs at http://episcopop.blogspot.com/
Did you enjoy this article? Consider subscribing to Building Faith and get every new post by email. It's free and always will be. Subscribe to Building Faith.