¡El verano ya está llegando! Aunque entramos en lo que la Iglesia llama "Tiempo Ordinario", somos conscientes de que vivimos en tiempos extraordinarios que requieren flexibilidad, alegría y bondad. Eso es lo que esperamos que sea para ti este recurso: listas de reproducción flexibles que encienden un espíritu lúdico mientras practicamos el valor de la bondad.
Escucha, pregunta, ora, juega y actúa
El verano de bondad: compartiendo el amor de Dios incluye 6 historias y listas de reproducción que las iglesias y las familias pueden usar. Cada sección contiene cinco partes: Escuchar, Descubrir, Orar, Jugar, Actuar. Puedes escuchar la historia bíblica adaptada de Growing in God's Love: A Story Bible (o leerla tú misma), descubrir cosas sobre la historia, ofrecer una oración breve, jugar un juego o actividad divertida y luego elegir un acto de bondad (o algunos) de la Carta de Bingo ¿Quién puede cantar BINGO primero?
Acceda al recurso como descarga en PDF en inglés o español o utilice las listas de reproducción en línea. Los líderes pastorales pueden usarlo como programación de verano, una alternativa a la Escuela Bíblica de Verano, el plan de estudios de la escuela dominical u otras opciones. Los adultos (padres, tutores, mentores, abuelos) pueden usarlo en las actividades del día a día con todas las edades. Utiliza las seis secciones en una semana, un mes o durante todo el verano, ¡tú decides! Elije qué partes te traen alegría a ti y a tus seres queridos; si se trata de las historias de la Biblia solamente, ¡muy bien! Si es la Carta de Bingo, ¡perfecto! Escúchanos: lo que sea que puedas hacer en estos tiempos extraordinarios, ¡es bueno y suficiente!
Opciones creativas para utilizar el verano de la bondad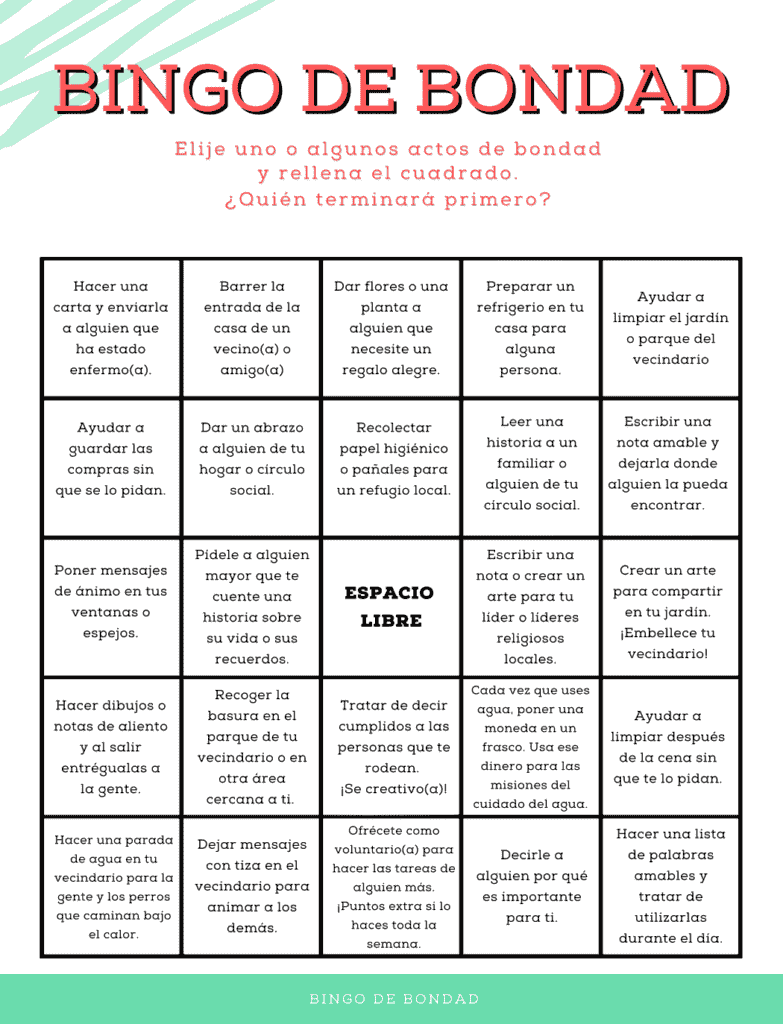 Comparta con las familias para que lo usen por su cuenta
Alternativa a la Escuela Bíblica de Verano
Pequeños grupos familiares
Como parte de una serie de sermones
Reúna a las familias en un patio de recreo o parque local: use el recurso con todas las familias juntas y luego jueguen juntos
Escuela Dominical/ Catecismo – en persona o en línea
Fiesta de fin del verano para celebrar y compartir cómo las familias compartieron el amor de Dios
¿Cómo podrías utilizar el Verano de bondad para compartir el amor de Dios?
---
Photo by Bernardo Ramonfaur on Scopio.
Traducido por Luis Hernandez Rivas.
Luis is a seminarian studying at Virginia Theological Seminary and a Postulant for Holy Orders from the Diocese of New York. A member of the Franciscan Solidarity Table, Br. Luis is also part of the team of facilitators of Academia Ecuménica de Liderazgo, the Council of Advice of Latino Ministries, and other church wide initiatives. He is an aviation afficionado and loves local restaurants and long walks with his spouse Ken and their dog Jon.