"The kids love it, the teens who assist in our Sunday school classes are more excited about teaching, and the parents are happy too. It has been easy to adapt to our needs with no additional cost."
Editors' Note
The Episcopal Children's Curriculum (ECC) was one of the best-selling and most widely used Sunday school programs ever created for the Episcopal Church. At its height, thousands of Episcopal parishes used ECC, touching the lives of countless children, families, and teachers. ECC was created by expert educators at the Center for the Ministry of Teaching at Virginia Theological Seminary. Though no longer in print, the entire curriculum is available for free on the CMT website.
Building Faith is publishing a series of articles on the Episcopal Children's Curriculum; this is the first. The ECC is still a powerful resource for children ages Pre-K to 6th grade. It is also highly flexible and adaptable, allowing a church to use the full program, or select ECC pieces. Using selections may be especially helpful for inserting Episcopal traditions into an existing curriculum. Explore the ECC here.
Why Our Church Chose ECC
The Episcopal Children's Curriculum is a timeless curriculum that provides children a comprehensive foundation in Biblical stories and church traditions. The authors have a strong background in early childhood education which is clearly evident in the lesson plans. There are no flashy cartoon-character Biblical figures, and you will not be asked to renew a subscription each year. The entire curriculum is available for free from the Center for the Ministry of Teaching. AWESOME!
When I began my search for a new curriculum for the 2016-2017 year, my primary criterion was laying a foundation for lifelong formation with Bible stories, Christian traditions and sacraments. As I scrolled through reviews of curricula, the ECC caught my eye. As I perused the table of contents for teacher's manuals at the various levels I quickly realized it would be a great tool to help us achieve the goal of learning Bible stories and church traditions.
The curriculum is divided into three age groups: Preschool/Kindergarten, Primary (grades 1-3), and Intermediate (grades 4-6). For each age group, there are three years of material. By the time we reach the end of the materials, I'm confident the kids (and I!) will have covered a lot of important ground.
How We Use the Curriculum
Our experience with the ECC has been very positive. The kids love it, the teens who assist in our Sunday school classes are more excited about teaching, and the parents are happy too. It has been easy to adapt to our needs with no additional cost.
Here is one example of how we adapt: When our 3-6 graders discussed the story of Abraham and Sarah, the curriculum suggested asking kids if they know anyone in their 80's or 90's… How might those people react if told they were going to have a baby? We put our own spin on this by asking the kids, "What would Abraham tweet?" The older kids wrote tweets the younger kids drew emojis!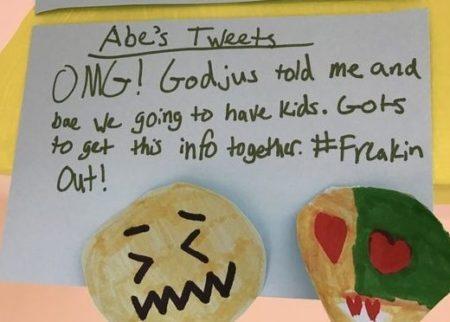 Strengths and Benefits
Here are a few of the strong points of the Episcopal Church Curriculum, from our point our view.
Church Seasons: The ECC is not lectionary based, but it mirrors the cycle of the church year. The schedule is flexible so that the Sunday school classes will be learning about All Saints day at the time the church is celebrating it, for example.
Parent Letters: The letters to parents provided at the beginning of each unit (four times per year), give a background about what the kids will be studying and why. These letters (found in the ECC lesson plan books) provide a great summary; they can be used for posting on social media or church enews, to keep parents informed .
Flexible: We adapted the suggested age groups to fit our community. Kindergartners in our area are much more like first graders than preschoolers, so we adjusted the class groups. An unintended, very happy consequence is that several 6th graders, who were invited to move up to youth group, continue coming to Sunday school and are great role models for the younger kids.
Enduring Relevance: We often adapt discussion questions for current events/social media (see above), but the topics in the curriculum have maintained relevance over the years.
Formational for Teachers: My personal faith formation has been enriched in preparation for classes and participating in discussion with the kids. I foresee using the curriculum as the basis for an intergenerational Bible study in the future.
Conclusion
We are in the middle of the ECC "Shell Year" which has a special section on Baptism. The curriculum devotes 6 class sessions to baptism. "Six??" I thought. But as I prepare for class each week, I am realizing how our baptismal covenant and our creeds (also part of these lessons) encompass everything we followers of Jesus are about. These are not words to mumble through each week, or each time there is a baptism. They are promises – not easy to keep – but by focusing on them, they are truly capable of forming our faith.
Watch this video tutorial that explains the ECC website
---
Jen Enriquez is the Director of Children's Formation at St. Christopher's Episcopal Church, Oak Park, IL. Her work at an arts-based preschool and with her own two children has fostered her belief that children are capable of so much more than we give them credit for. Through her participation in the Forma Certificate in Leadership in Lifelong Christian Formation, Jen is embarking on a peace ministry, starting with a camp for kids 4-14 this summer.
Did you enjoy this article? Consider subscribing to Building Faith and get every new post by email. It's free and always will be. Subscribe to Building Faith.