"And of course, if you send your friend Michael a card on September 29th, you will both look very good."
Remembering Feast Days
Because my name is Matthew, and my oldest daughter is named Maria, we try to make September 21st and August 15th important days on the calendar. These are the feast days for St. Matthew, and St. Mary, respectively. (August 15 is, of course, the Feast of the Assumption, but some Christians celebrate it more generally as Mary's feast day.)
It can be difficult to keep track of feast days, especially with all the other items on our calendars. To help, I have created a one-page list of major Christian feast days and observances. This is, by no means, official or complete. In fact, it doesn't even include St. Matthew and some of the other disciples, because I wanted to keep it to one page.
I hope you find it useful. The list includes special days from several denominations. Even if your Christian denomination does not observe some of these dates, you may find it interesting to know when and what they are.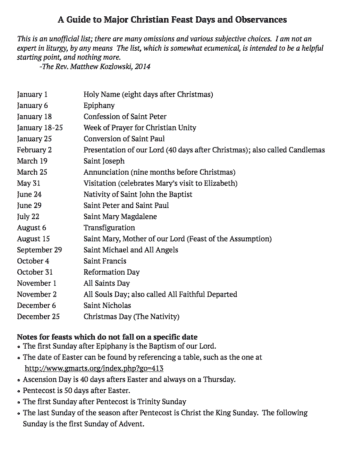 Print it out, stick it on your bulletin board, put the dates in your computer or paper calendar, and rejoice! And of course, if you send your friend Michael a card on September 29th, you will both look very good.
---
The Rev. Matthew Kozlowski manages, edits, and writes for Building Faith. He lives in Alexandria, Virginia with his wife Danielle and two young daughters. Throughout his career he has been a teacher, camp counselor, school chaplain, camp chaplain, Sunday school teacher, parish priest, and Alpha coordinator.
Did you enjoy this article? Consider subscribing to Building Faith and get every new post by email. It's free and always will be.  Subscribe to Building Faith.