Storytelling can take many forms: oral, digital, and written.

A pilgrimage, as the Episcopal Church defines it, is "a journey taken with a religious or devotional intention. Pilgrimages are typically made to shrines, holy places, or locations of religious significance. They may be made as prayers of thanksgiving, penitence, intercession, or petition."

Both storytelling and pilgrimage are meant to be experiences of the heart. When the two are combined and interwoven with our biblical stories, surprising pathways open for us to experience God, to embody the story, and to link God's story to our lived experience. This kind of storytelling by pilgrimage can open powerful pathways for a transformation of the heart.
For Advent through Epiphany, consider creating a storytelling pilgrimage through the Christmas story as told in the gospels of Matthew and Luke.
Experiencing the Story
Each year we hear the story of God breaking into human history and committing to join in the human experience through the birth of Jesus. Our churches and homes are natural places of connection, so they are ideal places for inviting people into the experience of the Christmas story through pilgrimage.
You can include the use of smartphones or tablets to give access to online materials as well. At each location, you can offer a combination of entry points into the story. Invite people to read, listen, reflect, and observe. You can include any of the following: the written story, artwork, music, manipulatives, prayers, coloring pages, wondering questions, reflections or meditations, and video clips.
The pilgrimage can expand understandings of the Christmas story beyond the dominant Eurocentric perspective when you include materials by writers and artists from different cultural backgrounds or parts of the world.
The Experience Is in Building the Pilgrimage, Too
The completed pilgrimage is an offering. Preparing and building the pilgrimage can also be its own faith journey, experience, and offering. You can integrate other ministries and invite a wide range of people to participate in its building. You can shape Bible studies for each of the stories in advance and draw wondering questions from those sessions. Do you have recordings of the Christmas story made during the pandemic? Try including those as part of the pilgrimage.
Include people in the planning, configuring, and setting up. Also, consider the diversity of talents of your community. Maybe someone has video experience that can be used in creative ways. Maybe you have people specialized in art knowledge. Maybe there are good editors and writers. Do you have people who enjoy writing prayers? Ask them to use their gifts to create for each location.
Scalability
A Christmas story pilgrimage is flexible and scalable. It can be set up outdoors or indoors. It can contain a few or many elements, offering the pilgrim different ways to enter and experience the story. It can be designed to welcome people across generations and experiences, people of faith and people who do not identify with a religious tradition. It can be configured in a small indoor space, a large outdoor space, or you can create an online version.
The planning and constructing of this story-based pilgrimage can also be applied to any biblical narrative, theme, or characters. You can apply this approach to Jesus' Passion, to Paul's travels, to Hagar's trek, or to Deborah's voice. You can apply it to explore biblical perspectives like forgiveness, faith, power, hope, trauma, calling, resurrection, repentance, fear, and courage.
An Example: Storytelling Pilgrimage Through the Christmas Story
Below is a collection of photos from our story-based pilgrimage based on the Christmas story. Hopefully, this example will spark your imagination!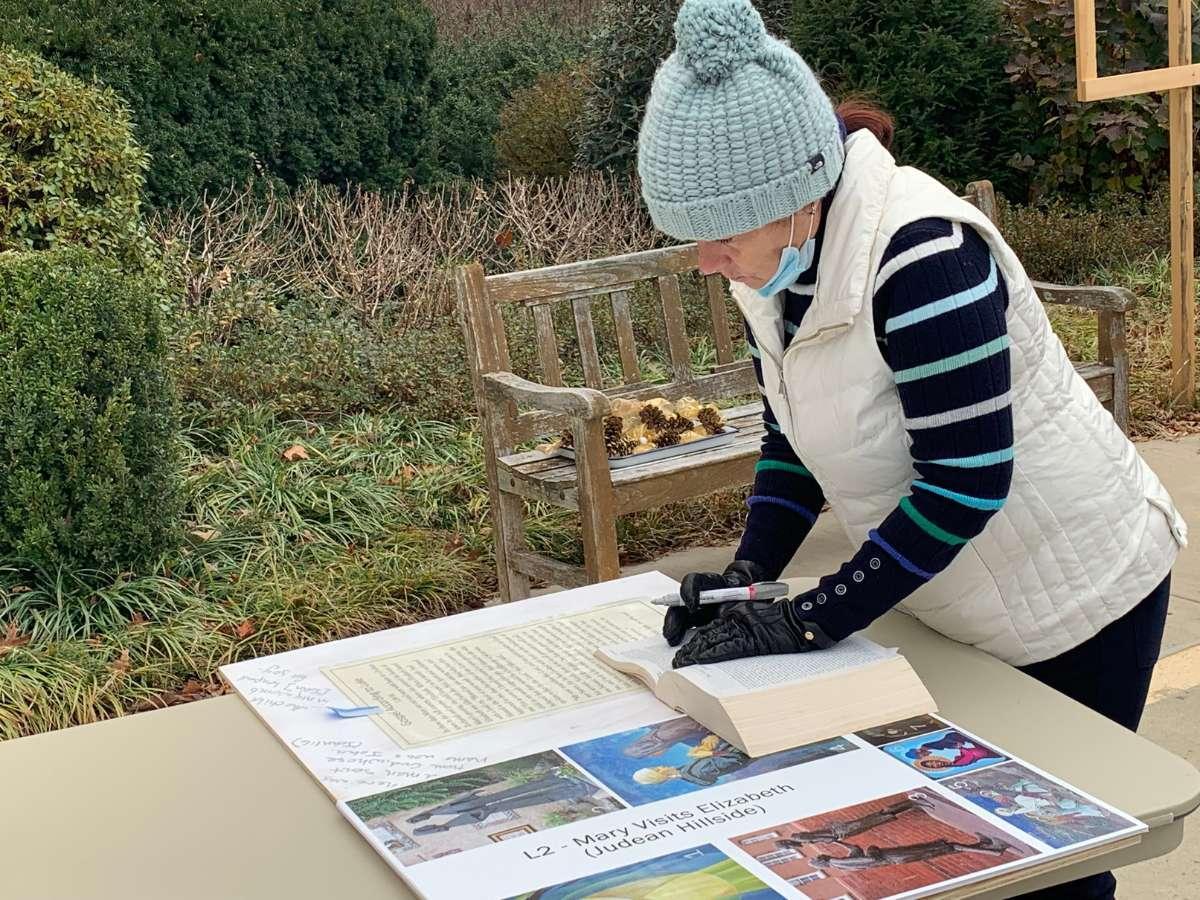 Steps for Building the Pilgrimage
1. Identify scope (It is a good idea to start small and build year-to-year.)
How many people will this serve and where are they?
What budget do you have?
What is the core size of the project? (For each station, how many assets will there be? Will the assets be artwork, poetry, music, videos, etc.?)
2. Identify desired skills
Coordination
MS Word or other comparable software skills
Research skills
Writers and editors
Collectors, organizers, assemblers
If you decide to build stations, what will they be, and who can design and build them?

Our outside stations were 24 X 36 inch frames with 8' posts that went into the ground.
Using Vista Print, we created 24×18" outdoor posters, vertically oriented, containing all the selected images.
They were spray-mounted on weather-resistant foam boards.
3. Invite participants onto the team
When you invite folks, give them a timeline with discrete and clear tasks.
4. Set up the pilgrimage and welcome people in the church and from the area to take a pilgrimage through the Christmas story
Remember to let pilgrims know to bring their smartphones.
Mobility can be an issue for some. If you can, place the stations where they are easy to access. You may even want to set them up near benches.
5. Have fun!
Guidebook Sample here: This pdf is a sample of a guidebook for a Parish Pilgrimage.
---
Featured image is by Aaron Burden on Unsplash
Gallery photos were taken by parishioners and staff of St. John's and provided by the author