"May the God of hope fill you with all joy and peace as you trust in him, so that you may overflow with hope by the power of the Holy Spirit."
-Romans 15:13
Advent Wreath Customs at Church
Many churches place an Advent wreath at the front of the sanctuary during the season of Advent. There are different customs and practices, depending on the community. Some wreaths are suspended by a chain or wire; some are placed on a stand. Some churches use blue candles; some use violet or red; and many churches include one rose (pink) candle. The presence of a center Christ Candle also varies.
As for lighting the candles of the Advent wreath, there are different customs. Some churches light the candles before the service, while others create a separate liturgical moment at the beginning of worship. Some churches have acolytes or worship assistants light the candles; other churches invite a parishioner or family to come forward.
What is the Official Tradition?
Speaking from the Episcopal tradition, there is no "official" version of where, when, and how to light an Advent wreath in church. The Episcopal Book of Occasional Services actually proposes a minimalist approach: "The Advent wreath is a visual symbol marking the progress of the season of Advent. When it is used in the church, no special prayers or ceremonial elaboration… is desirable. At morning services the appropriate number of candles is lighted before the service begins" (page 30).
So according to the B.O.S., they recommend that you just light the candles before the service, thereby removing the necessity for any Advent wreath prayers or readings. With due respect to this recommendation, I find it quite nice to light the Advent wreath candles during the service. And when that is the case, a short prayer or liturgy is helpful. See below.
Meaning of Each Candle
The tradition that each candle of the Advent wreath has a meaning is likewise not official. The rose candle has always been connected with joy, because the third Sunday of Advent is Gaudete Sunday (gaudete means rejoice in Latin). As for the other candles, their meanings are somewhat up for grabs. That said: Hope, Peace, Joy, and Love are excellent themes for Advent, and these meanings are used in many churches of various denominations.
Prayers and Liturgy for Lighting the Advent Wreath
If your church lights the Advent wreath during the service, you may wish to include a prayer or short liturgy at this moment. Please feel free to use or adapt the liturgy below, which I wrote for St. Mary's in Stuart, FL, and revised in 2015. If you use the prayers, please credit the author.
Again, these are not "official" prayers. They are simply a resource. Scripture verses and prayers are provided for each Sunday of Advent. In addition, there is a scripture/prayer for the Christ candle. The candles are listed as Hope, Peace, Joy, and Love.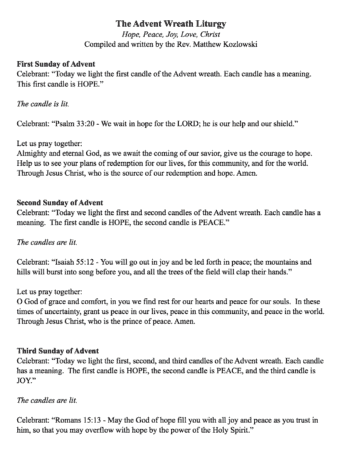 Advent Wreath Liturgy by Matthew Kozlowski (revised Nov. 2015)
---
Matthew Kozlowski manages, edits, and writes for Building Faith. He lives in Alexandria, Virginia with his wife Danielle and two young daughters. Throughout his career he has been a teacher, camp counselor, school chaplain, camp chaplain, Sunday school teacher, parish priest, and Alpha course coordinator.
Featured image: "Advent Wreath" by Christine McIntosh via Flickr (CC BY-NC 2.0)
Did you enjoy this article? Consider subscribing to Building Faith and get every new post by email. It's free and always will be. Subscribe to Building Faith.