"Campbell's example brought out the generosity in others… students in other grades began their own drives for books, shoes and other things for children in need."
Planting Seeds
Sometimes, the best work a leader can do is to get out of the way. Much of our effort in Christian formation is like sowing seeds – even though many land in good soil, we do not see the harvest that may take years to mature. So I am especially excited to report what happened a year ago in Lent, through the grace of God and a 5-year-old boy named Campbell. 
Campbell's Food Drive
Last Lent, at St. Stephens and St. Agnes  School, all our chapel services focused on our response to hunger. The children learned that when I said, "Let not the needy, O Lord, be forgotten," their response was, "Nor the hope of the poor be taken away." These ancient words, as well as speakers from local hunger relief organizations, had an effect on young Campbell. He designed and operated a donation stand called – what else? – Campbell's More Than Soup Drive.
I first heard about the drive from his Junior Kindergarten teacher. She asked if we could take some chapel time to promote his idea, and of course I agreed. The school was also enthusiastic – posters endorsing Campbell's off-campus drive soon decorated our walls and stairwells.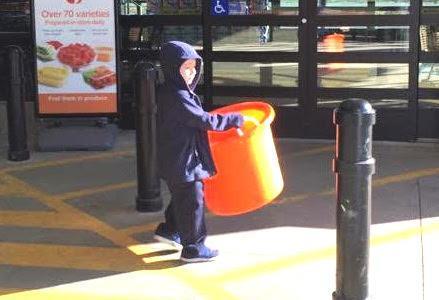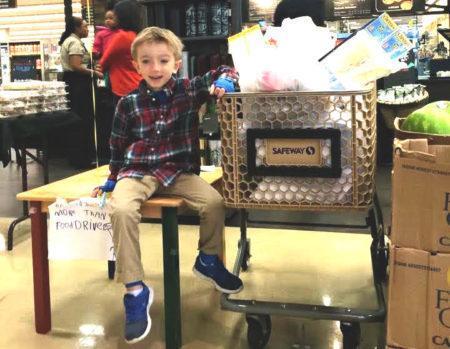 School Chaplain Support
As a chaplain, part of my role is to support students and families when they feel called to action. My first step is always to listen to the student's idea. Sometimes it is half-formed, so it helps to ask questions while encouraging a child to think through the idea.
In Campbell's case, his parents were integrally involved, from taking him seriously when he asked if he could give his breakfast to a hungry child, to approaching a local grocery about a stand in the store. They also devoted Saturdays and afternoons to hosting the stand with their son. As chaplain, I made a point of showing up regularly, visible in my clerical collar, to purchase food for the collection, and to chat with and encourage Campbell and his family.
Impacting the School Community
Campbell's example brought out the generosity in others. Not only did many contribute food – which went to a local pantry – but students in other grades began their own drives for books, shoes and other items for children in need. Campbell's family is resuming their drive this Lent in 2016.
The Joy of School Ministry
It is this kind of experience that makes me love working in a school with a Christian tradition! I admit that when I first considered the call to teach at a school with an affluent population, I struggled with the idea. Surely God meant for me to work among poor and disadvantaged people, bringing good news to children who had precious little of that in their lives.
But I soon discerned that, because of social and educational advantages, my students would be people of influence all their lives. As a chaplain, I could help ensure that they would be faith-filled people of influence. Projects like Campbell's put faith into action, showing the world that the love of God is active and growing – like a seed in good soil.
Photos by Reid family, all rights reserved. Featured photo by F. Delventhal via Flickr (CC BY 2.0).