"The key, I have found, is using stories, songs, prayers, and movement to keep children engaged and deepen their understanding."
Reinvigorating our Children's Services

As a priest with young children, it didn't take long to realize that our traditional Lenten services – including Ash Wednesday – are challenging for kids. I wanted to share the experience of Lent with my children and others in a way that would matter to them.
At St. Aidan's Episcopal Church, I have been tweaking Children's service for Ash Wednesday. The key, I have found, is using stories, songs, prayers, and movement to keep children engaged and deepen their understanding. Here are some ideas and suggestions that you might consider for your church or faith community.
Ash Wednesday Service Ideas
On Ash Wednesday, as each child arrives, they are given an Alleluia butterfly to color. Next, we assemble outside to burn last year's palms into ashes, each kid throwing a palm onto the fire.
From there, we move into the church to talk about the basics of Lent – we use the Godly Play liturgical calendar as a visual aid. We talk about the common Lenten practices of prayer, fasting, and almsgiving and what they might look like for kids. And we talk about Lent as a journey that helps us get ready for the mystery of Easter (again using the Godly Play language of Lent).
Everyone is invited to work with their parents and friends to think about what they might take on or give up during Lent. They then write those intentions on the back of their butterflies. As we sing, the children are invited to bring their butterflies forward and place them in an offering plate on the altar.
After offering up our butterflies, we head to the Baptismal font. As I pour water in, I talk about the promises we make during our baptism – promises to love God and each other. In Jesus' baptism, God announced Jesus to be God's beloved Son, and in our baptisms, we are "sealed as Christ's own forever," with a cross of oil on our foreheads.
Of course, this leads into the moment when the kids are invited to receive a cross of ashes in that same spot. Because St. Aidan's has an indoor labyrinth marked on the floor, we walk the labyrinth and receive ashes in the center. This is a great way to connect to the theme of Lent as a journey. And the kids love walking it!
Here is the summary of what we do:
Children receive butterfly to color
Gather outside around a fire to burn palms
Enter the church to talk about meaning of Lent
Write Lenten intentions on back of the butterflies.
Bring butterflies to the altar (singing during this time)
Gather at the Baptismal font to remind us of our Baptism
Walk the labyrinth and impose ashes in the center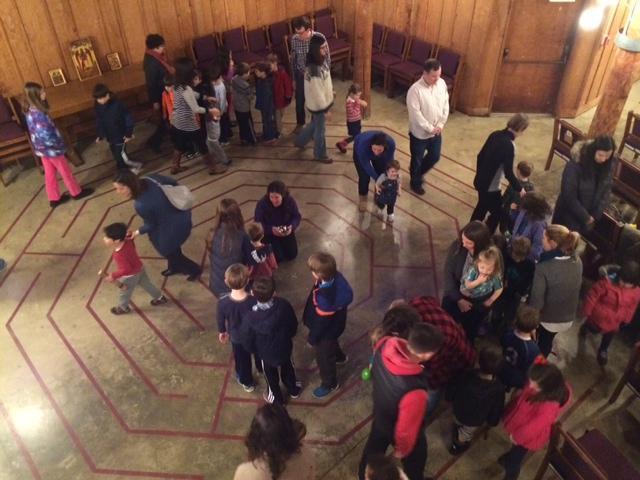 Reaching Beyond the Congregation
Our children's service for Ash Wednesday has been very popular not only with our parish families, but also with our Day School families. As with other children's services, our families feel comfortable inviting their friends. By engaging the youngest of our members in serious but age-appropriate ways, we have deepened everyone's understanding of these solemn liturgical days.